UPDATE (August 18, 2020): The Southeastern Conference will play a 10-game conference-only schedule for the 2020 football season due to the coronavirus pandemic and COVID-19 outbreak. No matter what, the Alabama Crimson Tide will be ready.
The Tide's 2020 SEC football schedule is favorable. Just ask anyone on social media. They are the home team against Texas A&M, Georgia, and Auburn, and have a bye week before facing LSU on the road. It's definitely not the same schedule Alabama is used to, but Nick Saban's team is one of the preseason favorites and will still have to go through a gauntlet of SEC teams to keep their standard of NCAA excellence.
Updated Alabama Football Schedule 2020
Sept. 26: at Missouri Tigers (Columbia, Mo.)

Oct. 3: TEXAS A&M AGGIES (Tuscaloosa, Ala.)

Oct. 10: at Ole Miss Rebels (Oxford, Miss.)

Oct. 17: GEORGIA BULLDOGS (Tuscaloosa, Ala.)

Oct. 24: at Tennessee Volunteers (Knoxville, Tenn.)

Oct. 31: MISSISSIPPI STATE BULLDOGS (Tuscaloosa, Ala.)

Nov. 14: at LSU Tigers (Baton Rouge, La.)

Nov. 21: KENTUCKY WILDCATS (Tuscaloosa, Ala.)

Nov. 28: AUBURN TIGERS (Tuscaloosa, Ala.)

Dec. 5: at Arkansas Razorbacks (Fayetteville, Ark.)
If Alabama wins the SEC West, the Crimson Tide will play in the SEC Football Championship Game on December 19 at Mercedes-Benz Stadium in Atlanta.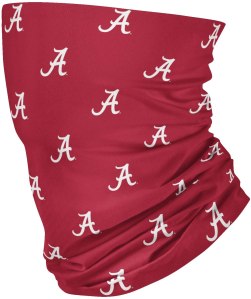 ---
The following article was originally published August 8, 2019 before schedule changes took effect.
Alabama Crimson Tide head coach Nick Saban couldn't have cared less about the 2020 football season when the schedule dropped. The iconic leader was busy preparing his team to kickoff the 2019 campaign against the Duke Blue Devils inside Mercedes-Benz Stadium, admitting that he hadn't even looked at next season's schedule after it was released in early August.
But for the rest of us chomping at the bit for as much football as possible, something as simple as a finalized schedule was perfect to curb our appetite. The Crimson Tide's 2020 schedule features seven home games at Bryant-Denny Stadium, four road SEC matchups, and its neutral-site game in Arlington, Texas against the USC Trojans.
There are a few things about every University of Alabama football schedule over the years you can pencil in before ever seeing it. First is the season's second game being an all-but-guaranteed win. Whether it's Middle Tennessee State, Western Kentucky, Fresno State, Arkansas State or 2019's opponent, New Mexico State, they never stand a chance.
Another sure thing is the final game of the regular season being the Iron Bowl. That's set in stone. Alabama facing the Auburn Tigers to end the year is as guaranteed as mashed potatoes and gravy at Thanksgiving.
But in 2020, there's one big change taking place right before the Alabama-Auburn game that many college football fans will love to see happen.
RELATED: The Secret Behind Alabama's Dynasty is Miss Terry Saban
For the first time since 2008 (when Alabama actually had the week off), the Crimson Tide will play a FBS-level opponent before Auburn when they host Jimbo Fisher and the Texas A&M Aggies.
Alabama Football Schedule 2020
Sept. 5: USC Trojans (AdvoCare Classic at AT&T Stadium)

Sept. 12: Georgia State Panthers

Sept. 19: Georgia Bulldogs

Sept. 26: Kent State Golden Flashes

Oct. 3: at Ole Miss Rebels

Oct. 10: at Arkansas Razorbacks

Oct. 17: Mississippi State Bulldogs

Oct. 24: at Tennessee Volunteers

Nov. 7: at LSU Tigers

Nov. 14: UT-Martin Skyhawks

Nov. 21: Texas A&M Aggies

Nov. 28: Auburn Tigers
Not including 2019's game against Western Carolina, these are the football teams Alabama faced the week before playing the Iron Bowl and the final scores of those games:
2018: Citadel, 50-17
2017: Mercer, 56-0
2016: Chattanooga, 31-3
2015: Charleston Southern, 56-6
2014: Western Carolina, 48-14
The list goes on and on, but you get the idea.
Heading into 2020, Alabama's focus is rebounding after missing the College Football Playoff and being two years removed from a national championship game loss to the Clemson Tigers. You can be sure that next season will have a different feel late in the year with massive back-to-back SEC West division games in Tuscaloosa. Both will carry a different tone with the SEC Championship Game in Atlanta, GA coming right around the corner, too.
This article was originally published August 8, 2019.