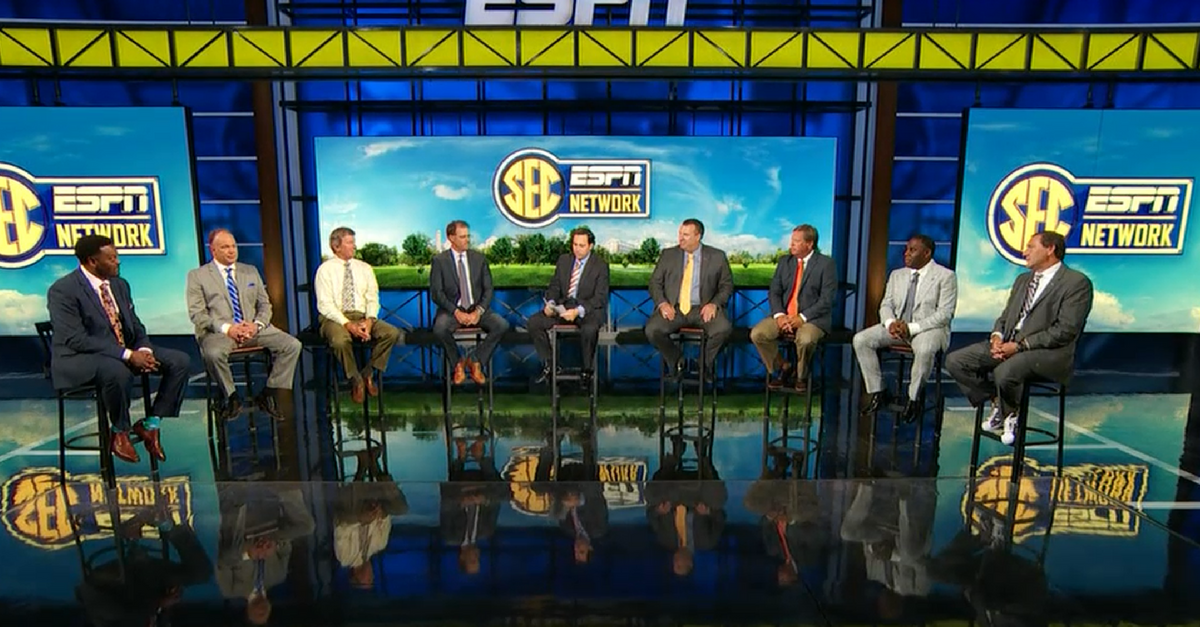 Twitter: @SECNetwork
Twitter: @SECNetwork
Most college football coaches only speak highly about their colleagues, particularly when it's teams in their conference. For one, it's all about recruiting — if a coach sets a good example publicly, then kids will want to come and play for a coach who doesn't say ridiculous things.
There are few times when a coach is caught candidly speaking about another program, especially faults or weaknesses they see within another system. Kudos to Athlon Sports, who got SEC coaches talking under the veil of anonymity. They managed to get these high-profile coaches to dish on what they think about other programs in the Southeastern Conference.
With the opening weekend of college football only a few weeks away, what a better way to stir up some debate than to hear what coaches inside the SEC have to say about their opponents?
Did Nick Saban call out Gus Malzahn? Is Ed Orgeron secretly in love with Matt Luke's Rebels? Does Kirby Smart hate the Chad Morris hire? Will new head coach Jimbo Fisher be taking notes from Jeremy Pruitt?
It's all up for interpretation.
Can you guess who said what about each one of these SEC schools?
Georgia
"I think it will be interesting this year, with what [Jake] Fromm did last year, and then them bringing in Justin Fields, because some people believe Fields is a once-in-a-generation talent. I think that will be an interesting competition to watch in camp."
"They are going to run away with the East. Nobody is close to them right now."
Ole Miss
"I don?t care what anyone says or how they try to spin it there, this is dead program walking. At least for a couple of years. They lost an elite quarterback and receiver because they didn?t want to hang around for the NCAA fallout, and they?re still dealing with that on the road in recruiting. Hey, there?s no honor among thieves in recruiting. The big thing right now is what happens with the NCAA. Once that gets resolved, you at least have a plan."
"A.J. Brown might be the best receiver in our league. A physical, tough, catch anything receiver. And he can run. The question is, can (Jordan) Ta?amu get him the ball consistently? I know everyone is talking about the great numbers Ta?amu put up last season when Shea Patterson got hurt. But he wasn?t facing the best defenses in our league. He had a few gimme putts there. I want to see if he can do it when the big boys are on the field."
Arkansas
"I feel really badly for Chad (Morris), who has been put in a difficult situation. That roster was built for (Bret) Bielema?s run-first, play-action offense. Chad will spend at least the first two years turning over that roster to fit his scheme."
"I just can?t see 270-pound Cole Kelley running Chad?s offense. My guess is Chad gets him to drop 20-30 pounds. He has a strong arm, though he wasn?t exactly the most accurate guy on the field. Whoever plays quarterback is more than likely a bridge to Chad?s first big quarterback recruit next year."
Florida
"Tennessee and Florida have some of the same problems. They have some good players, but they have made some mistakes — not so much from a talent perspective but from a character perspective. Player development is something they didn?t do a great job of either. But Florida doesn?t lack for talent, that?s for sure."
"I don?t know if Feleipe Franks is exactly what Dan Mullen wants at the quarterback position at Florida, but I think Franks is a pretty talented dude. Big, athletic guy who can make plays with his feet and his arm. He needs to continue to develop the finer points of being an upper-level quarterback. But I?m sure Dan will do a good job with him."
Kentucky
"Benny Snell is a workhorse. Anybody who can gain 1,000 yards in back-to-back years in the SEC deserves some recognition. I don?t put him in the same class as Nick Chubb and Sony Michel at Georgia or some of the backs at Alabama, but to me he is a tough player who runs hard and doesn?t just gain the yards the play is blocked for. He can gain above and beyond and get to the second and third level. When he was ejected from (Music City Bowl), that really hurt them. He?s a very confident player. A hard worker. He will be the featured player in the offense."
"Mark Stoops has done a nice job. His defenses play hard. I don?t know if they are that talented, but they play hard."
Missouri
"I think Drew Lock is really, really good. I am curious to see how losing (offensive coordinator) Josh Heupel will hurt him, because I thought their system was outstanding. Lock might throw too many interceptions, and he is a little bit a product of the system, but I think he is a very good quarterback."
"The Derek Dooley hire (at offensive coordinator) was off the radar. I don?t know what he?s going to do there. I don?t necessarily think it was a bad hire. Just surprising."
LSU
"I like Ed (Orgeron), I really do. He can win there, and maybe he can develop into a guy that stays there a while. But he has to let his coaches coach. What he did with (former offensive coordinator) Matt Canada was ridiculous. You paid him all that money to get on board, and then a couple weeks into the season, you?re bailing on him. I don?t know all the specifics and if Canada wasn?t a good fit with the rest of the staff, but I know what Canada has accomplished in this game. He knows what he?s doing. If you?re an LSU fan, your hope is Ed does, too — and that his new OC will fit."
"A lot of questions there on offense. And (Steve) Ensminger is your guy to run that show? That hire will define Ed, no question about it."
Auburn
"Too many people are focusing on Tua and Jake Fromm as the best quarterbacks in this league. [Jarrett] Stidham has more arm talent than anyone."
"Auburn got over the hump with Alabama last year, and I really feel like they exhaled heading into the SEC Championship Game. Everyone was talking about Georgia as the team to knock off Alabama as SEC king. Auburn had better personnel than Georgia last year. But you?ve got to produce every week."
South Carolina
"I think they are very good. I know they had some games during the regular season they could have lost, like the Tennessee game and the Louisiana Tech game and even the Vanderbilt game, but they won them, so give them credit. I don?t think they were a fluke at all. You ask me right now, I think they are the second-best team in the East."
"This league has some good young quarterbacks, and Jake Bentley is one of the best. He?s really, really good. He?s a tough dude who makes all of the right plays. He has some great leadership characteristics. He can run enough to be a pain in the butt."
Alabama
"If only we were all so lucky to have the problem Nick (Saban) has: Two quarterbacks with the talent to win it all. But I absolutely think he?s going to have to manage that dual-quarterback problem like he never has had to. Don?t believe that idea that if you have two quarterbacks, you don?t have one. That?s ridiculous. We?d all kill for (Jalen) Hurts and Tua (Tagovailoa). Nick will do what?s best for the team, not what?s best for the ego of either of the two players, I guarantee that."
"They?re losing a lot on defense; that front will be completely retooled. They still might have the best edge guy in our league with Raekwon Davis."
"The one thing that is more impressive than any with that program is the way they just reload with not only players, but assistant coaches. They?ll have two new coordinators this year, and a new quarterbacks coach, and does anyone really think they?ll take a step back? Nick gets those assistant coaches in there and they learn what he wants — what he demands — from the first day."
Tennessee
"There are some really good quarterbacks in this league, and not many were more highly ranked than Jarrett Guarantano. But he sure didn?t play very well last year when he got a chance. He holds onto the ball too long and takes some unnecessary hits. He has to step his game up."
"Darrin Kirkland is a key guy at linebacker. If he comes back from injury, he has the potential to be an upper-level SEC linebacker. But other than that, I don?t see a lot of playmakers on that defense."
Mississippi State
"I?ve heard about how Joe Moorhead doesn?t know the Mississippi State ?culture? or that he doesn?t ?understand the South. Come on. You know what every high school recruit and every mamma and daddy understand? Winning. You think Dan Mullen understood it when he first got there? He?s from New Hampshire!"
"I don?t think you can underestimate the loss of Dan Mullen. The truth of the matter is Dan probably took that program as far as he could take it, and took it where many thought it couldn?t go. That?s a big bar to reach for Joe. It was time for Dan to leave; he knew it, we all knew it. Sometimes it?s just the natural turn. We all see it as coaches."
Texas A&M
"I?ll tell you what, if Jimbo (Fisher) thinks the media was too harsh on him at FSU, wait until he finishes fourth again in the West. It?s going to be a process there. When you recruit, you?re looking for guys who want to work and want to be coached. To me, it just looked like those players weren?t having fun on Saturdays and didn?t take too well to coaching. That?s what we talk about when we say a ?culture change.? Jimbo has a big one in front of him."
"It?s not talent; they?ve got dudes on that team. Sometimes you just need to hear a different voice. Jimbo?s will be unlike anything they?ve heard in a while there. He?ll rattle some cages."
Vanderbilt
"I respect that coaching staff. They are putting their players in position to be successful, but I don?t think they have the talent that they need across the board. They got mauled at times on defense last year."
"Ralph Webb earned my respect. One of the top leading rushers in the history of the SEC. He?s not exactly running behind the Dallas Cowboys' offensive line. The players I talked to in the league say he ran as hard as any player in the SEC. Played with a chip on his shoulder every week. Would not surprise if he has a really good pro career. He strikes me as if he was the heart and guts of the offense."