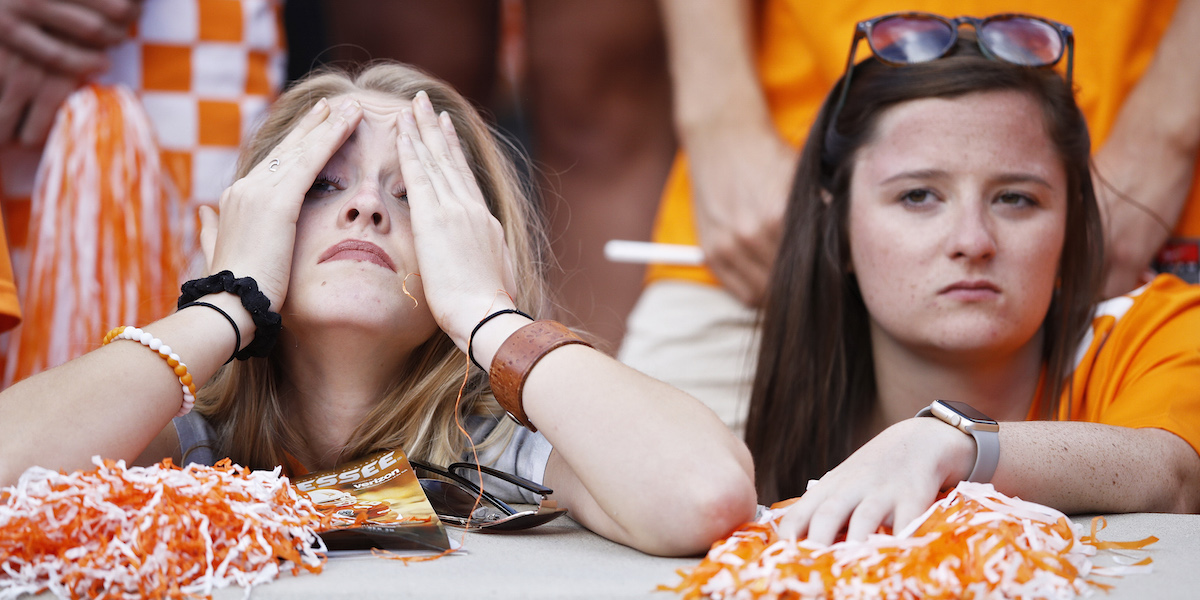 Joe Robbins/Getty Images
KNOXVILLE, TN - SEPTEMBER 30: Tennessee Volunteers fans react during a game against the Georgia Bulldogs at Neyland Stadium on September 30, 2017 in Knoxville, Tennessee. Georgia won 41-0. (Photo by Joe Robbins/Getty Images)
FOX Sports' Joe Klatt had some harsh words for Tennessee fans during an appearance on The Herd with Colin Cowherd on Wednesday.
Klatt said he hopes "no one takes" the Vols' coaching job because the fans don't "deserve anybody," adding that it has turned into the "worst Power 5 job in America."
"Who wants to go there knowing that the first time you lose two or three games you're going to get that type of mob mentality?" Klatt said. "Look at what they did to Lane Kiffin, I'm not saying Lane Kiffin was smelling like roses coming out of there. Clearly he did some things that were less than stellar, but they had a mob mentality then. Now what happens with this thing? I don't envy John Currie, the athletic director. I think Greg Schiano dodged a bullet. I think Mike Gundy made a great decision and I think anybody that turns down that job makes a great decision because right now, in my mind, that's the worst Power 5 job in America. Why? Because your fanbase turned it into that. You got led off the cliff by bloggers and that was not the right thing."
Tennessee was reportedly "close to hiring" Purdue's Jeff Brohm on Wednesday, according to WNML?s Jimmy Hyams, but later reports indicate that no deal was ever close to being reached.
Brohm is among several coaches to turn down the Vols, including Oklahoma State's Mike Gundy, who reportedly met with UT officials on Tuesday before deciding to stay at his alma mater.
On Sunday, Tennessee reportedly reached a memorandum of understanding with Ohio State coach Greg Schiano, which led to protests on social media and UT's campus by Vol fans, leading to a breach in the agreement.
The former Rutgers and Tampa Bay Buccaneers head coach had previously worked as a defensive assistant at Penn State under former defensive coordinator Jerry Sandusky, who was convicted of child molestation stemming from his tenure with the Nittany Lions in 2012.
According to a report, Schiano allegedly knew of Sandusky?s sexual abuse and turned a blind eye, according to testimony from former Penn State assistant Mike McQueary that was unsealed in 2016 by a Philadelphia court.
Schiano has denied the allegations in the past, having told ESPN?s Adam Schefter: ?I never saw any abuse nor had reason to suspect any abuse during my time at Penn State.?