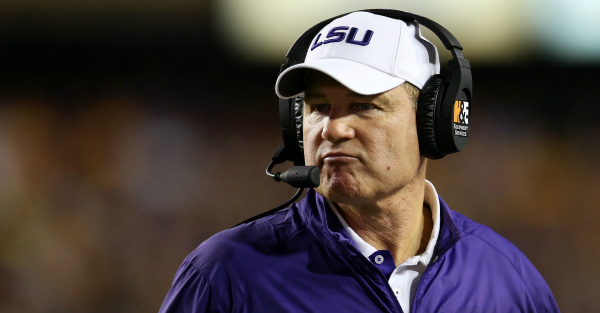 Chris Graythen/Getty Images
at Tiger Stadium on November 28, 2015 in Baton Rouge, Louisiana.
Les Miles may be the best remaining option for the Tennessee Volunteers and could also be the most affordable.
Gordy Rush of the LSU Sports Radio Network reportedly told Saturday Down South's Dan Harralson that Miles "wants the UT job" and was willing to "take less money if needed to spend on coordinators."
Rush added that the former Tigers coach could reach out to several coordinators with past ties to the Vols, including former quarterback and current USC offensive coordinator Tee Martin, former Tennessee and current Texas A&M defensive coordinator John Chavis and former Vols linebacker and current Auburn defensive coordinator Kevin Steele.
Miles reportedly denied an article claiming he had been contacted by new Tennessee athletic director Phillip Fulmer about the Vols' head coaching position on Saturday, according to The Advocate's Ross Dellenger.
The 64-year old Miles has been rumored to be interested in the job too should it be offered to him. However, he hadn?t been contacted previously by former athletic director John Currie, who conducted the Vols? coaching search prior to being fired and replaced by former Tennessee head coach Phillip Fulmer on Friday.
Miles led the Tigers to a BCS National Championship in 2007, two SEC titles (2007, 2011) and three first-place finishes in the SEC Western Division (2005. 2007, 2011).
Miles holds a 141-55 overall record, which also includes a 28-21 record at Oklahoma State. He also only missed a single bowl game in his entire head coaching career and went 8-6 in the postseason, including wins in the Sugar, Peach and Cotton Bowl.
All three of the assistant coaches rumored to be on Miles' potential staff have either played for or coached alongside Fulmer during his long tenure as both an assistant and head coach at Tennessee.
Martin, who was named as a Broyles Award semi-finalist on Tuesday, was the starting quarterback for Fulmer's 1998 BCS Championship team. The 39-year-old coordinator led USC's offense to 501 yards of total offense during Friday's Pac-12 Championship victory and also acknowledged Vol fans' interest in his coaching services on Twitter after the win.
Chavis was a long-time defensive assistant at Tennessee, beginning his career as a graduate assistant in 1979. "The Chief" worked alongside Fulmer as both a defensive line and linebackers coach from 1989-94 before being promoted to defensive coordinator in 1995.
Chavis left the Vols in 2008 to work under Miles at LSU and helped lead the Tigers to a national championship appearance in 2011, before joining Texas A&M in 2015.
Steele began his coaching career as a graduate assistant for his alma mater in 1980 — the same year Fulmer returned to the program as an offensive line coach — and spent the first three seasons of his career with the Vols.
He returned to Tennessee in 1987 as a defensive backs coach for two seasons, before working as both a linebackers coach and defensive coordinator for numerous teams including Nebraska, the Carolina Panthers, Alabama, Clemson and LSU, where he coached alongside Miles before accepting the coordinator position at Auburn in 2016.