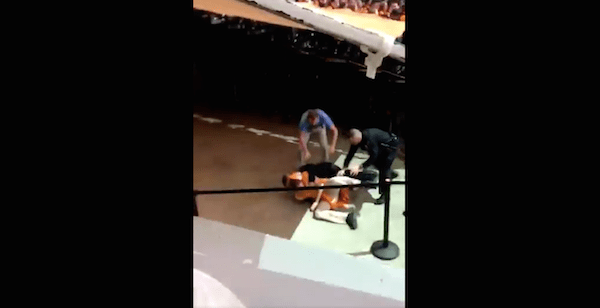 @TFam_1/Twitter
@TFam_1/Twitter
Things are getting even more tumultuous on Rocky Top.
In the wake of an embarrassing botched head coaching hire and subsequent fan protest, Tennessee fans remain furious with first-year athletic director John Currie.
During Wednesday night's basketball game against Mercer, UT students chanted "Fire Currie," which reportedly led to an attempted "drown out" by the Pride of the Southland Marching band, as well as ejections.
One unidentified fan was captured on video being escorted out of the arena in handcuffs and taken down by officers.
The fan was reportedly arrested for public intoxication, resisting arrest and assaulting an officer, according to a UT spokesperson.
The Vols have missed out on several coaching candidates since revoking their reported deal with Ohio State defensive coordinator Greg Schiano on Sunday, including Oklahoma State's Mike Gundy, Purdue's Jeff Brohm and several others.
Now, Tennessee has reportedly turned its attention to NC State's Dave Doeren, which — if they weren't enough already — made Vol fans even more furious.
On Sunday, Tennessee reportedly reached a memorandum of understanding with Schiano, which led to protests on social media and UT's campus by Vol fans, leading to a breach in the agreement.
The former Rutgers and Tampa Bay Buccaneers head coach had previously worked as a defensive assistant at Penn State under former defensive coordinator Jerry Sandusky, who was convicted of child molestation stemming from his tenure with the Nittany Lions in 2012.
According to a report, Schiano allegedly knew of Sandusky?s sexual abuse and turned a blind eye, according to testimony from former Penn State assistant Mike McQueary that was unsealed in 2016 by a Philadelphia court.
Schiano has denied the allegations in the past, having told ESPN?s Adam Schefter: ?I never saw any abuse nor had reason to suspect any abuse during my time at Penn State.?