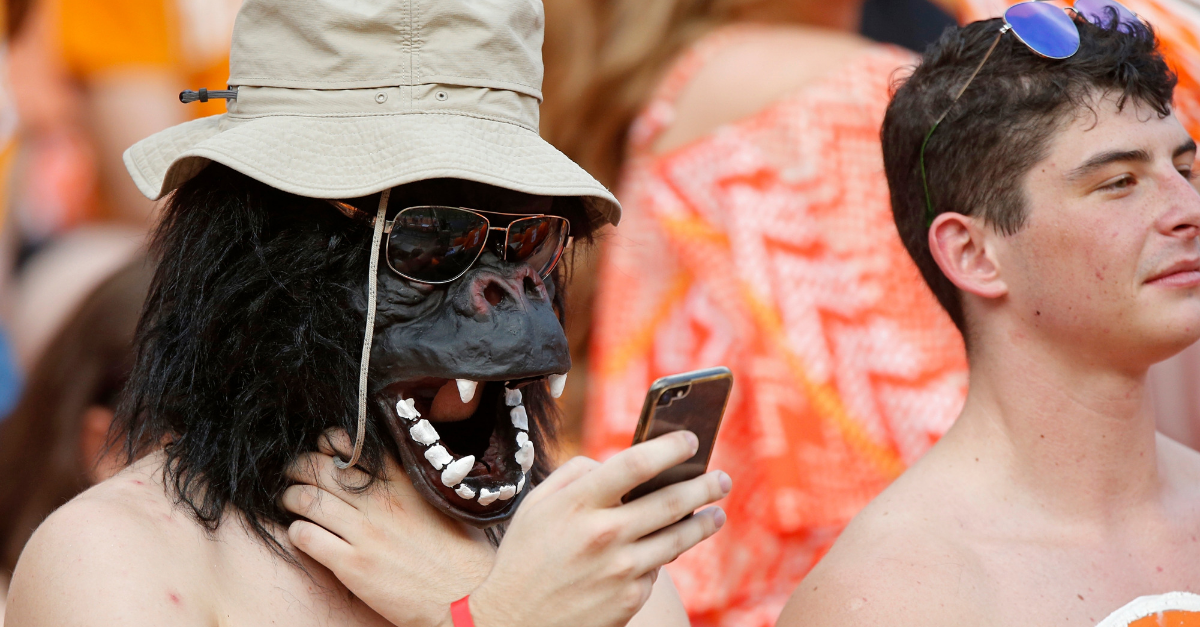 AP Photo/Wade Payne
A lonely man in Knoxville, Tennessee is truly between a rock and a hard place at the moment. You see, he loves Tennessee Volunteers football and has a pair of season tickets to Neyland Stadium. He just doesn?t have anyone to attend games with this season.
In an unfortunate turn of events, and who really knows what the hell actually happened, this anonymous man got dumped a couple of weeks ago and is trying to pick up the pieces just before the college football season.
We already knew SEC fans can get on the wrong side of crazy at times, but this guy pulled off the ultimate ?shoot your shot? moment of the preseason; He is looking for a fellow Tennessee fan and female companion to go to games this season by posting a Craigslist ad.
This is not a joke.
RELATED: Remember When This Tennessee Fan ?Got Lucky? on Camera?
The Vols, under second-year head coach Jeremy Pruitt, have an unprecedented eight home games this season. They host the Georgia State Panthers, BYU Cougars, Chattanooga Mocs, Georgia Bulldogs, Mississippi State Bulldogs, South Carolina Gamecocks, UAB Blazers, and Vanderbilt Commodores.
This could be a great opportunity or a horrible idea. It?s unclear what it might be, but there are some stipulations to being this man?s date. Try for your jaw not to drop when you read all of ?Tenn football ? female to accompany ? $1 (Knoxville).?
?This may seem like a crazy notion, but here it goes…. Female responses only?.

?My girlfriend broke up with me a couple weeks ago, so I find myself with an extra ticket to each of the University of Tennessee football games. Not looking for a relationship, merely a lady that would be interested in accompanying me to a game or two.
The group that I tailgate with are all couples (ages 40-60s).
Must behave in a respectable manner (no drunks, no drugs, no vulgarity)
Must be willing to tailgate for most of the day/evening. I have 1 and only 1 parking pass. I arrive early and stay late. Plan on a 6-8 hr day.
You must be a VOLS fan. Sorry, but i am not wanting to sit beside a Gator, Dawg, Cat, or Dore.
If you have favorite tailgate dishes you wish to share, bonus points.
Im open to having different person each game, or if we are mutually compatible then maybe most or all games to the same person.
Ask that you be willing to pay face value of the ticket. That applies for both Georgia and Georgia State. You cant lowball the best games and expect the lesser games to be near free.

?Would like to chat and meet prior to going to any specific game.

?Tell me why I should pick you??
Not only do you have the chance to be some random dude?s date on game day, but you get the grand prize of hanging out with his friends without getting too drunk, high, or vulgar, and you have to pay face value for the ticket that is who knows where.
Good luck to this Tennessee Volunteers fan and best of luck to all the ladies out there willing to take a chance. We will look for you on ESPN. Please report back.