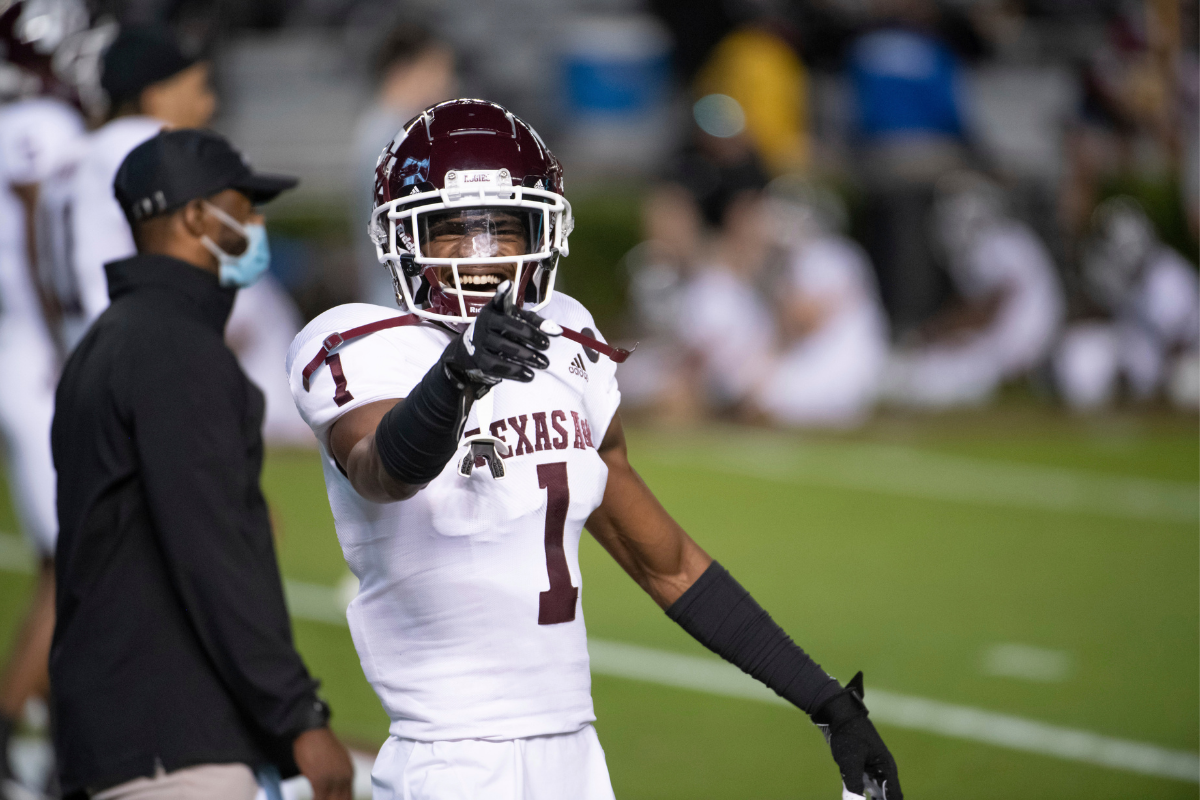 AP Photo/Sean Rayford
Wide receiver Demond Demas was as sought after a recruit as any in the 2020 recruiting class. The Tomball High School product didn't go far to play his college football, only about an hour in fact, and he's ready to make an impact for head coach Jimbo Fisher and the Texas A&M Aggies in 2021.
Demas, a five-star recruit, committed to the Texas A&M football team more than three years ago. Now, he's finally ready to take the field and burn SEC secondaries.
Demond Demas Recruiting & Highlights
Before committing to Texas A&M, Demas dropped a top five that included the Aggies, Alabama, Georgia, Oklahoma and Texas. He even took an unofficial visit to the Longhorns and an official visit to Oklahoma.
At the end of the day, though, home is where the heart is, and now the Aggies offense has an explosive playmaker with NFL potential for years to come.
At 6-foot-3 and 200 pounds, watching Demas play high school football was like a cheat code. He was the No. 25 player nationally and No. 3 wide receiver in the 2020 recruiting class, according to 247Sports.
Coming out of high school, Demas recorded a 4.43 forty, a 41-inch vertical, and a long jump of 23 feet 8.5 inches. He averaged over 30 yards per reception and a touchdown every other catch during his last year of high school football. Not to mention he once had a game with five touchdowns on five receptions.
Demas started his career at North Forest High School in Houston before transferring to Tomball. However, he was ruled ineligible by the UIL executive committee and was forced to miss his senior season.
Demond Demas at Texas A&M
RELATED: Haynes King, Kellen Mond's Successor, is Ready to Electrify Texas A&M's Offense
Demas only played in four games last season and didn't catch a pass. His lack of playing time can be attributed to the steep learning curve from high school to NCAA football. The five-star wideout was also arrested for marijuana possession in March 2021 but he was quickly reinstated and cleared to participate in spring practice. Although, he did not play in the spring game out of injury caution.
Despite the rocky start to his college football career, Demas is ready to make Kyle Field explode in 2021. His offseason work caught the attention of several teammates, including junior wide receiver Ainias Smith.
"I definitely like the progress that Demond is starting to bring to the table, said Smith. He's definitely maturing. You can definitely see his play start to elevate because of his maturity. I feel like he has a great opportunity to go ahead and show the world what he's capable of."
Demas and Smith are two members of the receiving corps that also includes redshirt sophomore Chase Lane, redshirt junior Caleb Chapman and junior tight end Jalen Wydermyer. Additionally, the Aggies are returning a majority of the starting lineup of the 2020 team that barely missed the College Football Playoff.
Fisher praised Demas for his outstanding progress this offseason, and if he can deliver, Texas A&M could have one of the biggest playmakers in the country.
Fans in College Station have plenty to be excited about while fans of LSU, Arkansas, Auburn, Florida, Tennessee and South Carolina have plenty to worry about.
This post was originally published on December 18, 2019.