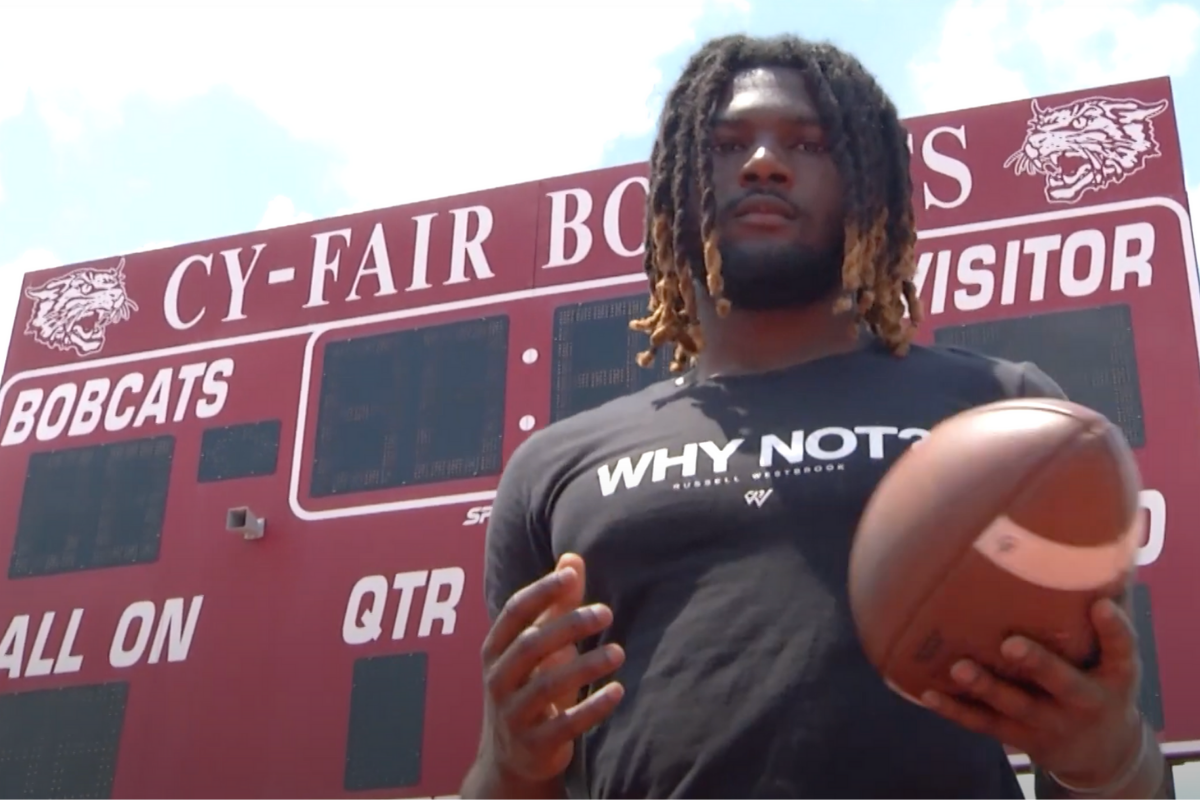 Screenshot from YouTube
The LJ Johnson sweepstakes are nearing a conclusion.
The four-star running back from Cypress, Texas, has narrowed down his choices and will either be playing with the LSU Tigers, Oklahoma Sooners, Texas Longhorns, or Texas A&M Aggies next year. And it looks like he's staying in Texas.
Johnson plays for Cy-Fair High School and is considered one of the best running backs in the 2021 recruiting class.
As far as results go, Johnson has been incredibly productive. He was only able to get into one game during his freshman year, but he took the starting running back job as a sophomore and "ran" with it, rushing for 1,139 yards and 20 touchdowns. Last year, Johnson added 37 rushing scores to his ledger and nearly 2,000 rushing yards. As a senior, he posted another 1,262 rushing yards and 23 total touchdowns.
The COVID-19 pandemic shifted the high school football schedule this fall, so Johnson only has a small sample size to work off in 2020, but he has been similarly impressive in his role.
RB LJ Johnson Recruiting
RELATED: Jimbo Fisher Nabs Oklahoma's No. 1 Football Recruit for Next Season
LJ Johnson was sought after by numerous other schools in addition to his finalists as well, including Alabama, Arizona, Arkansas, Auburn, Baylor, Florida State, Georgia, Georgia Tech, Houston, Louisiana, Louisiana Tech, Miami, Michigan, Michigan State, Nebraska, Notre Dame, Ohio State, Oklahoma State, Penn State, Stanford, TCU, Texas Tech, and USC.
Although there are four potential suitors left, the college football teams in the state of Texas are thought to be in the lead, according to the 247Sports Crystal Ball.
The Longhorns have been aggressive in their pursuit of the halfback; as we know, football recruiting is all about relationship building, and Texas head coach Tom Herman and running backs coach Stan Drayton have done their best to court Johnson.
Texas was looking to sign five-star RB Camar Wheaton as well, so it will be interesting to follow if Herman's Longhorns can nab at least one of them, though Wheaton's signing doesn't appear to be likely.
Running Back LJ Johnson Highlights
LJ Johnson is 5-foot-10 and 204 pounds in high school, suggesting that he will likely grow even more by the time he gets through his college career. He is big-bodied but still able to show trademark quickness, whether he is rushing between the tackles or to the outside. Johnson sheds tackles with ease and has the skills to juke out defenders.
Looking at the stats, one thing that pops out is his lack of receptions; to date, he only has 11 in his career. This may work in high school, but today's NFL requires the ability to catch passes from the backfield. He will more than likely have to adapt and start to get more targets from his quarterback.
Johnson is listed as the fourth-best running back in the nation and the seventh-best prospect in all of Texas football, which are high grades for a state known for being a hotbed of talent.
If he can continually score touchdowns with ease at the college level, the NFL Draft will be waiting for him.
---
LJ Johnson Signs With Texas A&M
UPDATE (February 4, 2021): The No. 4 running back in the 2021 class is officially committed to Jimbo Fisher's Texas A&M Aggies and signed his letter of intent on National Signing Day. He announced the news on his Twitter account with the caption, "COMMITTED! GIG'EM! #blessed." 
Johnson let the drama wait until NSD, and ultimately the Aggies came out on top. The nation's No. 4 running back and the Lone Star State's No. 2 running back boosted TAMU's 2021 class to No. 7 in the nation, according to MaxPreps.
As Burnt Orange Nation reported, Johnson is the highest-rated running back signee for Texas A&M since 2012.