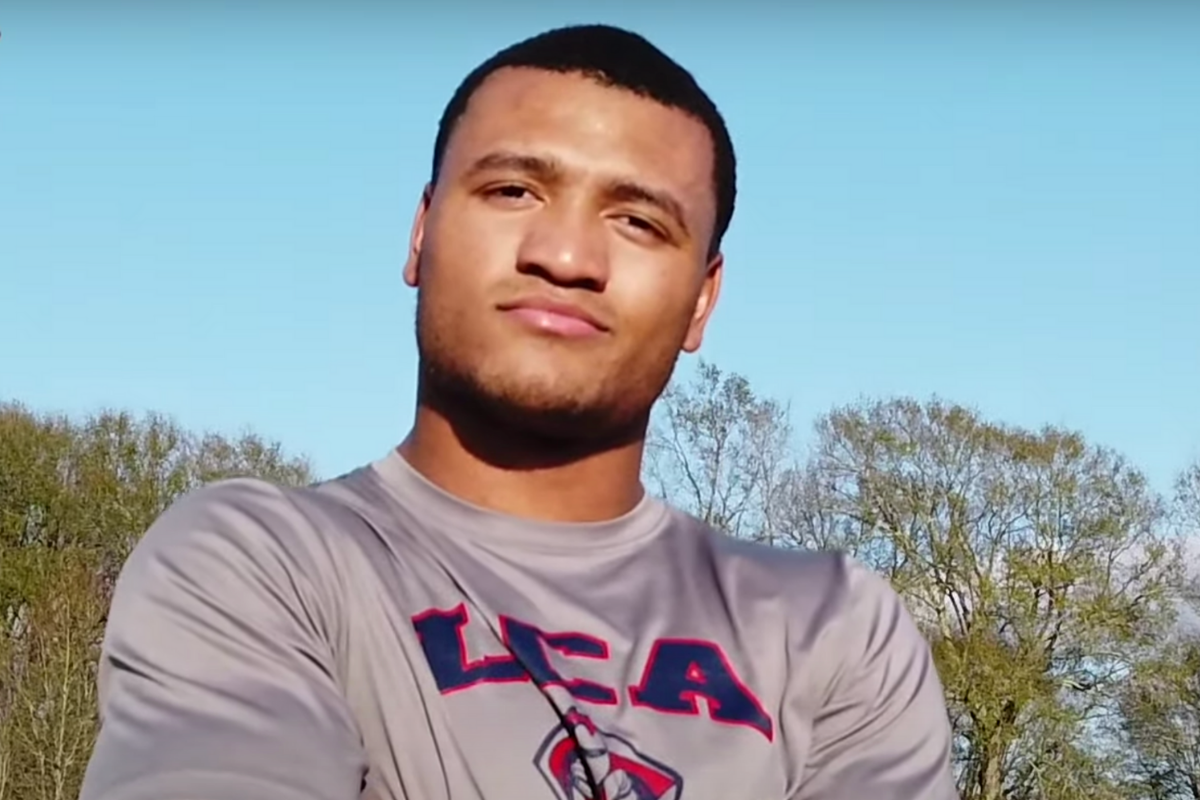 Screenshot from YouTube
Sage Ryan, the No. 1 safety in the nation, had an important decision to make. After significant interest from a myriad of schools, he narrowed down his top two choices to the Alabama Crimson Tide and LSU Tigers. The Clemson Tigers were thought to be a contender for his services, too, but they would finish in third place in this race.
These exceptional college football programs all got their chance to roster one of the best defensive backs in all of high school football. Ryan received offers from Auburn, Baylor, Colorado, Florida State, Georgia, Kansas, Louisiana, Michigan, Ole Miss, TCU, Tennessee, and Texas as well.
At the end of the day, however, LSU won the battle, and there's no doubt a strong family connection helped.
Five-Star Safety Sage Ryan Commits to LSU
RELATED: LSU's Next Star QB is a Super Bowl Champion's Son
Many scouts and recruiting experts believed Sage Ryan was all but a lock to be a member of Ed Orgeron's LSU squad, and not just because he is a Louisiana native.
Ryan's cousin is Kevin Faulk, the former LSU and NFL running back who is currently the running backs coach of the Tigers.
Turns out, they were right. Ryan committed to the Tigers over Bama on Halloween.
Ryan has even more professional football ties; his uncle is former NFL linebacker Trev Faulk, who played in 29 games with the St. Louis Rams over the course of two seasons.
Sage Ryan Highlights
There is a reason Ryan is so highly regarded. As a sophomore and junior at Lafayette Christian Academy, he helped lead his team to back-to-back state titles with his exceptional play on both sides of the ball.
He even lined up at wide receiver a few times and was able to make big plays on offense, and even scored a pair of touchdowns when called upon. His athleticism rivals very few; in addition to safety, don't be surprised if he were able to play cornerback or linebacker as well. He has a nose for the ball and hits incredibly hard.
His speed (4.45 seconds in the 40-yard dash) gave the All-American the nickname "Flash."
LSU football has experienced a renaissance in recent years, culminating in a decisive victory in the College Football Playoff national championship matchup against Clemson last season on ESPN.
While the Tigers of South Carolina were still in play for Sage Ryan for a long while, the Tigers of Baton Rouge had a built-in advantage. Ed Orgeron wants to build a dynasty with his team, and now Ryan will be a part of his 2021 defense.