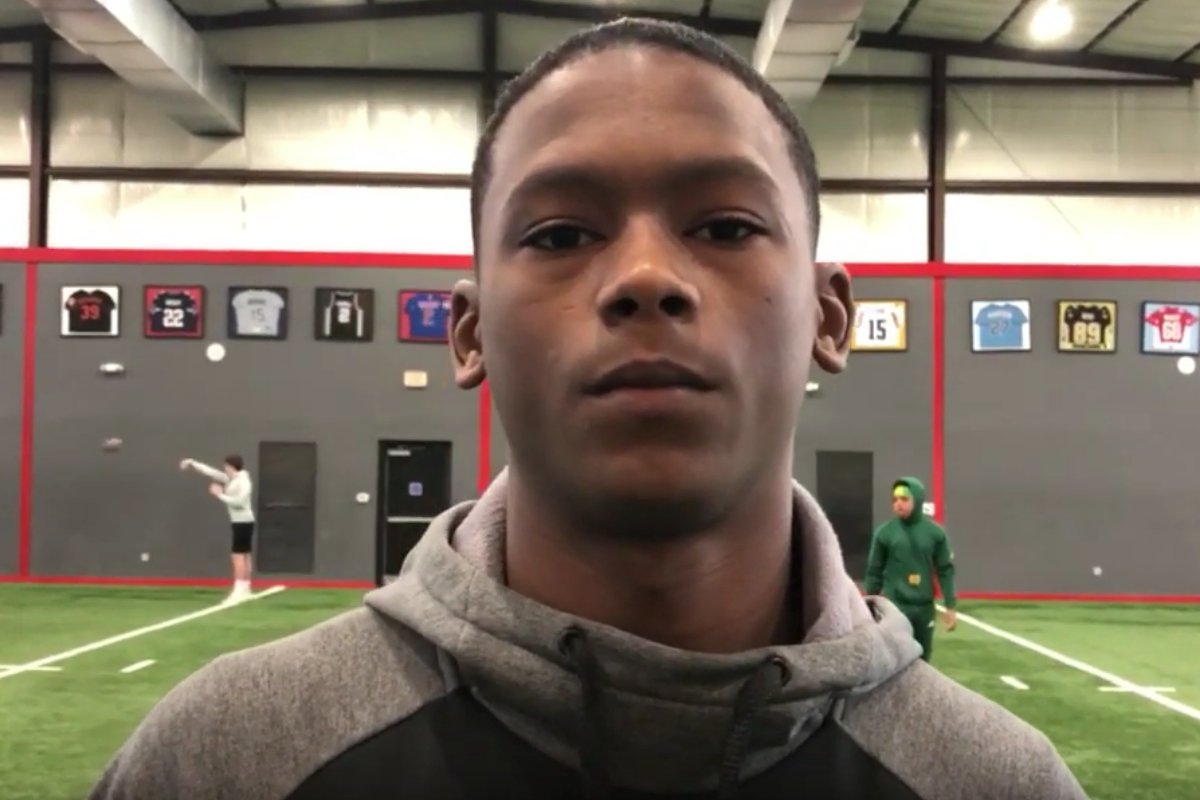 Screenshot from YouTube
Home is where the purple and gold is.
At least that's the case for Major Burns.
Burns ? a Baton Rouge, Louisiana native out of Madison Prep Academy ? made a detour to Athens, Georgia for his freshman season.
The defensive back is returning to his roots to suit up for the hometown team.
Major Burns at Georgia
Burns was a four-star recruit coming out of high school. He was the 182nd-ranked player and 13th-ranked safety in the 2020 college football recruiting class, according to the 247Sports Composite.
The DB had offers from Florida, Oklahoma, LSU, Texas A&M, Arizona, Arizona State, Arkansas, Auburn, Colorado, Duke, Florida State, Georgia Tech, Houston, Kansas, Liberty, Louisiana, Louisiana Tech, Louisiana-Monroe, Memphis, Miami, Mississippi State, Nebraska, Notre Dame, Purdue, SMU, South Alabama, Southern Miss, Texas Tech, Troy, Tulane, Virginia, and Virginia.
He originally pledged to Texas A&M coach Jimbo Fisher in February 2019. He decommitted a month later. He then committed to Ed Orgeron and the LSU Tigers prior to his senior season. After he wrapped up his high school career, he decomitted.
Fisher jumped on the opportunity to persuade his old recruit before Georgia head coach Kirby Smart hopped in on the action. Smart ultimately signed the four-star prospect.
Burns enrolled at UGA in January 2020. He entered a loaded secondary room that included five future pros at cornerback and safety. The plethora of experience didn't allow Burns to see the field much as a true freshman last season.
The Georgia safety appeared for the first time against Arkansas, racking up one tackle. His second and final appearance in black and red was against Florida, where he had one solo tackle and two assisted tackles.
DB Major Burns Transfers to LSU
RELATED: LSU?s New 4-Star WR is a Homegrown Track State Champion
Burns entered the NCAA Transfer Portal on May 3. He announced he was committing to the LSU football program on May 18.
The former Georgia Bulldog should be able to play right away following the new transfer rules. The SEC votes to pass an amendment permitting intra-conference transfers to see the field as soon as they arrive on their new campus in June.
It's assumed the conference follows the lead of the Pac-12, ACC and Big 12, who have already changed their rules.
The Baton Rouge native's departure left the Georgia Bulldogs with a depleted secondary that led to the signing of Alabama transfer Brandon Turnage and West Virginia transfer Tykee Smith.
The Tigers aren't bringing back much experience themselves at the safety spots. Starter JaCoby Stevens was the 224th-overall pick by the Philadelphia Eagles in the 2021 NFL Draft. Stevens' counterpart, Maurice Hampton Jr., entered the Transfer Portal in March.
Burns is one of four safeties in Orgeron's 2021 recruiting class, including five-star Sage Ryan. Orgeron made it a priority to target safeties, running backs, wide receivers, and linebackers this offseason. The Bayou Bengals have the third-ranked class behind Alabama and Ohio State. They sit ahead of Georgia, Clemson, and Oregon.
The Georgia transfer will get as much opportunity as anyone to compete for a starting spot before the season opener at UCLA on September 4.
Playing in front of family and friends will give him extra motivation.