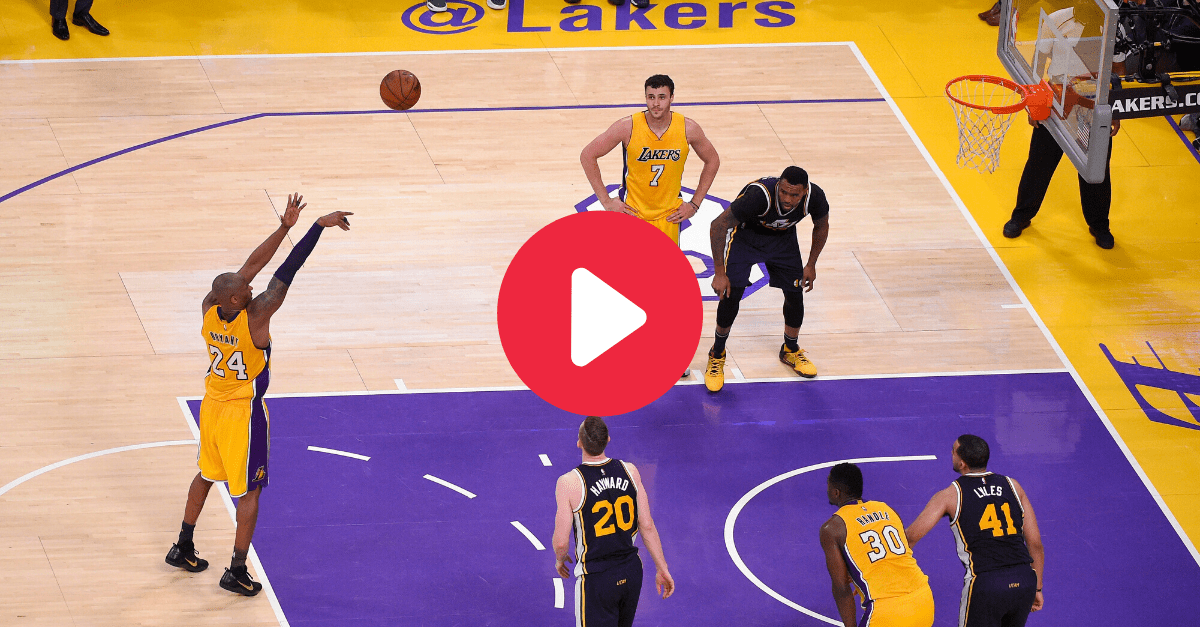 AP Photo/Mark J. Terrill
The Black Mamba struck a final time on April 13, 2016.
With five NBA Championships, two Finals MVPs, one regular-season MVP, and 18 All-Star appearances under his belt, there's no way Los Angeles Lakers icon Kobe Bryant would leave the game he dedicated his whole life to quietly.
Kobe played a 60-song set of his greatest hits.
We gawked at the legend as the concert wound down, knowing this is the final time he would grace the stage, and he left with a kiss to the audience.
"Mamba out."
All that remained was a microphone at center court.
Kobe Bryant's Final Game
Kobe's last seasons weren't what he was accustomed to — They were injury ridden, and the Lakers were far from championships. The Utah Jazz arrived at the Staples Center to wrap the 2015-16 season. Neither team was playoff-bound.
Kobe was never going to settle for anything less than a victory to end his 20-year career. Like his friend and mentor Michael Jordan instilled in him, he was going to do whatever it took to win.
So, Kobe did what Kobe does: he fired away 50 times. He scored 15 in the first, 7 in the second, and 15 in the third. Through three quarters, the Lakers were down 75-66. The fourth quarter was mamba time. Kobe bit down and gritted his way to 21 points, overcame the Jazz lead, and got fouled with 14.8 seconds left. He needed two free throws to reach 60. He sank them both. He left the court smiling cheek-to-cheek, winking to his wife Vanessa and his two oldest daughters, Natalia and Gianna, with a 101-96 victory.
RELATED: Michael Jordan's Flu Game: What Caused His Sickness?
The sendoff is as notable as any in sports. Kobe was on his last leg but willed through like the young bull we knew and loved. It feels weird saying that in the past tense.
Kobe and his 13-year-old daughter Gianna's death in a Calabasas helicopter crash this past January was the first curveball 2020 threw at us. The coronavirus pandemic the second, with the pitch still approaching home plate.
The tragic deaths were shocking and urged basketball fans to revisit Kobe's career. His entrance into the league as an 18-year old, his championships with Shaq, his 81-point performance, his fourth and fifth rings with Pau Gasol and company. The ups and downs of a career were fueled by unrelenting perseverance and competitiveness.
Kobe's final NBA game was the last time we saw him on the court. The little basketball player in "Dear Basketball" had finished his journey. And boy, did it make you smile, cheer, and tear up.
Not even Oscar-winner Kobe Bryant could write a better ending.