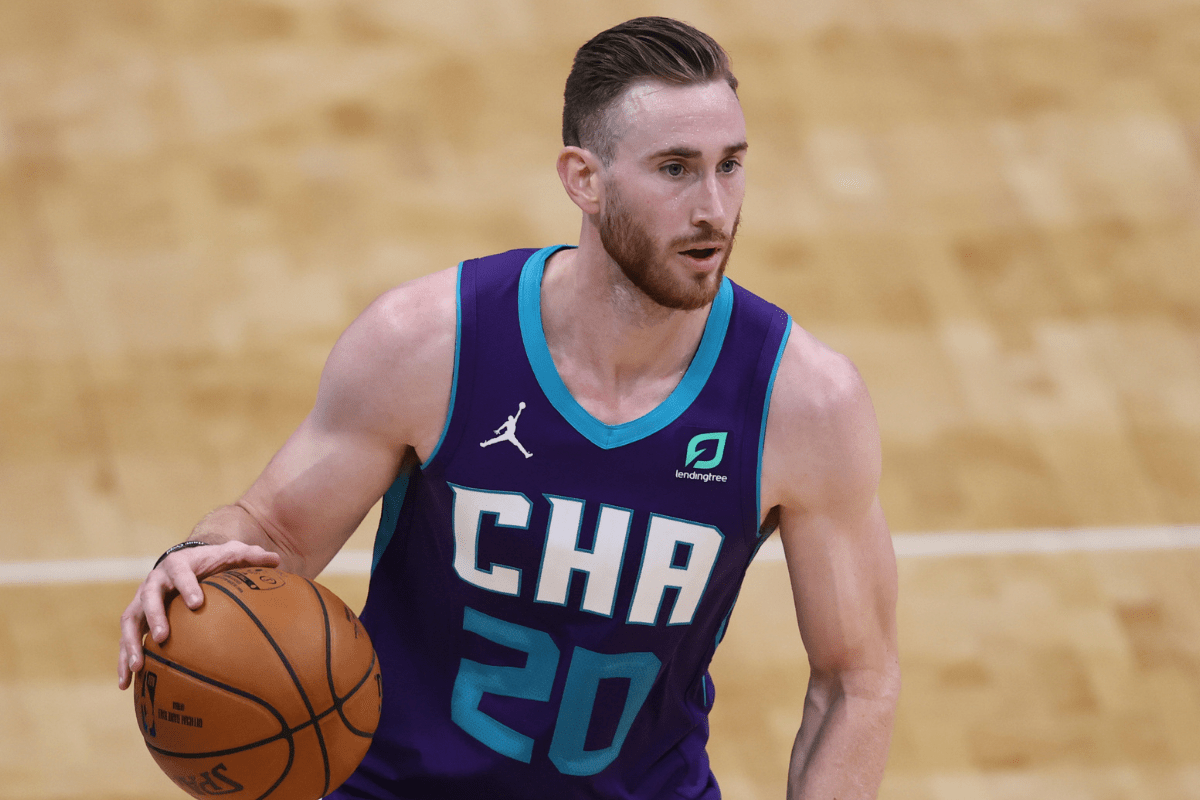 AP Photo/Nell Redmond
A gender reveal is a father's greatest dream.
It's right up there with cracking a cold one with the fellas, watching football with the boys, and spending the latter half of March chowing down wings with the dudes.
Learning if your child is going to be a boy or a girl brings so many thoughts swirling through your head. Having all these emotions caught on camera and posted to social media is as close to euphoria as a guy could get.
Gordon Hayward reached where so many guys wish they could go.
In a gender reveal posted by his wife Robyn in July 2018, Hayward discovered that his two daughters would be succeeded by another girl.
"Woooahhhh it's a girl" he emphatically exclaimed.
"Is daddy happy?" Robyn asked, hinting that the doghouse was only a few steps away.
"Daddy's always happy," he replied. Well done.
Gordon Hayward's Wife Robyn Hayward
Gordon and Robyn are both Indiana natives. They met shortly after Robyn graduated from high school in 2013 and tied the knot in 2014.
They welcomed their first daughter in 2015, their second in 2016, their third in 2019, and their first son in 2020.
It was rumored that Hayward was going to leave the NBA Bubble in Orlando, Florida, to attend his son's birth. After suffering an ankle injury in the first round of the NBA Playoffs against the Philadelphia 76ers, Hayward was able to return home and spend some extra time with his family while the Boston Celtics squared off against the Toronto Raptors in the second round.
Once he recovered and returned to the Bubble for the Eastern Conference Finals against the Miami Heat, he stayed put while his fourth child, Gordon Theodore Hayward, was born per ESPN. He'll go by Theo.
The couple enjoys traveling and spending the offseason in California.
Gordon Hayward's Basketball Career
RELATED: Did Charlotte Completely Overpay for Gordon Hayward?
Gordon Hayward was born on March 23, 1990 in Indianapolis, Indiana. He was a successful tennis player before sprouting from 5-foot-11 to 6-foot-7 in high school. The growth spurt steered him to focus on basketball, where he won a state championship as a senior.
He played college basketball for head coach Brad Stevens at Butler University and was a key player in the Bulldogs' run to the 2010 NCAA Championship game. In two years, the small forward averaged 14.4 points, 7.4 rebounds, 1.8 assists, and 1.3 steals.
He was selected ninth overall in the 2010 NBA Draft by the Utah Jazz. He's enjoyed a solid career competing against the likes of LeBron James and the Los Angeles Lakers, Kawhi Leonard and the LA Clippers, Draymond Green, Steph Curry and the Golden State Warriors, Nikola Jokic and the Denver Nuggets, and the refreshed New York Knicks.
— NBA All-Star (2017)
— Horizon League Player of the Year (2010)
— 2x First-team All-Horizon League
— Horizon League Newcomer of the Year (2009)
Hayward became a free agent in 2017 and left Utah for the Boston Celtics to reunite with Stevens. He suffered a gruesome ankle injury just minutes into his first game. He played three seasons in Boston.
In November 2020, Hayward inked a four-year, $120 million deal with the Charlotte Hornets. He leads the team in scoring and has them trending in the right direction.