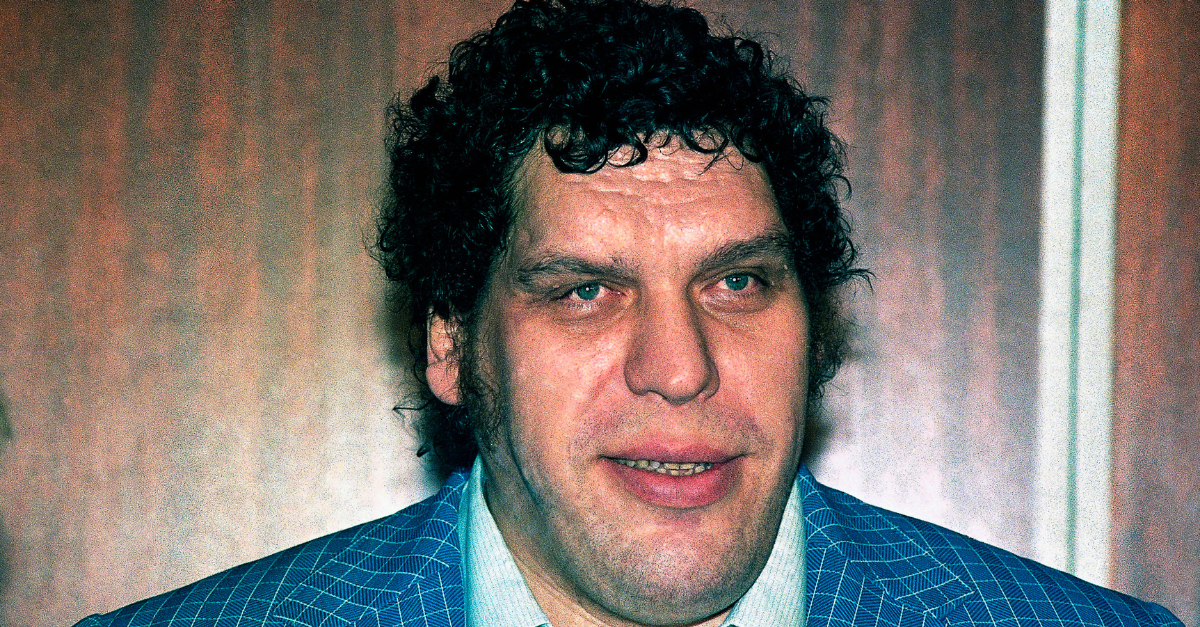 AP Photo/Richard Drew, File
In 1973, Andre the Giant debuted in Vince McMahon Sr.'s 'World Wide Wrestling Federation' (WWWF) as a fan favorite and was one of the most popular good guys of the 1970s. Andre continued competing as a babyface until 1987, when he turned heel (became a bad guy) to commence a feud with Hulk Hogan which main-evented WrestleMania III in front of over 93,000 fans.
After his rivalry with Hogan, Andre stepped away from the title scene and feuded with iconic names such as Jake Roberts, "Hacksaw" Jim Duggan, "Macho Man" Randy Savage, Hillbilly Jim, and The Ultimate Warrior. He retired from full-time, in-ring competition in 1990 with one reign as WWE World Heavyweight Champion and one reign as WWE World Tag Team Champion. During his WWE career, he was also the co-star of The Princess Bride movie as Fezzik, which increased his presence in Hollywood.
Known as "The Eighth Wonder of the World," Andre the Giant – born Andre Rene Roussimoff – fit right into to bizarro world of professional wrestling in the 1970s. Billed as 7'4″ and 520 pounds from Grenoble in the French Alps, his size alone was enough to make an early impression in the ring. Especially, competing in battle royals for various promotions, since his huge stature attracted many fans to come see him in the ring. Andre joined professional wrestling in 1964 and became popular in the United States while competing for Verne Gagne's American Wrestling Association (AWA) promotion.
Throughout his career as a professional wrestler before his passing in 1993, Andre was also known for being a heavy drinker. Here are some Andre the Giant drinking stories that may shock you.
He Downed 156 Beers in One Sitting
Andre once admitted to David Letterman that he consumed 119 12-ounce beers in a single sitting. However, former wrestler Mike Graham stated that Andre actually reached 156 beers in one sitting. This was confirmed in an episode of Legends of Wrestling by "The American Dream" Dusty Rhodes and Michael Hayes.
He Cleared An Entire Stock of Vodka on a Flight to Japan
Ric Flair confirmed that Andre cleared an entire plane from vodka during a flight to Japan. Flair, however, did help him in this feat…
He Drank 6 Bottles of Mateus Wine Before Matches
WWE Hall of Famer Gerald Brisco confirmed that Andre "used to ask me to get him six bottles of Mateus wine and ice them down," and "drink those before we went to the ring and no one could tell" during an interview with the Tampa Bay Times. While drinking this many bottles of wines would certainly affect the typical pro wrestler, it apparently had no effect on Andre.
He Drank 12 Bottles of Wine on a Bus Ride to Japan
Hulk Hogan once recalled a time where Andre requested a pit stop to drink 12 bottles of wine:
"I went down to this little karaoke bar right down the street from the hotel and I bought a case of Pouilly-Fuissé wine — 12 bottles of this very powerful, powerful, strong white French wine," Hogan said. "All of a sudden we left the hotel about 8 in the morning for an eight hour bus ride. About three hours later he shakes the seat. He says, 'Boss. Bossss. I need pit stop.' Three hours on a bus he drank 12 bottles of wine."
His Bar Experience with Vodka Tonics
Andre once drank 40 vodka tonics after a bartender did the last call for alcohol. However, Andre did not want to leave, so the bartender agreed to stay until he was done drinking.
Andre finished at around 5 a.m…