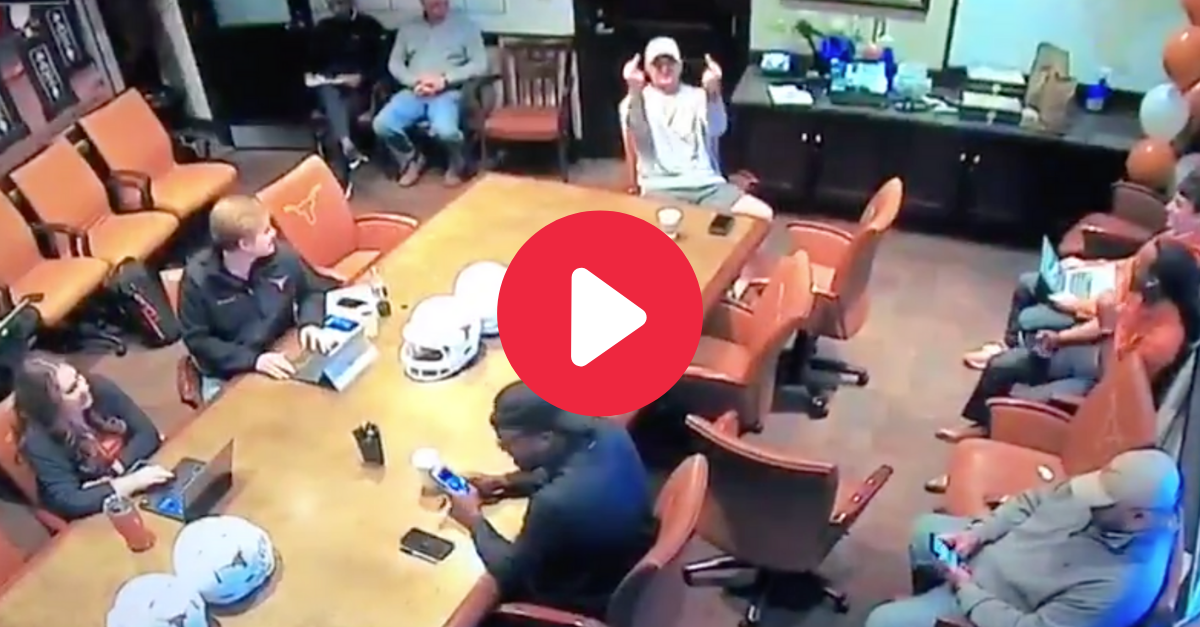 Screenshot from Twitter
College football?s Early Signing Period is supposed to be a joyous time, a moment to stop bowl preparation and welcome in a new batch of star recruits to the program. However, Texas Longhorns head coach Tom Herman spent the first part his National Signing Day press conference apologizing for something he did.
As the Longhorn Network was talking about the team?s 2020 recruiting class, which was headlined by five-star running back signee Bijan Robinson, the LHN camera inside a conference room in Austin went live. And without having any time to cut away, it showed the Texas football coach throwing up two middle fingers.
Of course, the double bird went viral on social media.
Tom Herman Flips Off Longhorn Network Camera
Being at the University of Texas is a blessing and a curse. The best part is the exposure the LHN brings to the program. The worst part is there are always ESPN cameras around to capture unfortunate moments such as this.
That led to an immediate apology from Herman, who said him and his coaching staff were talking about his first game against Oklahoma in 2017 when the incident occurred, according to 247Sports.
"Obviously before we start, I do want to apologize for something that ended up on live television this morning. We were joking, quite frankly, about my first experience riding into the Cotton Bowl Stadium on the bus and the warm welcome you receive in the Red River game. I think I told you guys as well. When it occurred, I honestly had no idea — I wasn't aware that the camera in the room was on live television. It certainly had nothing to do with Longhorn Network, signing day or anything. Again, regardless, it was poor judgment on my part and I do apologize for that.?

? Texas head coach Tom Herman
Overall, it was a good day for the Longhorns. They signed 17 recruits to their National Letter of Intent and have the No. 9 class in the country, according to 247Sports. What happened on live TV was definitely the worst part of it, and it?s not a good look, but it?s also not the end of the world.