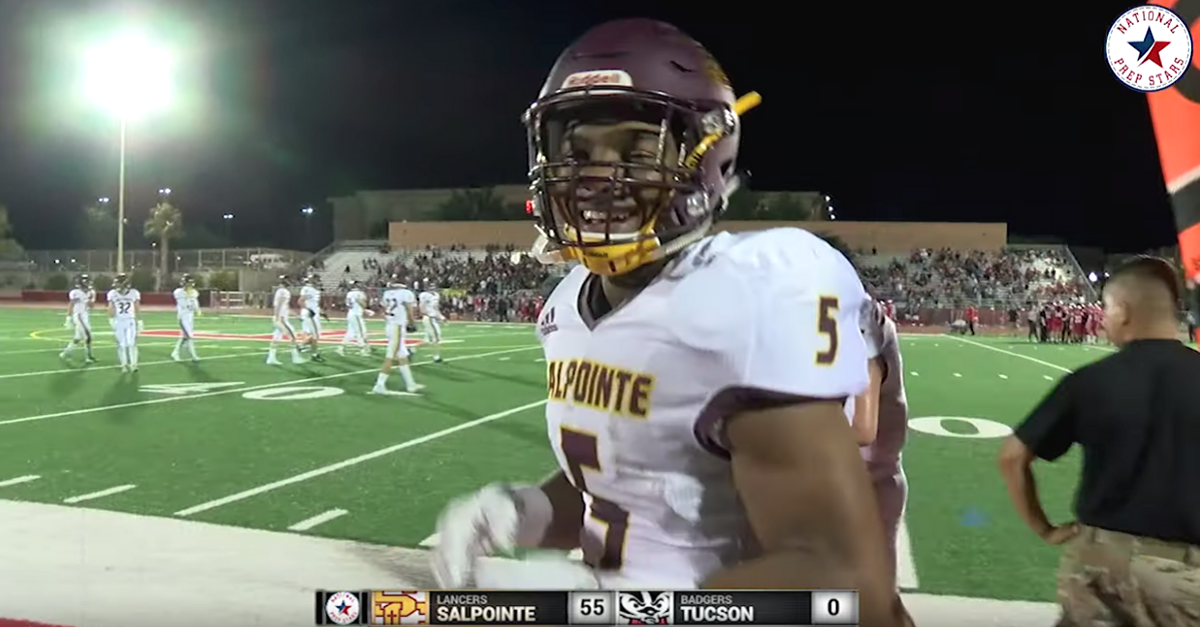 Screenshot from YouTube: PassportplayasTV
Meet Bijan Robinson. Standing 6-foot and weighing 200 pounds, the Salpointe Catholic High School running back is built for major college football. He's a top-5 recruit at his position by every major recruiting service, and Rivals ranks him as the No. 1 RB of the 2020 recruiting class. Robinson is already committed to join head coach Tom Herman and the Texas Longhorns after high school, but honestly, somebody needs to get Bijan Robinson to Austin, Texas immediately.
During Salpointe Catholic's 2019 season, Robinson (to put it mildly) made every defender near and around Tucson, Arizona look like they should take up gardening and leave football behind forever.
I'm going to put Robinson's rushing numbers out in the open so you can fully grasp the absolute madness of what this senior did after eight games.
126 carries
2,235 rushing yards
17.7 yards per carry
38 rushing touchdowns
Need more icing on that cake? The five-star back caught 12 passes for 314 yards and three touchdowns, plus he returned four kicks for 238 yards and another touchdown for the No. 2 team in the state of Arizona.
Translation: Bijan Robinson covered one-fifth of a football field (19.6 yards) every time he touched the ball.
Bijan Robinson Highlights
RELATED: America's No. 1 Dual-Threat QB Commits to Alabama
In a 62-0 win over Tucson High Magnet School, Robinson broke Southern Arizona's district rushing record. The following week, he broke the Arizona big-school record as the state's all-time leading rusher in Class 4A, 5A and 6A. After 16 carries for 347 yards and six touchdowns (LAWD!!) against Casa Grande, Robinson became the third running back in Arizona history to break the 6,000-yard mark for his career.
Robinson finished his high school career with 7,036 rushing yards, which falls shy of Arizona's all-time state record of 7,544 rushing yards. With 103 career rushing touchdowns, Robinson's record-setting career earned him the state's High School Football Player of the Year Award, which was awarded by the Arizona Cardinals.
Look, obviously high school football players need time to let their body and mind develop before making the collegiate leap, but Robinson ran for 430 yards on 13 carries in one game for goodness' sake. This kid is ready to go, and he's going to make a big-time splash when he lands in the Big 12 Conference.
Robinson held offers from the Alabama Crimson Tide, Ohio State Buckeyes, Oklahoma Sooners, USC Trojans, you name it. But the Texas football coaching staff struck gold, and they're getting the Longhorns' next, great running back coming off one of the most incredible high school seasons in Arizona history.

This article was originally published October 15, 2019. It was updated with Robinson's statistic as his senior season progressed.