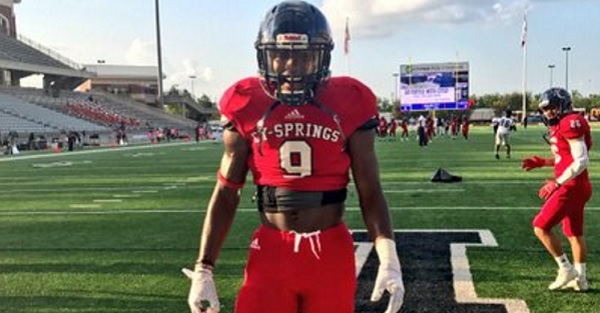 Leon O'Neal/Twitter
Among the myriad of athletes protesting over the past week following comments from U.S. President Donald Trump, it appears one high-profile college football recruit is still mulling over his decision.
Earlier this week, four-star safety Leon O'Neal Jr. said that he planned to take a knee during the anthem of his team's next game as a form of protest of inequality.
"I will be kneeling In Saturday's Game wanna say my early apologizes for those who fought for are freedom ask you seek the understanding why"
Just a day later, O'Neal said that after discussing the issue, he would instead be standing in unity with his teammates for his game on Saturday.
"have talk to my family and school advisors instead of kneeling on sat I will be STANDING in UNITY with my team I love my country✊🏾GodBless🙏🏾"
O'Neal had been planning to protest after several NFL teams did the same this past Sunday. Some teams locked arms in unity, some players took a knee, while the Pittsburgh Steelers declined to come out of the locker room for the pre-game ceremonies.
O'Neal is currently committed to Texas A&M. He is ranked as a top 100 recruit in the nation by the 247Sports Composite.