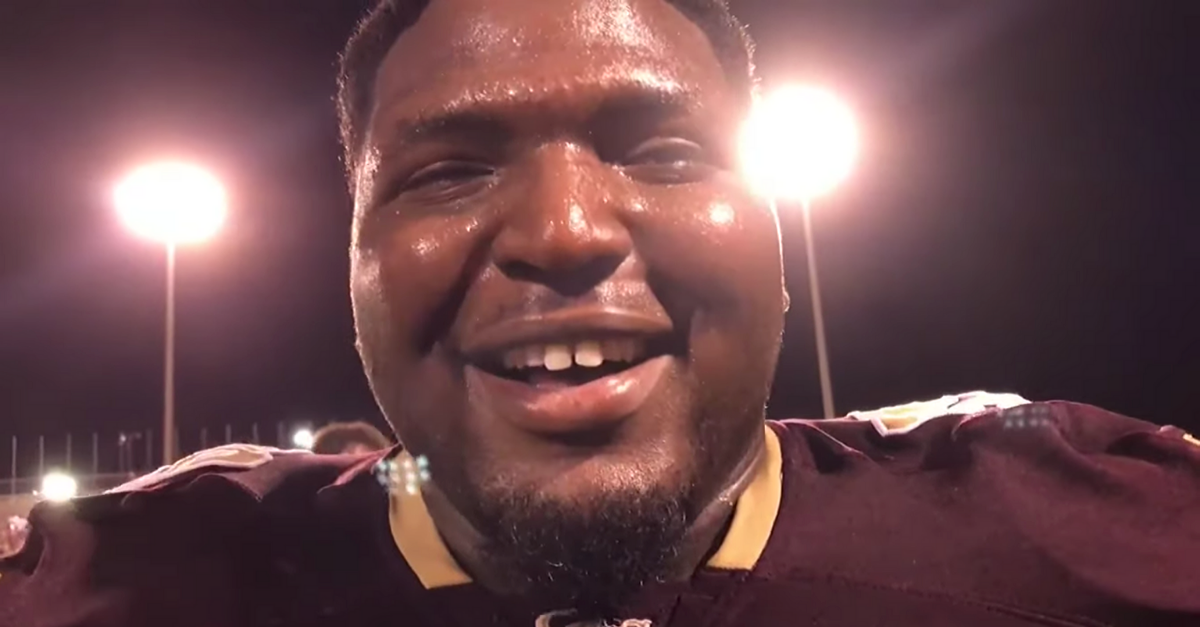 Screenshot from YouTube: Sun Herald
Jimbo Fisher is building something special in College Station. As the Texas A&M head coach enters his third year with the Aggies, he's turned in his second straight top-10 college football recruiting class.
That being said, Fisher has had to compete with SEC West rivals like Alabama and LSU for the south's top-tier talent. One of those names in the 2020 class — and one of the top uncommitted recruits entering Wednesday's National Signing Day — was four-star defensive tackle McKinnley Jackson.
Consider Jackson uncommitted no more.
DT McKinnley Jackson Signs With Texas A&M
Four-star defensive tackle McKinnley Jackson officially signed his national letter of intent with Texas A&M during National Signing Day 2020, marking a big get for Fisher and the Aggies coaching staff.
Jackson, who is ranked No. 9 among 2020 defensive tackles and No. 61 overall by 247Sports, chose the Aggies over the Alabama Crimson Tide and LSU Tigers. He had offers from multiple major programs like Clemson, Auburn, Georgia, Florida, Ole Miss, Mississippi State, Tennessee and Missouri.
Jackson initially committed to LSU after his freshman season, but he opened up his recruiting process and took visits to a few SEC West schools before finally coming to a decision and signing with A&M.
For a school like TAMU known for producing NFL-bound defensive linemen like Myles Garrett and Von Miller, Jackson could be next in line. The Aggies have also inked four-star defensive end Donell Harris out of Miami this class.
Texas A&M's other top recruits include five-star prospects like early enrollee safety Jaylon Jones and wide receiver Demond Demas, who should be the real deal in the Aggies' passing attack.
McKinnley Jackson Highlights
A 327-pound tackle like Jackson should help stop opposing running games by plugging up the middle of the field.
That's exactly what the Lucedale, Mississippi, native did at George County High School. Jackson wreaked havoc on opposing quarterbacks and running backs, amassing 34 sacks, 308 tackles and 135 tackles for loss in four years. He recorded 10 sacks and 76 tackles during his senior season.
Jackson showcased his talents in the 2019 Alabama-Mississippi All-Star Game and the 2020 All-American Bowl in San Antonio.
This article was originally published February 5, 2020.