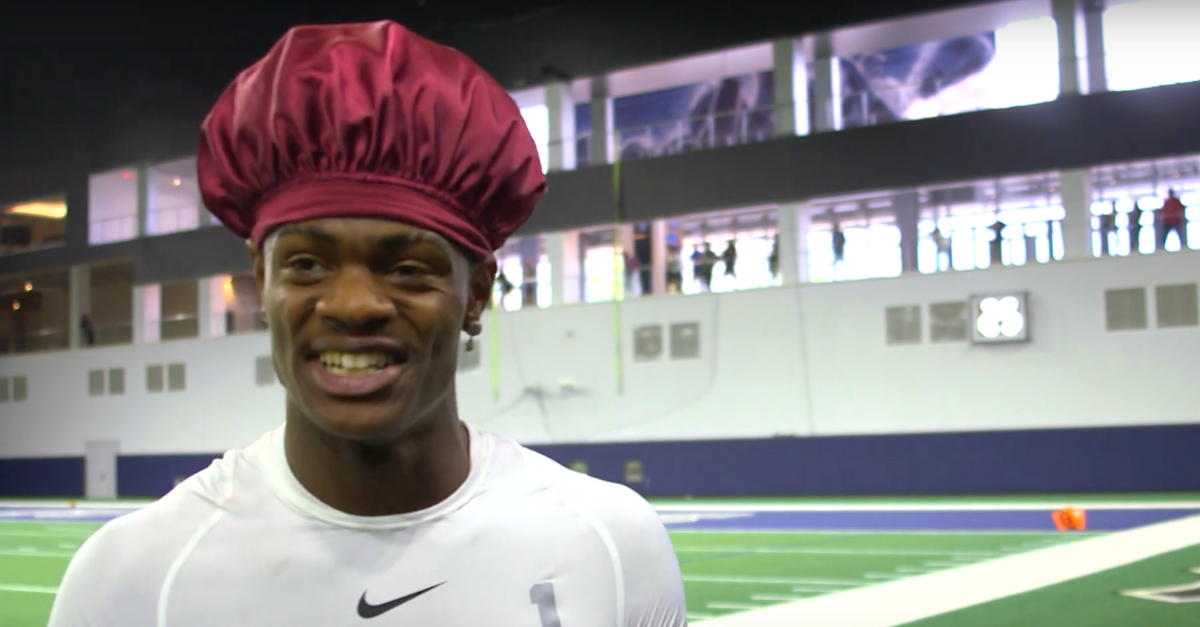 Screenshot from YouTube
While some recruits wait until National Signing Day to announce their commitment, loving the attention and spotlight it brings, Tomball High School wide receiver Demond Demas made up his mind a long time ago. However, after over a year of waiting, it finally became official.
Demas, a five-star recruit, committed to the Texas A&M Aggies and head coach Jimbo Fisher on September 8, 2018. He took eight unofficial visits and one official visit to College Station — approximately an hour away from Tomball — before signing his National Letter of Intent on December 18, 2019 — the first day of the Early Signing Period.
It was a recruiting battle that lasted over 465 days, but Demas is headed to Aggieland next season.
WR Demond Demas Signs with Texas A&M
Before committing to Texas A&M, Demas dropped a top five that included the Aggies, Alabama, Georgia, Oklahoma and Texas. He even took an unofficial visit to the Longhorns and an official visit to Oklahoma this past fall.
At the end of the day, though, home is where the heart is, and now the Aggies offense has an explosive playmaker with NFL potential for years to come.
The wait is finally over.
Demond Demas Highlights
At 6-foot-3 and 200 pounds, watching Demas play high school football was like a cheat code. He's the No. 22 player nationally and No. 3 wide receiver in the 2020 recruiting class, according to 247Sports.
Demas started his career at North Forest High School in Houston before transferring to Tomball. However, he was ruled ineligible by the UIL executive committee and was forced to miss his senior season.
All of that will be forgotten when he's catching touchdowns at the NCAA college football level, and it's safe to say Texas A&M got a good one.
Demas was the first five-star prospect in Jimbo Fisher's 2020 class. He headlines the group alongside five-star safety and early enrollee Jaylon Jones.
This post was originally published on December 18, 2019.