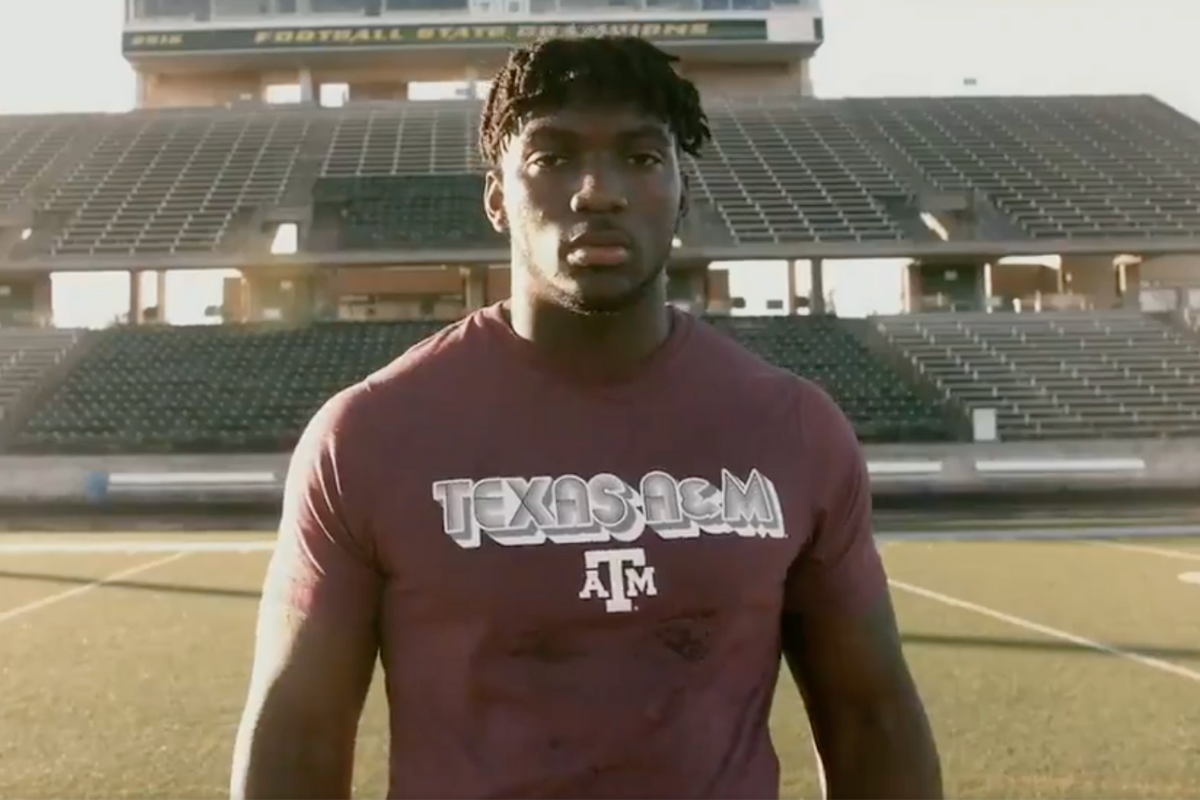 Screenshot from Twitter
The Texas A&M Aggies surprised many football fans with their solid 2020 season. They went 8-1, reached the top five of the AP Poll, and beat North Carolina in the Orange Bowl.
It is always hard to compete with Alabama and Georgia, but the Aggies have made a huge addition to their 2021 recruiting class by locking up defensive end Shemar Turner.
Turner played on the defensive line for DeSoto High School in Texas. With the Eagles, he reached the playoffs on multiple occasions. Now, the five-star prospect is going to take the college football world by storm in 2021.
Shemar Turner Commits to Texas A&M
During the Early Signing Period, Turner had to weigh offers from prestigious programs such as Alabama, Auburn, Baylor, Florida, Florida State, Georgia, Georgia Tech, LSU, Michigan, Michigan State, Ohio State, Oklahoma, Oregon, and Utah.
Ultimately, remaining in-state took priority, and head coach Jimbo Fisher secured one of the best players in A&M's recruiting class.
The COVID-19 pandemic has been difficult for both players and teams, but Turner was able to sign his deal without issues.
Shemar Turner Highlights
RELATED: 4-Star Defensive End Taking Talents to Texas A&M Next Season
Turner's highlight tape shows why he is such a heralded defensive lineman. He powers through the offensive line at will and is a ferocious tackler. Running backs get their handoffs blown up at the line of scrimmage, and quarterbacks get crushed when Turner is on the field.
With DeSoto, he played strongside defensive end and collected 24.5 sacks over three seasons.
The 247Sports Composite scouting report believes that Turner will reach the NFL one day, and his versatility and athleticism should make any defensive coordinator's job easy.
Texas A&M may not compete for national championships every year, but they consistently put together solid teams. Players like Shemar Turner will only solidify their pass-rush and help their efforts to beat the powerhouses of the SEC.