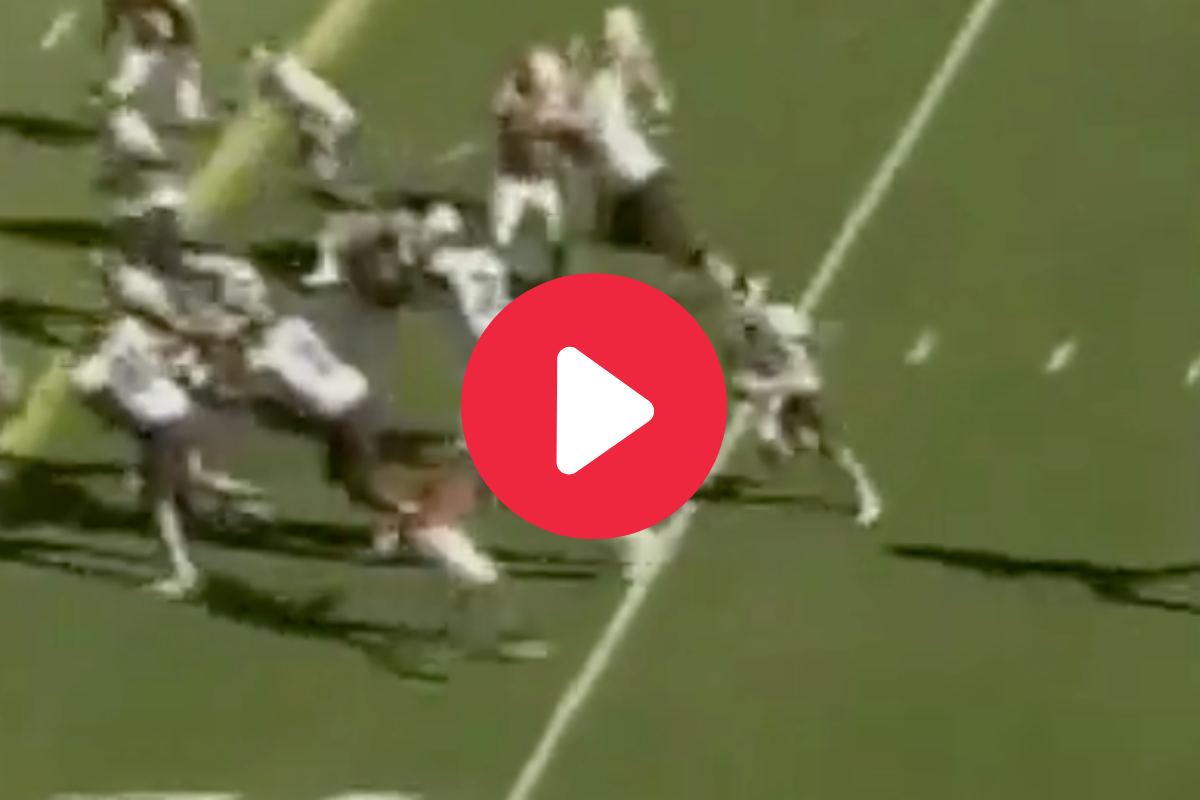 Screenshot from YouTube
It had been a long six years for Texas A&M Aggies fans.
Their archrival, the Texas Longhorns, had owned the Lone Star Showdown.
Anything to get burnt orange out of the mind was welcome, and inhaling Thanksgiving leftovers was an enticing coping mechanism. Are you gonna let your aunt's pumpkin pie just sit there?
The 2006 season was when Texas A&M broke the mold, and Stephen McGee smashed right through it.
Stephen McGee's TD Run vs. Texas
RELATED: Reggie McNeal?s 62-Yard TD Run Left K-State in the Dust
The University of Texas was fresh off the 2006 BCS National Championship. The Longhorns dropped the second game of the 2006 college football season to the Ohio State Buckeyes. Then, a week before squaring off against Texas A&M, they fell to K-State.
Chances of repeating were nonexistent, but a Big 12 South title was still on the table.
All Texas had to do was take care of their in-state rival from College Station at home. Should've been easy, right?
WRONG.
Teaxas A&M head coach Dennis Franchione rolled into Darrel K Royal-Texas Memorial Stadium on a mission: make redshirt freshman Colt McCoy's day a nightmare.
He did just that.
The Aggie defense intercepted McCoy three times and let its presence be known.
Scoring came at a premium. TAMU running back Mike Goodson broke loose for a 41-yard touchdown run in the first quarter, but kicker Layne Neumann missed the extra point. Texas running back Jamaal Charles answered with a 6-yard scoring run of his own in the third.
Down 6-7 in the fourth, Texas A&M quarterback Stephen McGee needed the clock to be his ally. The drive started at their own 12, and McGee ran and ran and ran, methodically milking the seconds.
McGee, who had been puking throughout the game and taken his fair share of hits, led his team to the Texas 8-yard line with 2:40 remaining. On third-down-and-3, McGee took the snap, spun, patiently waited for a hole to open and accelerated past the first down marker and into the endzone.
The Texas crowd fell silent.
The touchdown run put the Aggies ahead 12-6 with 2:33 remaining. The drive took nearly nine minutes.
McCoy went down with an injury on the final drive, catapulting backup QB Jevan Snead into a game-winning situation. The Aggies' defensive mantra didn't change. Snead threw an interception on his first play.
Texas A&M won, 12-6.
The victory ended the six-game losing streak. It was the first time the Aggies' won at Darrel K Royal-Texas Memorial Stadium since 1994.
Texas' loss elevated the Oklahoma Sooners to the Big 12 Championship Game against Nebraska.
Aunt Linda's pie is amazing, don't get me wrong, but a win in Austin is the best Thanksgiving dessert for a Texas A&M fan.