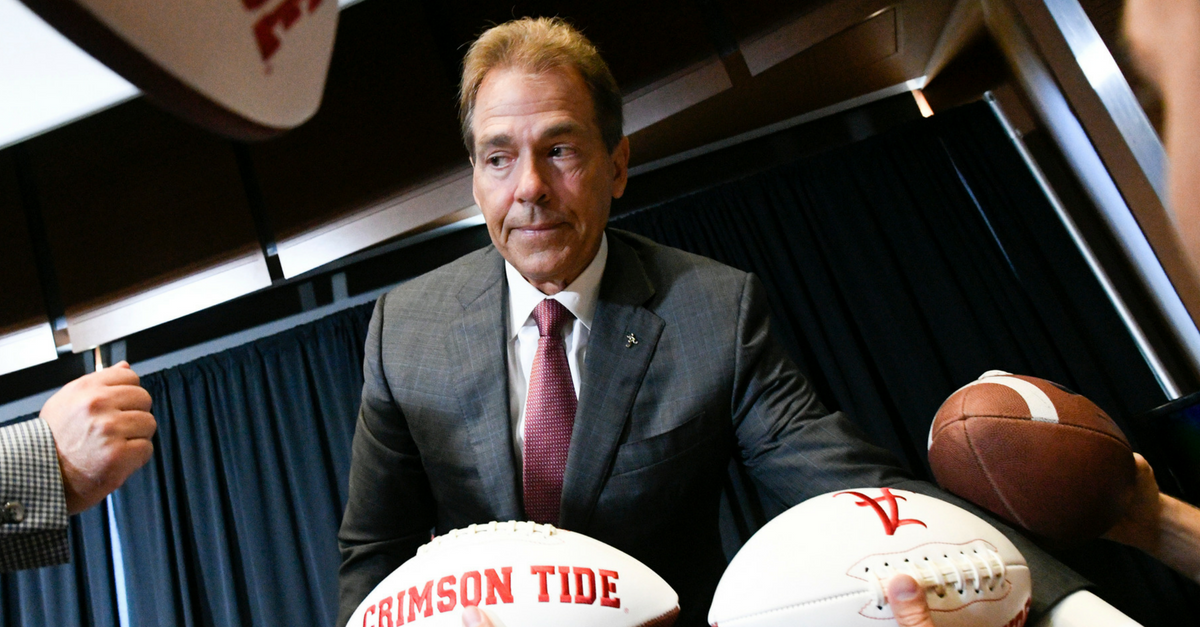 AP Photo/John Amis
For the third year in a row, Alabama is No. 1 in the preseason Amway Coaches Poll. Sports Illustrated disagrees.
The famous publication decided to stir the pot on Tuesday by releasing its annual Preseason Top 25 with the Clemson Tigers as the No. 1 team in nation and their cover for its historic magazine.
Brace yourselves, Crimson Tide fans.
Can you imagine the faces of Alabama fans right now? Nick Saban and the Crimson Tide are at No. 2?
Oh, the horror.
Looks like it is time for Alabama-Clemson Part IV.
In all seriousness, though, preseason rankings are great. It gives those who create the rankings a template to work with and check back at the end of the season. It also gives the fans something to debate before the start of the season.
It?s a win-win scenario for everyone, and it?s not like Sports Illustrated made too many crazy claims the Coaches Poll didn?t. They had 21 of the same teams, for goodness? sake.
SI just had a different order and decided to make Clemson the No. 1 team.
Here is SI?s Preseason Top 25:
1. Clemson
2. Alabama
3. Wisconsin
4. Washingon
5. Oklahoma
6. Georgia
7. Penn State
8. Auburn
9. Ohio State
10. West Virginia
11. Michigan State
12. Stanford
13. Miami (FL)
14. TCU
15. Michigan
16. Notre Dame
17. UCF
18. Florida State
19. Arizona
20. Houston
21. Mississippi State
22. Texas
23. LSU
24. NC State
25. Florida Atlantic
Outside of the order, the difference between the two polls is SI chose Arizona, Houston, NC State, and Florida Atlantic over USC, Virginia Tech, Boise State, and Oklahoma State.
It's spilled milk.
But, why Clemson? Why take the Tigers over Alabama after the Crimson Tide smacked them in the College Football Playoff semifinal last year?
A defensive stacked with a nasty defensive line featuring Christian Wilkins, Cellin Ferrell, Dexter Lawrence and Austin Bryant, a bunch of playmakers on offense, and one heck of a coach in Dabo Swinney. That?s why.
So, let the debate rage on. We have a few more months before it gets settled.