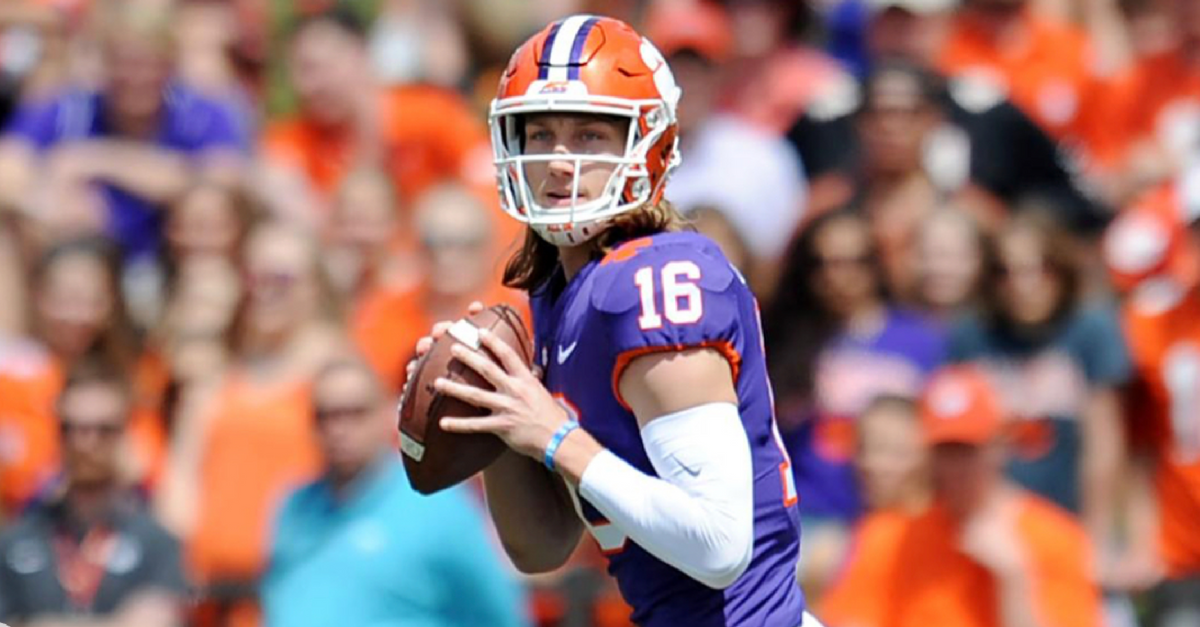 Instagram: @tlawrence16
Senior Kelly Bryant led Clemson to the College Football Playoff last season. Freshman Trevor Lawrence was dominant in the Tigers' spring game. Both quarterbacks have what it takes to start for the three-time defending ACC champions right now, but does that mean there is a legit controversy brewing at Death Valley ahead of the 2018 college football season?
The answer is maybe. Then again, maybe not.
The fact Clemson Tigers head coach Dabo Swinney has yet to name a starter at the quarterback position for the season-opening home game against Furman on Sept. 1 is really not that big of a deal, but it kind of is all at the same time.
It could be making a mountain out of molehill, or perhaps there is some good substance in the quarterback battle between Bryant, Lawrence, and Chase Brice. Hunter Johnson left the program this offseason.
Right now, all signs point to Bryant, the starter last season who passed for 2,802 yards with 13 touchdowns and eight interceptions, while also picking up 665 rushing yards and adding 11 more scores. He returns with big game experience, and came out of spring as the guy expected to be under center to start the season.
Swinney confirmed that much during a media availability.
"Kelly is coming out of spring No. 1. He went into spring No. 1 and came out of spring No. 1. But the gap closed," the veteran coach explained. "We'll see what happens. It's a daily competition and a daily battle. I'm very confident in Kelly Bryant. I believe in Kelly. He can lead this team and has already proven he can do that. He's so much better today than he was this time last year."
But the gap closed? How?
Some might see this as a problem. Others might consider this an embarrassment of riches. Regardless, the Tigers now have Lawrence, a 2018 prospect many considered to being the best high school player in the country last season, and he is college ready.
In the annual spring game, the true freshman Lawrence led the Orange team over Bryant and the White team by completing 11 of 16 passes for 122 yards with a touchdown and no interceptions.
Meanwhile, Bryant, who had the tough task to replace Deshaun Watson last season, struggled and passed for only 35 yards in the spring game.
Take it from Tigers defensive end Clelin Ferrell, though. Bryant is the guy.
"Maybe he didn't play as well as Trevor in the spring game and whatnot, but Kelly clearly was the better quarterback as far as the whole spring as a whole," Ferrell told The State at ACC Media Days in Charlotte. "Trevor showed some great things in the spring, but it was just a mental jump that he had to make; and he did have some struggles that a lot of people don't really see."
At this point of the year, most of Swinney's comments might be considered coachspeak to stir up competition. Ferrell's seemed a lot more convincing and legitimate.
Still, there are some questions.
How much will both play in the season opener? Is there a chance to get both on the field in a multiple-quarterback system? Is Lawrence really that good to keep off the field and replace the senior Bryant?
Only time will tell, but there is a solid chance Clemson, a top contender to win the 2019 College Football Playoff National Championship, actually has a quarterback controversy before fall camp and start of the 2018 season.