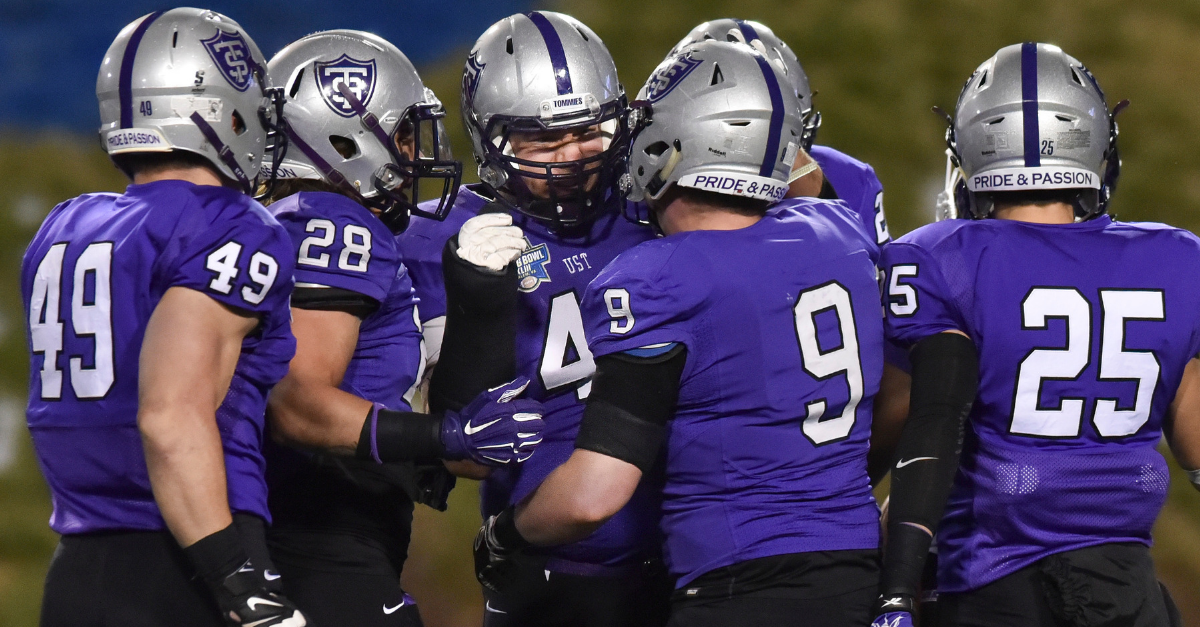 AP Photo/Michael Shroyer
When one team wins, another loses. That?s the way things go in sports, and in life, and it shouldn?t ever change. However, there?s one college football program that has been so dominant over the years that the league they play in has officially made a harsh decision on their future.
For the past 11 seasons under head coach Glenn Caruso, the University of St. Thomas Tommies have taken the NCAA Division III ranks by storm, compiling a 118-19 overall record and going undefeated in the Minnesota Intercollegiate Athletic Conference (MIAC) six times.
Just last year alone, according to CBS Sports, St. Thomas crushed conference foes 357-96 and scored at least 60 points four times and registered four shutouts. The Tommies even beat poor St. Olaf 97-0 in 2017.
So instead of teams rising up to take down St. Thomas, the MIAC thought it would be best for the university to be ?involuntarily removed? from the conference at the end of the 2020-21 athletic seasons.
RELATED: Alabama?s So Good, They Created ?Loyalty Points? to Reward Fans for Watching Blowouts
Sounds messed up, right? Well, it gets worse. St. Thomas, a private university in St. Paul, Minnesota, is one of the seven founding members of the MIAC. THE LEAGUE KICKED OUT ONE OF ITS FOUNDING MEMBERS!
?After extensive membership discussions, the University of St. Thomas will be involuntarily removed from membership in the Minnesota Intercollegiate Athletic Conference (MIAC). The MIAC Presidents' Council cites athletic competitive parity in the conference as a primary concern. St. Thomas will begin a multi-year transition immediately and meanwhile is eligible to compete as a full member of the MIAC through the end of spring 2021.

St. Thomas is one of seven founding members of the MIAC and will leave the conference in good standing with a long and appreciated history of academic and athletic success.?

? Official Statement from the Minnesota Intercollegiate Athletic Conference
To be fair, St. Thomas has an undergraduate enrollment of 6,200, which is more than double the next closest MIAC school, according to FootballScoop. And in addition to the football dominance, the Tommies won the Learfield Directors Cup by more than 250 points.
There is clearly a balance issue here, and the MIAC felt like it was best to kick St. Thomas to the curb just before the 100th anniversary of the conference forming.
Needless to say, St. Thomas President, Dr. Julie H. Sullivan is not pleased with the decision.
"While this decision is extremely disappointing, we will continue to prioritize the welfare and overall experience of our student-athletes. They embrace and represent both academic and athletic excellence and are important contributors to our university?s culture. Additionally, our coaches share the values of advancing comprehensive excellence and are among the best in the country.

?Although our athletic conference will change, one thing will not: our commitment to continued academic and athletic excellence. I am confident in our campus leadership who will guide us forward and optimistic that we will continue to celebrate great success.?

? Statement from Dr. Julie Sullivan
Sullivan, along with Vice President and athletic director Phil Esten, will begin exploring their options to move leagues in 2021 and whether or not it can or will continue its rivalry football game with St. John?s.
Until then, let?s hope St. Thomas football kicks everyone?s ass next season to leave a great last impression for its D-III conference membership in the Twin Cities.