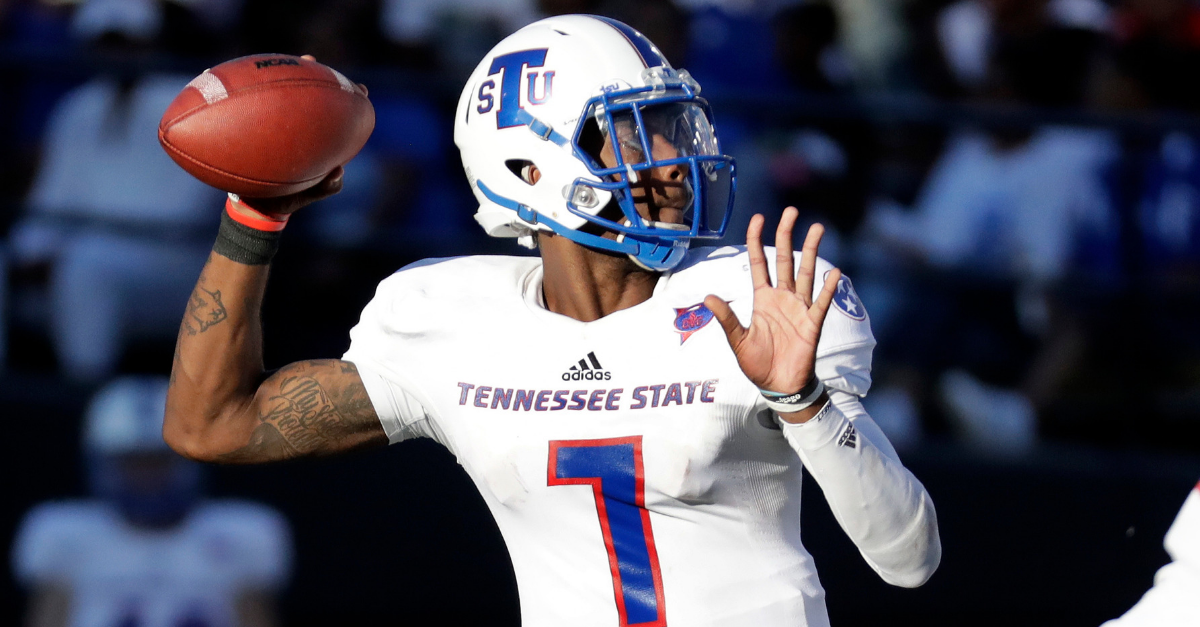 AP Photo/Mark Humphrey
Following a season-ending shoulder injury last year, Tennessee State quarterback Demry Croft was looking to have his best college football season yet. He was already working with the first-team offense in preseason practice and was primed to be the starter the opener against Mississippi Valley State. Now there's a chance he will never play football again.
According to The Tennesseean, the 6-foot-5, 210-pound quarterback was arrested Monday and charged with six felony counts of rape and two counts of sexual battery from an incident on December 1 last year.
Croft was arrested by the Davidson County Sheriff's Office in Nashville, booked into jail, and was being held on $50,000 bond.
A 22-year-old transfer from the Minnesota, where he started the final six Big Ten games of the 2017 season for the Gophers, Croft led the Tennessee State Tigers with 888 passing yards with eight touchdowns and two inceptions in four games before his injury last season.
The Tennesseean reports Croft, a Rockford, Illinois native, announced his transfer from Minnesota and head coach P.J. Fleck's team after he was suspended for three games, stating he was falsely accused of damaging a door.
It appears the signal caller is in much hotter water this time. Croft missed the team's second scrimmage. TSU coach Rod Reed said Croft "had some personal issues he's dealing with so we allowed him to be off today. Whenever that gets handled we'll see what happens."
Although he is still listed on Tennessee State football team's online roster, only time will tell what will happen for the redshirt junior starting quarterback. Croft was indicted by a grand jury, which led to to a statement issued by Tennessee State University.
"The University is aware that a student athlete was arrested in a criminal matter. Due to federal and state student privacy laws, no further comment can be made at this time. However, the University takes seriously any allegation of sexual misconduct that may affect our campus community."

— TSU Statement
QB Demry Croft, a former high school star, was supposed to have a fresh start when he left the University of Minnesota. But as it turns out, it could have just gotten a whole lot worse.