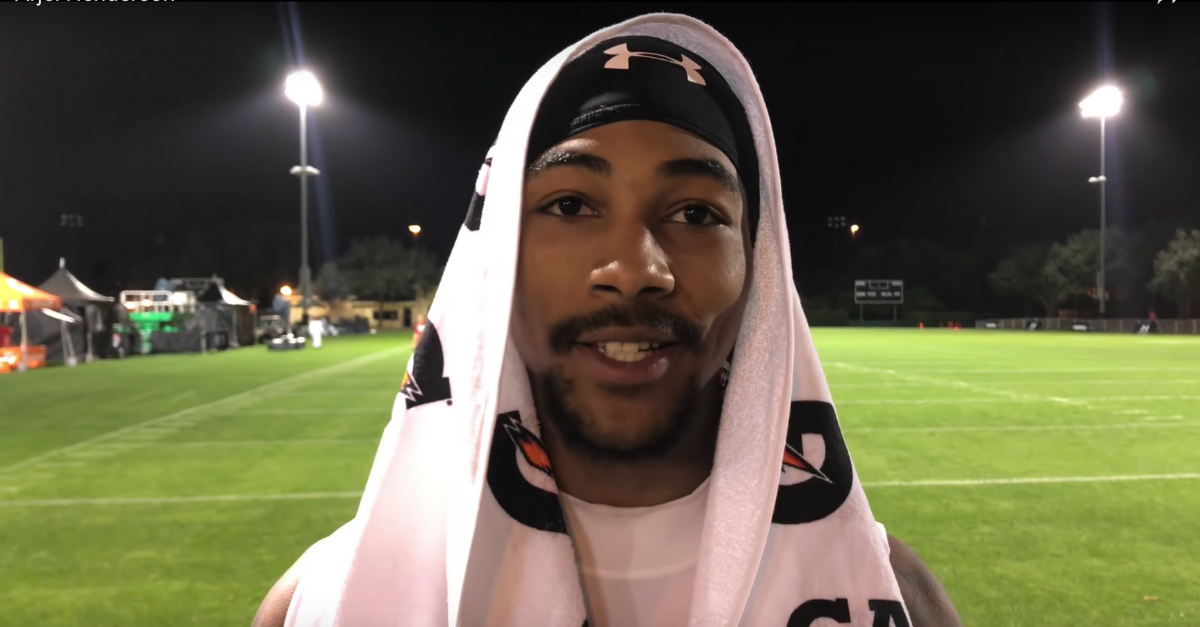 Screenshot from YouTube: Josh Newberg
Back in January, Richmond (Texas) Fort Bend Travis wide receiver Arjei Henderson shocked the college football world by committing to the Florida Gators at the Under Armour All-American Game. The four-star recruit had never visited Gainesville, but he felt like playing for head coach Dan Mullen was the best move. However, that won't be happening right now.
The wild recruiting journey of the 6-foot-1 Henderson just got even wilder. He once was committed to the Oregon Ducks and Oklahoma Sooners before picking the Gators, but he has been released from his National Letter of Intent because he did not qualify academically, according to Will Sammon of The Athletic.
Henderson entered the NCAA Transfer Portal and eventually chose to play for Jacksonville State Gamecocks in Alabama, according to his father, RJ Henderson.
RELATED: Florida?s 5-Star Freshman Transfers After Terrible Roommate Mess
This is not the first ineligible player in Florida?s star-studded 2019 recruiting class. Another pair of four-star signees ? linebacker Diwun Black and offensive guard Deyavie Hammond ? needed to go to junior college first.
The list of offseason and preseason departures from the Gators football team is now in the double digits.
WR Arjei Henderson, who ultimately chose UF over Florida State and Tennessee, is certainly a great talent, but his opportunity to play for Florida football in the SEC will have to wait. Instead, he will be terrorizing Ohio Valley Conference secondaries at the Football Championship Subdivision (FCS) level.
His high school highlights from last year are quite impressive.
Florida football could have used a talent like Henderson this season, maybe even against Miami in the opener. But it?s now back to the drawing board for the Gators to figure out how to move forward after so much chaos this summer, including losing a future star wide receiver with NFL potential.