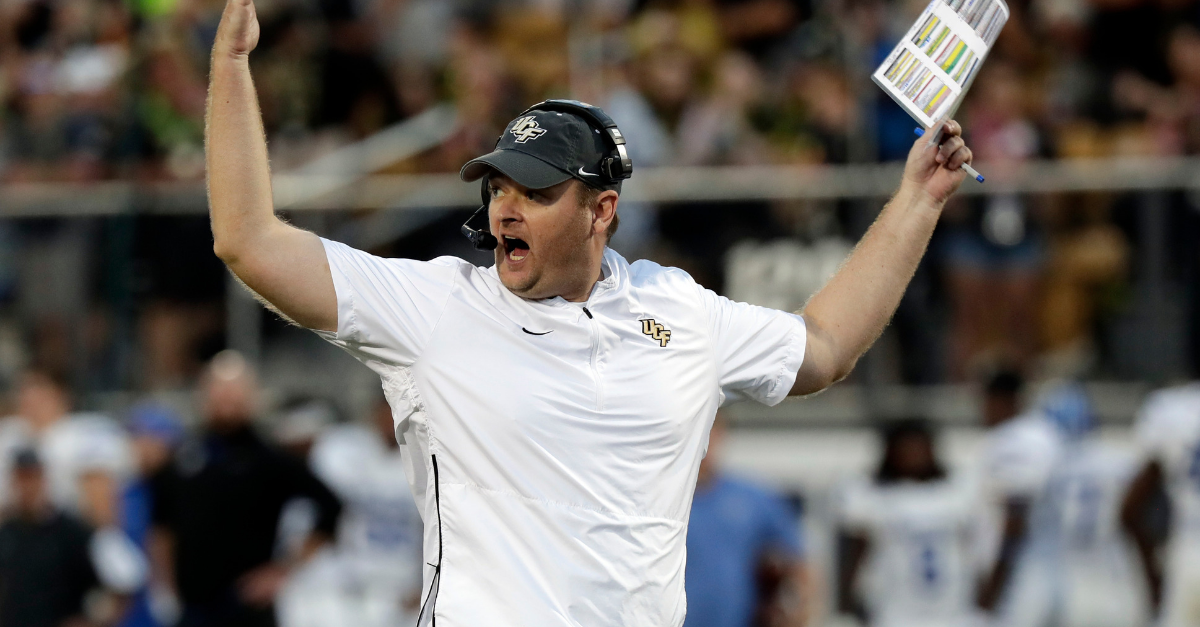 AP Photo/John Raoux, File
AP Photo/John Raoux, File
The UCF Knights had their chance to show all of college football that they were not pretenders, but that they were in fact contenders. Their final game against the LSU Tigers in the Fiesta Bowl was an even bigger game than last year?s Peach Bowl victory over Auburn. The Knights had a chance to prove to the world that they indeed deserved a chance to make the college football playoff.
Well, they blew it.
With LSU missing several key players for the game, the Knights had every opportunity to take advantage of the situation, even though their backup quarterback, Darriel Mack, started in place of the injured McKenzie Milton. They also had some luck along the way when two more of LSU?s cornerbacks were ejected from the game for targeting.
UCF went up early, 14-3, and was clearly on their way to another upset. But that seemed to wake LSU up from their slumber, and the Tigers not only recovered the lead before halftime, but they took over the rest of the game.
LSU won, 40-32, ending UCF?s 25-game winning streak, and perhaps ending their chances of making the College Football Playoff any time soon.
RELATED: UCF Should Accept Florida's Offer and Start Acting Like a Contender
UCF had two chances to prove themselves worthy of making the CFP: accept a two-for-one series to play the Florida Gators, or they had to beat LSU and finished undefeated for the second year in a row.
Now, all hope may be gone for head coach Josh Heupel's program.
UCF fans and AD Danny White thought they had gotten to the point that they were way too good of a team to accept Florida's deal. However, it looks like the Knights overplayed their hand, especially now with this loss to LSU. For all the bragging and talking they did coming into this game, LSU basically beat them with members of their third-string defense.
It had gotten so bad that the Tigers had to put wide receivers as cornerbacks in the defensive backfield. But despite all of that, UCF still couldn?t take care of business.
UCF may not only killed their chances of making the playoffs in the coming years, but they may have killed the idea of expansion, too. Part of the reason many were screaming for the playoffs to go from four to eight teams is so that teams like UCF would get an opportunity to play for a national championship.
That opportunity may not be completely gone, but it took a hard shot Tuesday, and basically ended UCF's case to become an elite powerhouse in college football.