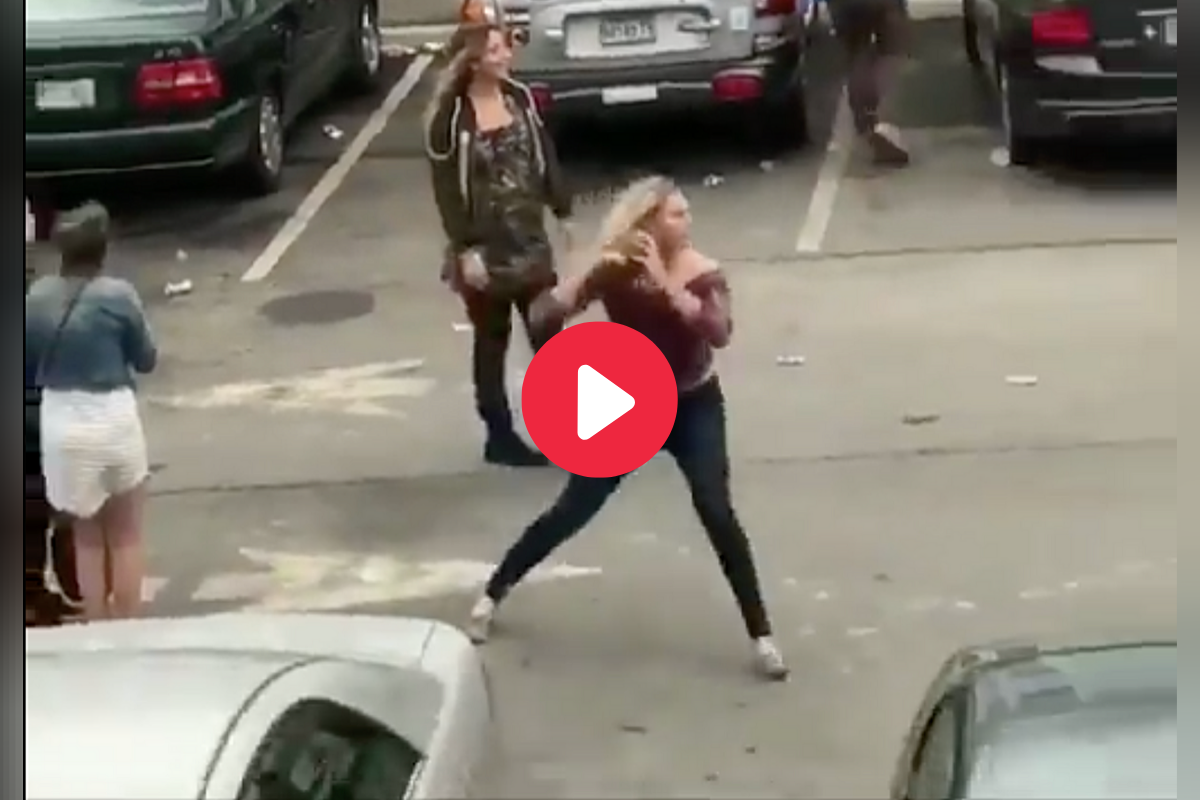 Screenshot from Twitter
We've all thrown a football with someone at a tailgate. There's nothing quite like flinging the pigskin in a parking lot full of drunken football fans. Most keep this to a light toss, so they don't tear their rotator cuffs.
Alyssa Derick is not most people. Alyssa Derrick was the third baseman for the University of Maine softball team with an absolute cannon for an arm. Alyssa Derrick needs to make sure the weapon of an arm she possesses is registered, because her parking lot throws are almost breathtaking.
They've even earned her offers from a professional team.
Softball Player's 40-Yard Parking Lot Throw
RELATED: Female Reporter In Heels Runs Blazing 40-Yard Dash
Alyssa tweeted that in June 2017, writing "@Patriots just in case Brady needs a backup, I'm here." Tom Brady is gone, so that begs the question: When is New England signing this chick to be Cam Newton's backup?
That had to be at least 40, maybe 50 yards. The average width of a parking space is nine feet and I counted at least 12 spaces, which is well over 100 feet.
Alyssa's ridiculous parking lot went viral. It was shared by major media outlets on social media. Barstool Sports, popular with the younger generation, picked it up. Alyssa said she even earned a nickname in college.
"After practice they were just throwing a football and I threw it and then a couple months later, 6 months later it went viral," UMaine softball star Alyssa Derrick told WABI5.
"At school people would call me Barstool. They wouldn't even know my name. They just knew hey you're that girl on Barstool."
A year later, Alyssa graced us with her gifted arm once again:
Holy crap. How long was that ball in the air for?
We shouldn't be surprised by any of this. The Coventry, Rhode Island native clubbed 34 home runs over her four-year career for the Black Bears in the America East Conference. But we should be surprised a professional women's football team contacted Alyssa after her NCAA softball career.
A Women's Pro Football Team Offered Her
The best part of this story is that Alyssa Derrick, who has never played organized football, earned a football contract offer from the Houston Stampede of the Women's Football League Association in 2020 after the team saw the viral video.
She accepted, which means this longtime softball player will become a professional football player despite never playing a down on the gridiron.
"I always get fake Instagram messages, all the time, you know. They are all fake. So, this one i was like eh alright this is definitely fake. Once we got on the phone, and 30 minutes into the conversation, and hearing more about the league, answering my questions, I was like uh i don't think this is fake anymore," Alyssa told WABI5.

"My life is now going to football and i barely know the sport. With my characteristics and my personality I know I am going to compete as hard as i possibly can."
The 32-team league was set to begin in March, but that changed with this year's coronavirus pandemic.
The Houston Stampede have done this before. They signed the woman who pancaked a dude trying to steal at Best Buy who received interest from the UFC. Then they went out and got Alyssa Derrick. I'm not calling them a dynasty, but damn! That's a quarterback and a left tackle right there.
Here's to hoping Alyssa Derrick lights up the WFLA and, shoot, gets a look from the NFL. Why not?