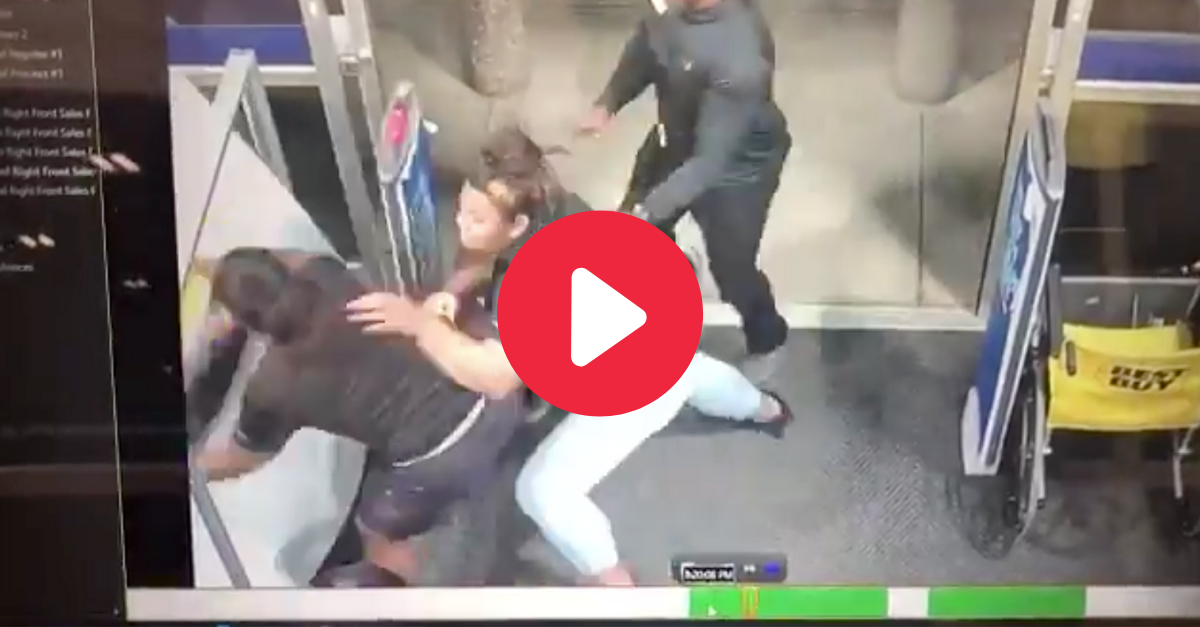 Screenshot from Twitter: Dana White
Dana White is the president of the Ultimate Fighting Championship (UFC), so he routinely spots and promotes talent. White has worked with superstar fighters like Ronda Rousey, Brock Lesnar and even disgraced former NFL player Greg Hardy. He's even been interested in buying an NFL franchise.
So naturally when a woman named Summer Tapasa-Sataraka went viral for stopping a shoplifter from stealing an expensive speaker from a Best Buy in Hawaii, White jumped at the chance to hire her.
I mean, just look at Tapasa-Sataraka's form. She plants her feet in the ground and uses her hands like one of Nick Saban's offensive lineman, and I'm sure she could start for him at Alabama right now, too. She may wind up losing her shirt, but the clear loser is the man who challenged her.
Best Buy Employee Stops Shoplifter
The crazy thing about this story is the 24-year-old Best Buy employee and the company parted ways after the incident. She told Hawaii News Now that she would've been fired for the incident had she not already submitted her resignation.
"My first instinct was to just stop him. He's not going anywhere. He's not about to do this again," she told Hawaii News Now regarding the repeat suspected shoplifter. "I'm not about to let it happen, especially not on my watch."
White, baffled by Best Buy's decision, said he was flying her out to Las Vegas to be his VIP guest to the Conor McGregor vs. Cowboy Cerrone fight in UFC 246 on Jan. 18.
He's also "dead serious" about hiring her.
"That's the kind of person I want working for me," White told TMZ Sports. "You're crazy Best Buy! You shoulda kept her! I'm gonna steal her from you now!"

"We've talked to her on the phone. She's got an incredible personality. She's my kind of girl! I'm gonna rock star the sh*t out of her and then we'll see what happens!"
Just what will Tapasa-Sataraka do for UFC president Dana White? That remains to be seen. Something tells me she would make for a pretty intimidating security guard, or maybe a career in mixed martial arts is in store for her.
Of course, the now former Best Buy employee could always turn to football. In fact, one team from the Women's Football League Association, which is planning to debut in 2021, is already in contact with her.
"Their captain had hit me up on Facebook messenger, told me that she seen the video, and she's wondering if I'm interested in playing for this football league," she told Hawaii News Now. "I was like – this is crazy!"