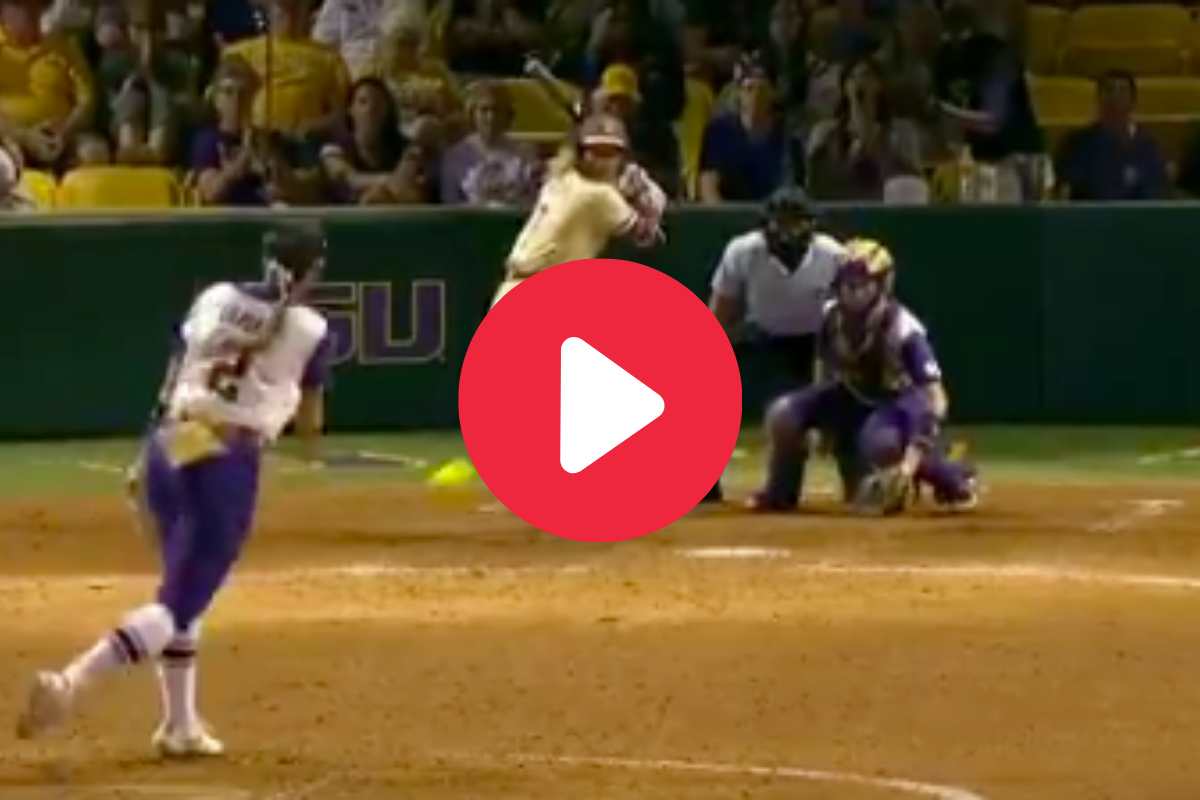 Screenshot from Twitter
The Florida State softball team wouldn't go away.
No matter how hard the LSU Tigers tried to put the nail in the coffin, the 'Noles kept breathing.
A trip to the NCAA Women's College World Series in Oklahoma City was on the line.
The crowd in Baton Rouge desperately wanted a victory.
FSU outfielder Kiersten Landers stepped up to the plate.
Kiersten Landers' Walk-Off Sends FSU to WCWS

RELATED: Kalei Harding?s ?Super? Diving Catch Made FSU Fans Swoon
LSU first baseman Georgia Clark smashed a two-run home run in the fourth inning to give the Tigers a 2-0 lead. Florida State's Sydney Sherrill scores on an Elizabeth Mason single up the middle to bring the Seminoles within one in the bottom of the sixth.
LSU's normally solid defense made some costly errors to allow the Seminoles to stick around. First, shortstop Taylor Pleasants tries to get a force out at second in the bottom of the seventh. Florida State's Devyn Flaherty beats LSU second baseman Taylor Tidwell to the bag. This sets up the 'Noles with runners on first and second and no outs.
Those runners advanced thanks to an Anna Shelnutt groundout. LSU catcher Morgan Cummins mishandles a pitch that rolls to the backstop. Flaherty takes advantage of the passed ball and ties the game 2-2. We're going to extras.
In the eighth, Pleasents makes up for her mistake by smashing a solo home run to give LSU a 3-2 lead. Mason returns the favor in the bottom half of the inning.
That brings us to the ninth.
The Tallahassee team takes care of the LSU offense. In their half of the inning, the Seminoles work the batters box to put runners on first and second with one out.
Kiersten Landers' number is called. It's the redshirt freshman's first appearance in the Baton Rouge Super Regional.
She works LSU pitcher Ali Kilponen to a 2-2 count.
The next pitch crosses the outer part of the plate, and the lefty sends it down the third-base line into left field.
Dani Morgan flies from second to score the winning run. Ballgame.
The 4-3 win punched FSU's ticket to the Women's College World Series. The seventh-ranked Tigers were sent packing.
It was Landers' first career postseason hit, and what a time to check that accomplishment off the ole resume.
Florida State will bring their magic with them when they face UCLA in the opening round of the WCWS. If the Bruins jump out ahead, they need to close the door before it's loo late.