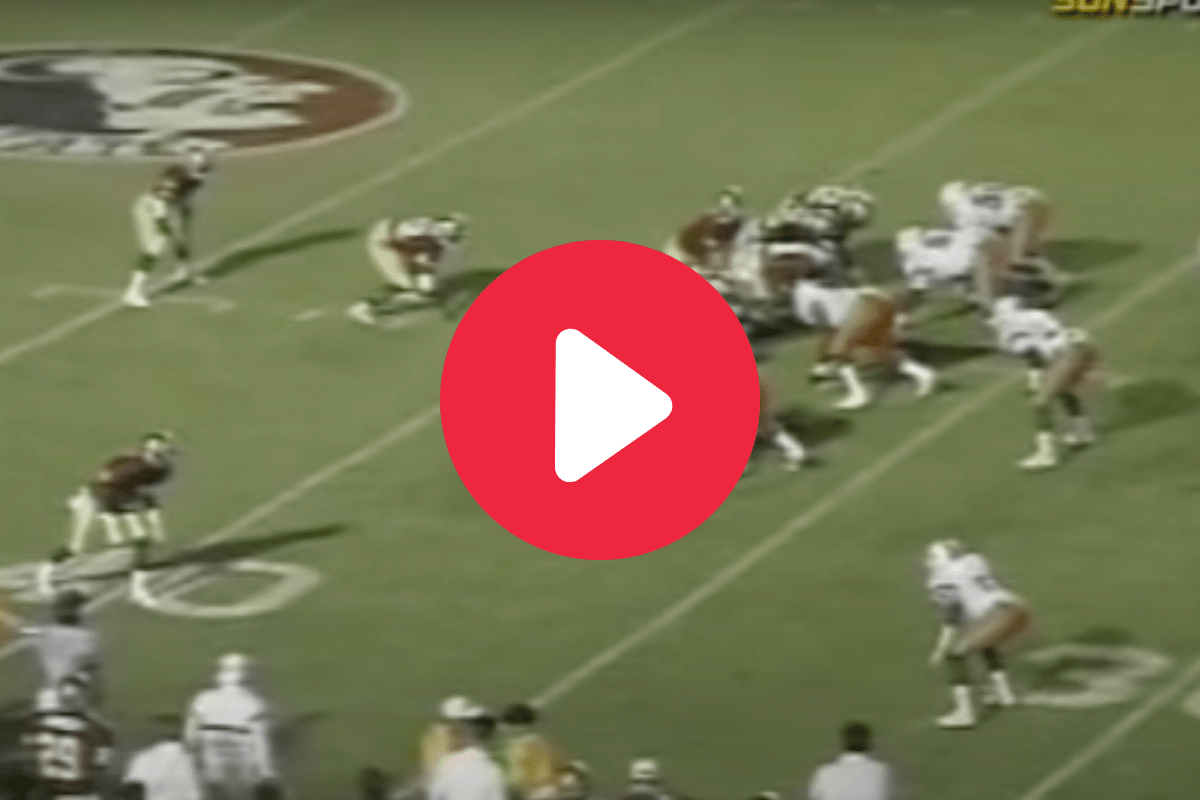 Screenshot from YouTube
The Miami Hurricanes owned the Florida State Seminoles four years in a row.
It's a fact FSU fans hate to hear. From 1985 to 1988, Florida's college football capital was in Miami.
The 1989 matchup was a litmus test for Bobby Bowden's program.
Could his team get over the hump and take down their most-hated rival?
Florida State running back Dexter Carter answered that question early in the game.
Dexter Carter's TD Run vs. Miami
RELATED: Peter Warrick?s 59-Yard Punt Return Made For National Championship Glory
The bad boys of college football entered the game upholding their menacing reputation. Chief Osceola and Renegade running across the field is a great sight for the Florida State faithful and all college football fans alike.
Not for the Hurricanes.
The green and orange crowded around the midfield logo to show they weren't intimidated.
That didn't sit right with the FSU football team.
Miami quarterback Gino Torretta is under pressure and rolls to his left on the first play from scrimmage. He throws against his body, hitting Florida State safety LeRoy Butler instead of his target.
Doak Campbell Stadium erupted.
The Seminoles take over at Miami's 37-yard line.
Carter receives the handoff, gets a huge block from his fullback, and dashes down the sidelines. He runs past everyone to the end zone.
The speedy Miami defense was supposedly a juggernaut. Carter made them look like they had sand in their cleats.
The 37-yard touchdown run put the Seminoles up 7-0, and they never looked back, winning 24-10. It was a humongous, ginormous, monstrous win for the "Noles.
FSU was already out of the national title race, dropping its first two games to Southern Miss and Clemson, but they bounced back with wins over LSU; Tulane, Syracuse, Virginia Tech; and Auburn.
Then came Miami.
Not a single player on FSU's roster could say he's beaten the Hurricanes. Four years of pent up frustration was released on Carter's run.
The loss would be the Canes' lone blemish en route to the 1989 National Championship.
I don't think that title counts in Tallahassee.