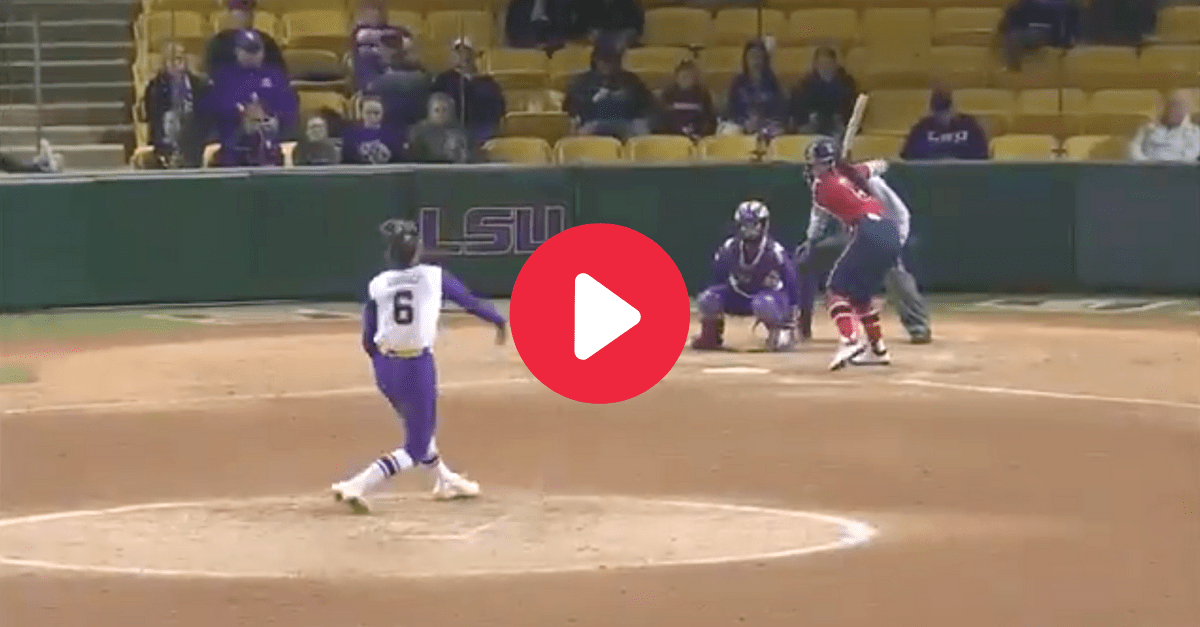 Twitter: NCAA Softball
She faced 21 batters. All 21 of them saw a first-pitch strike. All 21 had no answers after that. It's considered one of the greatest pitching performances in college softball history, and LSU pitcher Maribeth Gorsuch etched her name in history.
"It was special, it was a really awesome night for her. She did some things I've never seen in my entire career on a softball field tonight," LSU softball head coach Beth Torina said. "21 first-pitch strikes is unheard of. I don't know that I've ever been a part of something like that."
The sixth-ranked LSU Tigers cruised through the 2020 Purple & Gold Challenge in Baton Rouge, Louisiana, defeating the Belmont Bruins and Sam Houston State Bearcats each twice at Tiger Park. Coming off a 20-4 romp in five innings earlier that day, the second-half of Saturday's double-header sent senior Maribeth Gorsuch to the circle.
Just a few days before, the Dallas, Texas native tossed a one-hit shutout as LSU beat Louisiana Tech via run-rule, 11-0 in five innings. Gorsuch was rolling, but no one was ready for what she did to Belmont.
Gorsuch needed only 81 pitches to retire all 21 batters she saw, recording a career-high 16 strikeouts, including a run of eight-straight at one point. It was the first seven-inning perfect game in program history, and the 4-0 win was the 10th shutout of Gorsuch's LSU career.
No game, however, can top what happened that Saturday night. It was perfection.
LSU's Maribeth Gorsuch Throws Perfect Game
RELATED: Lexi Kilfoyl Emerges as Alabama Softball's Newest Star
LSU capitalized on a first-inning wild pitch for its first run, while preseason All-SEC selection Shelbi Sunseri's third-inning RBI scored Aliyah Andrews to put the Tigers ahead for good. A fifth-inning throwing error, then another run scored on a fielder's choice double play that same inning capped the scoring for LSU's offense.
Even after a historic night in LSU softball history, Gorsuch showed humility, thanking catcher Cait Calland and her coaching staff first and foremost.
"Yeah that's amazing, but I have to give all my credit to my catcher and my teammates and my coaches. Without the support of them, this wouldn't possible. We work hard day-in and day-out. The pitching staff was amazing this weekend, and the support from them ? nothing beats it."

? Maribeth Gorsuch, via Geaux Nation
The LSU softball team headed to California and the Judi Garman Classic the following weekend, where matchups with Loyola Marymount, Texas Tech, California, Colorado State, and second-ranked Washington awaited.
This article was originally published February 24, 2020. The 2020 NCAA season was cut short due to the coronavirus pandemic and outbreak of COVID-19, but we'll never forget Gorsuch's dominance.