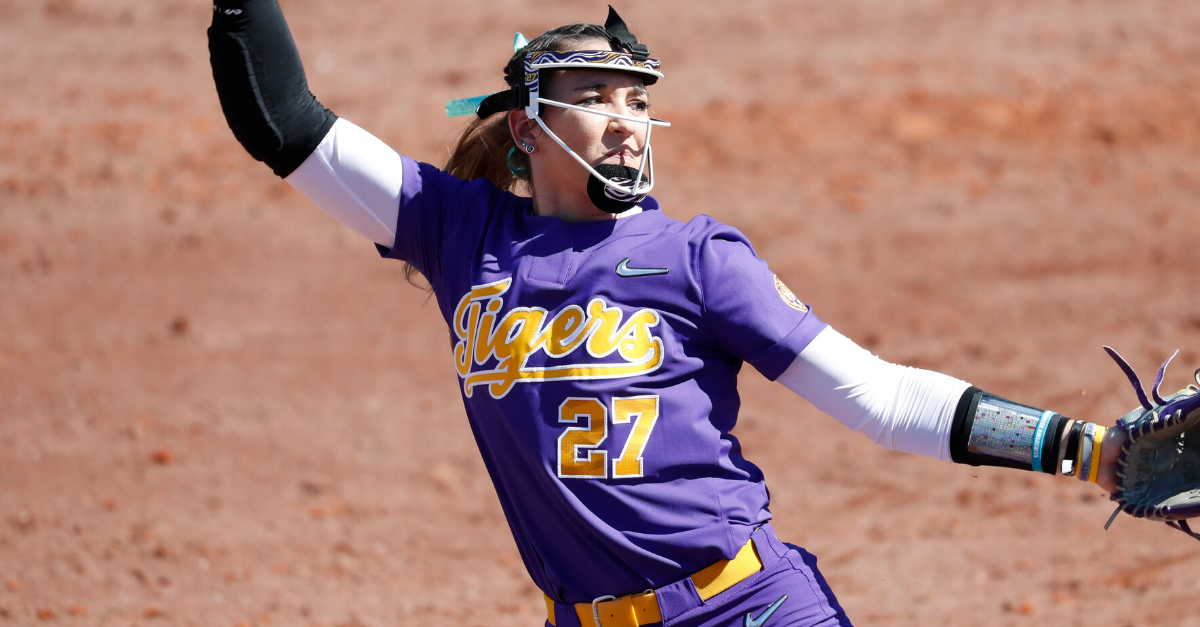 AP Photo/Casey Brooke Lawson
College softball is officially underway, which means the race for eight spots in 2020's Women's College World Series in Oklahoma City is on. The defending national champion UCLA Bruins are itching to go back-to-back, but it's Pac-12 rival Washington that opened as the preseason No. 1, while the reigning SEC Tournament champion Alabama Crimson Tide are among the nation's most dangerous teams.
But after the program's 21st NCAA Tournament appearance in the last 22 seasons, the LSU Tigers and head coach Beth Torina are ready to roll. Louisiana State University saw its softball team reach the NCAA Super Regional for the fifth-straight season before losing a difficult road series against Minnesota last year. They're back in Tiger Park for the 2020 season and reloaded for another postseason run.
D1Softball released its preseason All-American teams as 2020 got underway. Highlighted by ten standouts each from the SEC and Pac-12, LSU featured two players ready to lead the purple and gold back to glory.
LSU Pitcher/Utility Shelbi Sunseri
The first, and obvious choice, is junior Shelbi Sunseri. Her time at Santa Fe High School in Texas should've told you all you need to know?Sunseri was a four-time District MVP, Gatorade Player of the Year nominee, and three-time NFCA All-American, and she hasn't slowed down since arriving in Baton Rouge.
Last season, Sunseri was named NFCA Second-Team All-American as a sophomore after leading LSU with 60 RBIs, tying the team lead with 17 home runs, and finishing with a .340 batting average and slugging at a .748 clip. On top of that, she appeared 32 times as a pitcher, posting a 2.34 ERA and scattering 112 hits across 137.2 innings.
Rightfully so, she's been named to D1Softball's preseason All-American first team.
LSU Outfielder Aliyah Andrews
RELATED: Pro Softball Player Compares Her Salary to Yankees Bat Boy
The other Tiger receiving acknowledgment is senior outfielder Aliyah Andrews. Entering her final season, you might not find a more proficient defensive center fielder in college softball. She's a two-time SEC All-Defensive Team selection who's made 176 starts in her three seasons. She finished sixth in NCAA Division I softball last season with 47 stolen bases, which was the LSU single-season record. The East Lake High School product is third in school history with 100 swipes and needs 55 to tie Dee Douglas' 19-year-old school record for career stolen bases.
On top of that, LSU's leadoff hitter was nearly impossible to strikeout, getting K'd only 19 times in 204 at-bats.
Andrews was named to D1Softball's preseason All-American second team, as well as USA Softball's Collegiate Player of the Year watch list.
Here are the rest of the honorees for the 2020 softball season:
D1Softball's Preseason All-American Teams
First Team
C ? Morganne Flores, Washington
1B ? Bailey Hemphill, Alabama
2B ? Reyna Carranco, Arizona
SS ? Sis Bates, Washington
3B ? Sydney Sherrill, Florida State
OF ? Alyssa Palomino-Cardoza, Arizona
OF ? Jocelyn Alo, Oklahoma
OF ? Kindra Hackbarth, Arizona State
UTL/P ? Miranda Elish, Texas
UTL ? Shelbi Sunseri, LSU
UTL ? Aaliyah Jordan, UCLA
UTL ? Grace Green, Oklahoma
SP ? Gabbie Plain, Washington
SP ? Amber Fiser, Minnesota
SP ? Montana Fouts, Alabama
Second Team
C ? Mia Davidson, Mississippi State
1B ? Kayla Konwent, Wisconsin
2B ? Janae Jefferson, Texas
SS ? Jessie Harper, Texas
3B ? Jana Johns, South Carolina
OF ? Aliyah Andrews, LSU
OF ? Kelli Godin, UCLA
OF ? Hannah McEwen, Arkansas
UTL/P ? Sierra Lange, George Washington
UTL ? Kendyl Lindaman, Florida
UTL ? Chelsea Seggern, Tennessee
UTL ? Fa Leilua, Mississippi State
SP ? Giselle Juarez, Oklahoma
SP ? Danielle Williams, Northwestern
SP ? Megan Faraimo, UCLA