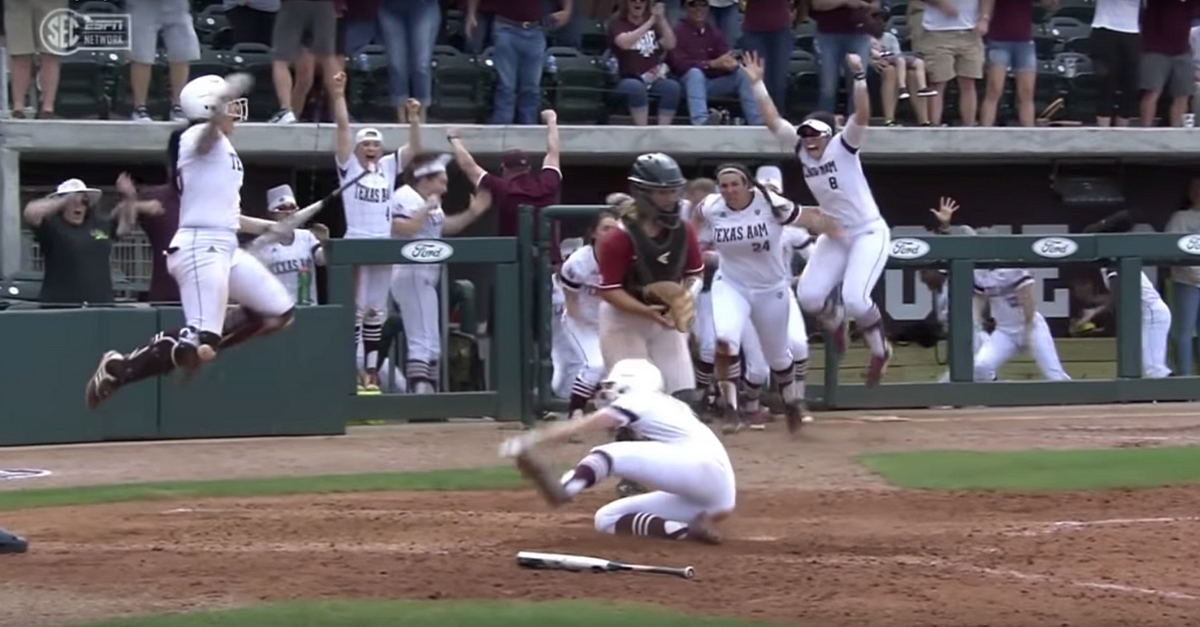 YouTube: Texas A&M Athletics
YouTube: Texas A&M Athletics
If you're new to the scene, I'll start with this fact: the Alabama Crimson Tide are dominating college softball in 2019. The Tide was the last undefeated team in the country heading into the final meeting of a three-game series against the Texas A&M Aggies over the weekend. Unfortunately for Alabama, the team's unmatched home field advantage couldn't save them when Texas A&M's Payton McBride stepped to the plate in the bottom of the seventh inning.
Despite losing the first two games of the weekend by a combined final score of 24-4, the Aggies rallied from a 3-1 deficit to win the third game, 4-3, thanks to McBride's walk-off single to give Texas A&M a hard-fought Southeastern Conference win. Alabama (33-1, 5-1 SEC) sees their historic winning streak snapped in College Station, which goes down as the third-best start to a season in NCAA Division I history.
"In my head I was just thinking, 'see the ball, hit the ball.' Wherever it was around me I was going to foul it off just trying to protect," McBride said after the game. "Then on the one I hit, I just got on top of the ball and it worked out for me."
McBride delivered the game's biggest moment with her RBI single to left field that plated junior Blake-Ann Fritsch for the win, but it was starting pitcher Kendall Potts (8-9) who deserves the game's Most Valuable Player award.
The Texas A&M junior pitched all seven innings in the win, giving up only four hits and shut down a high-powered Alabama offense by retiring all three batters she faced in three separate innings. Potts out-dueled Alabama's freshman ace Montana Fouts (15-1), who picked up the first loss of her college career after pitching six full innings, but allowing three earned runs before being pulled in the seventh.
Fouts allowed seven hits on 125 pitches, both of which were season highs.
First inning, solo home runs by Alabama's Kaylee Tow and Claire Jenkins weren't enough to shake Potts' confidence, as she settled in to throw a complete game, and most importantly, earn a much-needed win for the Aggies.
Head coach Jo Evans and the Texas A&M softball team (18-13, 2-7 SEC) enter a six-game, non-conference stretch against Sam Houston St., BYU and Texas Southern before heading to Athens for three games against the Georgia Bulldogs.
The Alabama softball team look to start another win streak with one game against Georgia Tech, then hosting the Mississippi State Bulldogs for three games to close March.
WATCH: