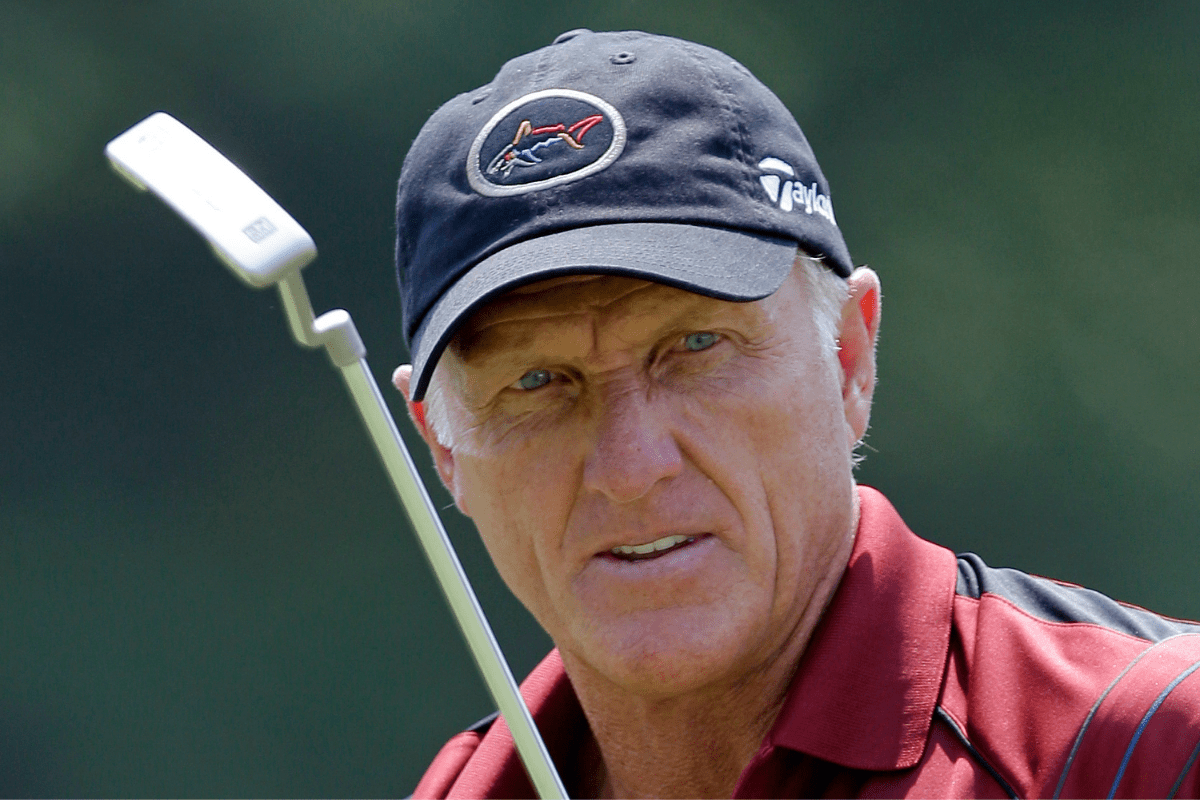 AP Photo/Gene J. Puskar, File
Legendary Australian professional golfer Greg Norman is one of the true icons of the sport and greatest golfers to ever live. "The Great White Shark" spent more than 300 weeks as the world No. 1-ranked golfer during his prime in the 1980s and 1990s and has won 88 professional tournaments, most of them international tournaments. He won 20 PGA Tour event victories. He was the PGA Tour's leading prize money earner on multiple occasions.
His success didn't end on the 18th hole, however, as the 65-year-old managed to become a highly lucrative businessman following his golfing career. One of the richest golfers ever, just how much is Greg Norman worth?
Early Life
Norman was born in Mount Isa, Queensland, Australia to parents Mervin and Toini Newman. He was trained in golf from a young age by his mother, Toini, whom was a single-figure handicap golfer.
When he was 15, Norman caddied for Toini at a their local golf club, where he got his start in the sport. He progressed quickly, and when he finished high school it was clear he could have a future as a golfer.
Professional Career
Norman turned professional in 1976, just six years after he started playing golf. He joined the European Tour in 1977, and won that same year at the Martini International in Scotland. By 1980, Norman would have victories at the French Open, Scandinavian Enterprise Open, Suntory World Match Championship and the Australian Open.
He debuted at The Masters Tournament at Augusta National in 1981, placing fourth. He joined the PGA Tour in 1983, and earned his first PGA Tour victory in 1984 at the Kemper Open. He forced a dramatic sudden-death playoff at the 1984 U.S. Open, but ultimately lost.
After nearly completing a Grand Slam in 1986, Norman fell short at three of the four major championships, though still managed to earn a victory at the Open Championship. Norman missed a key putt at the 1986 Masters which would've forced a playoff with Jack Nicklaus. He'd end the year with eleven overall victories and was the world's No. 1 ranked golfer, per the Official World Golf Rankings.
Despite Norman's excellence on the golf course, he never was able to win the Masters. Across his career, Norman won just two major championships, the Open Championship in both 1986 and 1993. He placed second in each other major championship, the PGA Championship, U.S. Open and Masters Tournament, on at least two occasions.
Business Ventures
In 1993, after splitting up with IMG, Norman founded what was then known as Great White Shark Enterprises, though it's since re-branded to be called the Greg Norman Company. The company rakes in hundreds of millions each year, per reports from Forbes.
The company also owns multiple businesses, including a golf course design company, a clothing line, a wine company, an eyewear chain, and more.
Basically, Greg Norman's name is everywhere still.
Personal Life
RELATED: Tiger Woods? Son Could Be A Golf Star Like His Dad
Norman has been married three times in his life.
His first marriage was to former flight attendant Laura Andrassy, per Sportscasting.com. They wed in 1981 and had two children, Greg Norman Jr. and Morgan-Leigh, but divorced in 2007 to the tune of more than a $100 million settlement.
He then married tennis player Chris Evert in 2008 but they separated a year later. Talk about a power couple! Norman is currently married to Kirsten Kutner, an interior designer, whom he's posted about on social media.
Greg Norman Net Worth
According to Celebrity Net Worth, Norman boasts an estimated net worth of $400 million. The site reports he earned as much as $15 million via career earnings.
He's also made a fortune in real estate. Norman reportedly listed Seven Lakes Ranch in Aspen, Colorado for $55 million in 2017. He also purchased a $4.9 million home in Jupiter, Florida in 1991, and listed it for $65 million. While neither have sold yet, it's clear he has an eye for real estate.
The World Golf Hall of Fame member ranks among the richest golfers (and athletes) of all time, coming short of only Tiger Woods' mammoth $800 million fortune and Jack Nicklaus' reported $700 million net worth. The rest of the esteemed list includes Ernie Els, Jordan Spieth, Fred Couples, Rory McIlroy, Gary Player, Phil Mickelson, and Arnold Palmer.