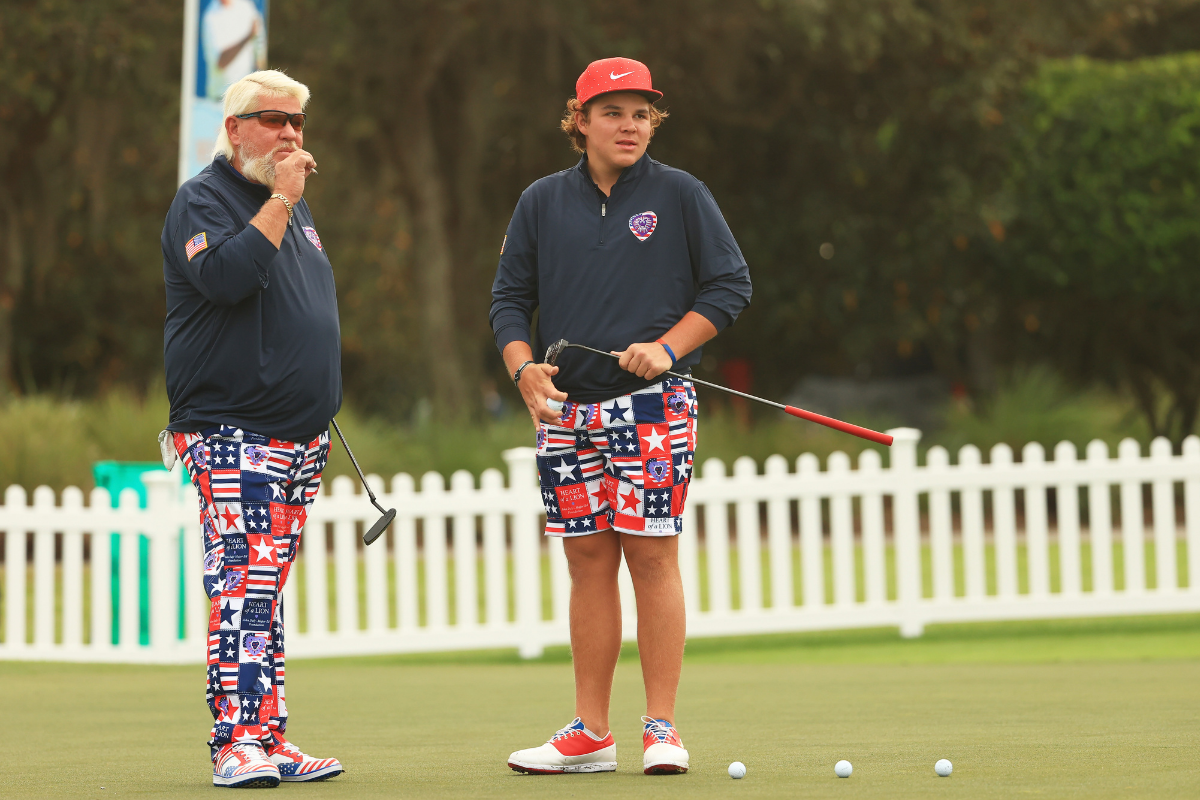 Photo by Mike Ehrmann/Getty Images
Professional golfer John Daly has had a rough go of things lately, having recently revealed to the world that he is battling bladder cancer. His cancer diagnosis, which was made public information in September 2020, is troubling news for the two-time major champion and five-time PGA Tour event winner.
Well, not all news is bad, and the 55-year-old's spirits will certainly be uplifted following his son's own golf career. Following in his father's footsteps, John Daly II announced his decision to attend the University of Arkansas on a golf scholarship last year. Daly played golf for the Arkansas Razorbacks from 1984-87 before turning professional.
There might not ever be another John Daly, but it turns out John Daly II wears crazy pants like his pops. Oh, and he can swing it.
John Daly's Son "Little John Daly"
RELATED: Tiger Woods' Son Charlie Woods Could Be a Golf Star Like His Dad
Daly's 18-year-old son, "Little John" Daly II caught the eye as an amateur high school golfer, showcasing a similar skillset to his old man on the golf course. In other words, Little John can absolutely rip the ball with a golf club.
The pair have participated in the PNC Championship at the PNC Father/Son Challenge in Orlando, Florida in recent years, and, based on those results and his performance in other golf tournaments, it's safe to say Daly II has a promising future in the sport. They were back for the 2020 PNC Championship, where, per Golf Digest, the duo was slated as 20-1 odds to win the event, which was broadcasted via NBC and the Golf Channel. They finished eighth behind winner Justin Thomas and his dad, Mike Thomas.
Just a few days after Big John revealed his cancer diagnosis, Daly II was crowned champ of the International Junior Golf Tour's Fall Kickoff Event at Bishops Gate Golf Academy, where he scored a 68 after sinking a birdie putt in the final round. He also finished runner-up at the Dye National Junior Invitational at Crooked Stick Country Club in Carmel, Indiana, nearby Indianapolis, the very same venue at which Daly won the PGA Championship in 1991.
In May 2020, the elder Daly told TMZ Sports that his son had some big-time potential.
"He's 16 years old and I can't keep up with him now. He hits it so far," he said. "He's flying about 300, 305 [yards] now."
And for good measure, here's what mini John Daly's swing looks like. He can crush it.
Daly II will hope to continue heading down his father's path. He doesn't have to swing like Bryson DeChambeau or win a major like his dad — who won the 1991 PGA Championship and the 1995 Open Championship — to be considered successful.
He participated in his first college tournament in October 2021, and there's no doubt Big John will be help coaching him along the way.
This post was originally published on December 17, 2020.
Related Videos