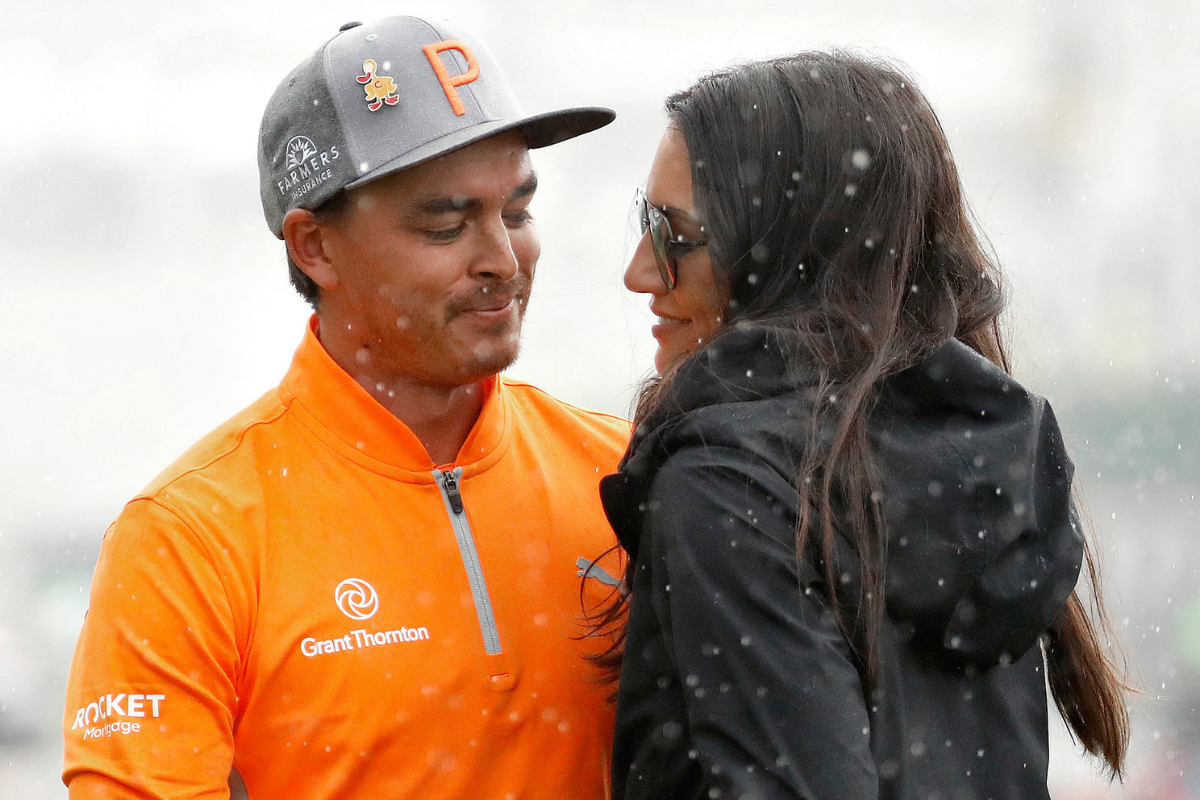 AP Photo/Matt York
Golfer Rickie Fowler has been searching for an ever-elusive major championship win on the PGA Tour for over a decade. He has come close on multiple occasions, but has ultimately failed to get the job done.
The golfer turned pro in 2009 and is a five-time champ at PGA Tour events, but has never claimed victory at any of the four major championships.
While wins continue to evade the 32-year-old Fowler, the California native has notched a pretty significant achievement off the golf course: getting married to his significant other.
Who is Rickie Fowler?s Wife?
RELATED: Phil Mickelson?s Wife is a Former NBA Cheerleader
Rickie Fowler began dating his wife, pole vaulter Allison Stokke in 2017. Their first appearance together came at a Moto GP event in Austin, Texas.
Fowler reportedly proposed to girlfriend Allison Stokke on a beach in Southampton, New York, and the pair eventually got married in 2019.
Their wedding was meant to be held in the Bahamas. However, they were forced to rearrange due to Hurricane Dorian and ended up marrying in Cabo, Stokke told Vogue.
Rickie Fowler's wife Allison Stokke is a professional pole vaulter and track and field athlete from California. She received a lot of publicity as a 17-year-old in high school after an image of her pole vaulting went viral. The image became popular due to Stokke?s appearance, however she thought the attention was demeaning to the work she put into her craft.
She continued to pole vault throughout her time in college at the University of California, Berkeley, and became an All-American, but never qualified for the Olympic team.
Stokke now works as a fitness model, having done shoots for Nike and Athleta, while also working with GoPro.
She is popular on social media, boasting more than 660,000 followers on Instagram, where she frequently shares pics of her and Rickie on the golf course and living their life in Jupiter, Florida.
Rickie Fowler's Professional Career
After turning pro in 2009, Rickie Fowler had a strong start to his career. In 2010, Fowler became the youngest golfer ever to feature on the United States' Ryder Cup team. He earned his first professional victory in 2011 at the OneAsia Tour's Kolon Korea Open.
In 2012, Fowler earned his first PGA Tour win, beating out Rory McIlroy in a sudden-death playoff at the Wells Fargo Championship.
Fowler's best-ever finish at the U.S. Open came in 2014 when he placed second, and he followed that performance up with another runner-up finish at the Open Championship.
In his next major championship, Fowler finished third in the PGA Championship, despite holding the lead for much of the day. Fowler became the first golfer since Tiger Woods and Jack Nicklaus to place top-five in all four major championships, however, he was the only one not to win one.
In 2017, Fowler placed top-five in two more majors, including the PGA Championship where he hit four consecutive birdies but still placed third, a few strokes behind winner Justin Thomas.
Fowler's best effort at Augusta National came in 2018 when he finished runner-up at the Masters, losing to Patrick Reed by one stroke. His latest victory on the tour came in 2019 when he won the Waste Management Phoenix Open, shortly after signing a fresh deal with TaylorMade to become his golf ball sponsor.
Fowler is winless since 2019, but he'll be hoping for a good showing at the 2021 Masters up against the likes of Jason Day and Jordan Spieth, where he has the chance to bounce back after the pandemic-shortened 2020 campaign.
This post was originally published on November 11, 2020.