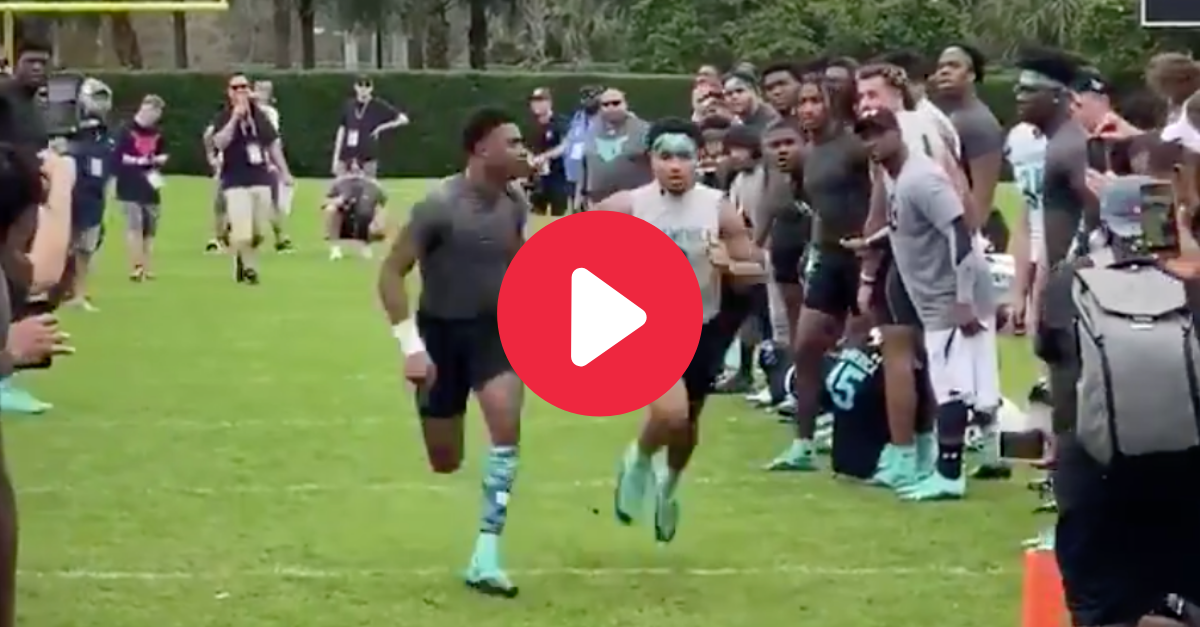 Screenshot from Twitter
Ever since head coach Kirby Smart took over, the Georgia Bulldogs play fast. Like, ridiculously fast. There has been no shortage of speed and NFL talent for the SEC East power, but there is no such thing as too much. Signing wide receiver Arian Smith for the 2020 recruiting class proves that.
A four-star prospect from Lakeland, Florida, Smith is known for his blazing speed. It?s what helped him dominate the high school level and will make him a major factor in college football. The Dawg signee showed exactly why in late December.
At an Under Armour All-American Game event in Orlando, Smith won the fastest man competition. The speedster even had time to look over to Notre Dame signee and runner-up Chris Tyree before crossing the finish line.
Arian Smith Fastest Man Race
The ink barely dried on his National Letter of Intent before Smith showed up to the All-American game. The sprinter signed with the Georgia football team on the first day of the Early Signing Period.
Arian Smith Recruiting
https://www.youtube.com/watch?v=FicGJoJtZWU
Smith, who is the No. 72 overall prospect by the 247Sports Composite, fielded other high-profile offers from Alabama, Auburn, Clemson, Florida, Florida State, LSU, Miami, Notre Dame, Oklahoma, Tennessee, and Texas A&M, among others.
At the end of the day, however, Smith is headed to catch touchdown passes in Athens, Georgia next season.
Arian Smith Highlights
At 6-foot-1 and 170 pounds, Arian Smith has good size to pair with his elite speed. He can be used all over the field, too.
Whether it's on the outside in man coverage or taking a handoff on a reverse, Smith will always have the speed to get downfield in a hurry. Once he gets a little stronger and perfects his route-running, there's no telling what his ceiling could be.