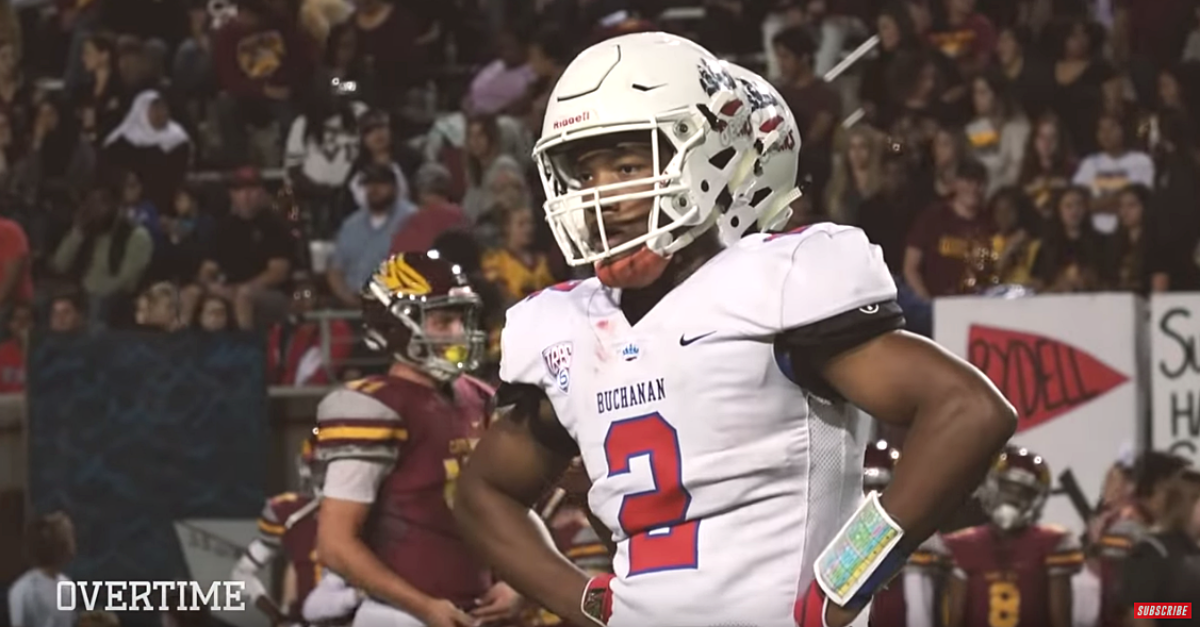 Screenshot from YouTube: Overtime SZN
Don't listen to these guys. There's only one team in college football that deserves the title of 'Running Back U.' Rodney Hampton. Garrison Hearst. Terrell Davis. Musa Smith. Knowshon Moreno. Todd Gurley. Sony Michel. Nick Chubb. D'Andre Swift. Uhh, Herschel Walker anyone?
The Georgia Bulldogs are a running back factory. Decade after decade, elite ball carriers know that the position's tradition in Athens rivals the likes of 'Defensive Back University' over at LSU. Heading into the 2020 season, that tradition will live on with one of the top running backs in all of high school football heading to the Peach State.
Buchanan High School running back Kendall Milton announced his commitment to Kirby Smart and the Georgia football program live on CBS Sports HQ back in July. The Clovis, California product is rated as the nation's No. 6 running back prospect, according to the 247Sports Composite, and Rivals ranks the five-star prospect as America's 27th overall prospect regardless of position.
Milton committed to Georgia after receiving more than 40 offers from the likes of Auburn, Florida, Miami, Michigan, Notre Dame, Oklahoma, Penn State, Texas, Texas A&M and USC.
The Alabama Crimson Tide, LSU Tigers and Ohio State Buckeyes rounded out Milton's final four schools, but Georgia came away the winner of this five-star lottery.
"That tradition. That running back tradition through these past years" Milton said when asked why he chose Georgia. "They've been able to develop great running backs and send them to the NFL. They had two in the Super Bowl last year, so it shows they're producing. The academics over there [are] top-notch in the country. And the coaching staff, the record speaks for itself. I'm excited to be a Bulldog."
During December's Early Signing Period, Milton made it official for UGA and signed his National Letter of Intent.
Georgia Signs 5-Star RB Kendall Milton
RELATED: E.J. Smith, Son of NFL Legend Emmitt Smith, Announces Commitment
Listed at 6-foot-1 and 215 pounds, Milton compares to classic, smash-mouth running backs that aren't available everywhere in today's game. 247Sports National Recruiting Editor Brandon Huffman once called Milton an "immediate Power 5 starter and projects as first-round NFL draft choice."
Milton's highlight tape speaks for itself.
During his sophomore and junior seasons with the Buchanan Bears, Milton's racked up 2,851 rushing yards and 50 touchdowns on the ground. He averaged 8.2 yards per carry while helping Buchanan to a 20-6 record and appearance in the Division I CIF Championship game back in 2017.
As a senior, Milton was selected to participate in the All-American Bowl held in San Antonio, Texas.
Kendall Milton Highlights
Milton joins outside linebacker Mekhail Sherman (Washington D.C.), offensive tackle Broderick James (Lithonia, GA) and tight end Darnell Washington (Las Vegas, NV) as the fourth five-star recruit committed to Georgia for the 2020 recruiting cycle. 247Sports ranks UGA as the No. 6 overall class heading into next year, which includes four-star prospects like quarterback Carson Beck, offensive lineman Tate Ratledge, wide receiver Marcus Rosemy and cornerback Jalen Kimber.
The University of Georgia's 2020 recruiting class features nine players ranked in the top-10 at their position, and there are plenty more SEC-caliber recruits still undecided.
Kirby Smart's program is re-tooled once again, but no prospect is more exciting for the Dawgs than 5-star RB Kendall Milton. 'Running Back U' isn't going anywhere, folks.
This article was originally published December 18, 2019.