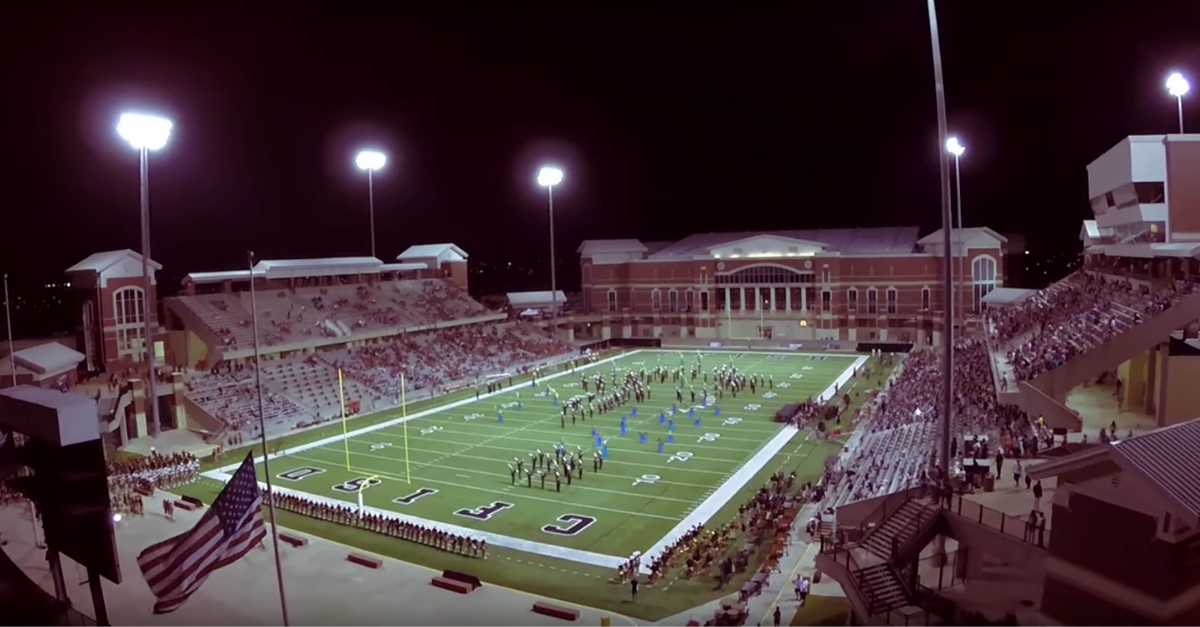 Screenshot from YouTube: Butch Stephens
Texas high school football is unlike any other state. California powerhouses like Mater Dei carry their own reputations out West, while Florida's IMG Academy churns out elite talent each and every year. No place, though, is the game closer to religion than in The Lone Star State.
From 11-man squads to the seven-man game, those Friday night lights shine brightest when Texas football gets underway. Thousands of Texans pack massive venues like Katy ISD's Legacy Stadium that seats 12,000 people and cost $72 million to build. If you fly over Dallas and Houston, peak out the window and you're sure to see huge football fields gracing campuses all over the place. None, though, measure up to the Berry Center of Northwest Houston.
The massive 65-acre complex was constructed in 2006. Today, the football stadium is known as the Cy-Fair Federal Credit Union Stadium after the bank scored a 10-year, $1.5 million deal for naming rights to the stadium, according to the Houston Chronicle.
Schools in the Cypress-Fairbanks Independent School District ? Cy-Fair, Jersey Village, Cypress Ranch, Cypress Woods, Langham Creek, Cypress Creek, Cypress Falls, Cypress Springs, Cy-Ridge and Cypress Lakes ? all use the massive site for events from football games to concerts to graduation ceremonies.
The Berry Center of Northwest Houston
In addition to the 11,000 seats at the football field, the adjacent complex includes an 8,000-seat multi-purpose arena, 15,000-square-foot conference center, 456-seat theater, and about 4,000 parking spots.
Since 10 different schools utilize the massive facility, scheduled football games take place at either the Berry Center or nearby Pridgeon Stadium and are spread between Thursday, Friday and Saturday scheduling.
RELATED: Best Stadium-Approved Clear Bags from Fanny Packs to Totes for Game Days
According to MaxPreps, this is the most expensive high school football stadium in Texas, topping multi-million venues like McKinney ISD Stadium, Allen's Eagle Stadium, and Shenandoah's Woodforest Bank Stadium. There are college football programs out there that don't compare to this mammoth.
Cy-Fair FCU Stadium in Texas
The Berry Center previously hosted American Ninja Warrior auditions, a rally for Rick Perry's 2010 governor campaign, the State Farm College Slam Dunk and 3-Point Championships, and numerous Texas state playoff games and events in multiple sports.
This is the cream of the crop when it comes to high school pantheons in the United States, and it should be on every fan's bucket list to visit 8877 Barker Cypress Rd, Cypress, TX 77433 and see what Texas football is all about.