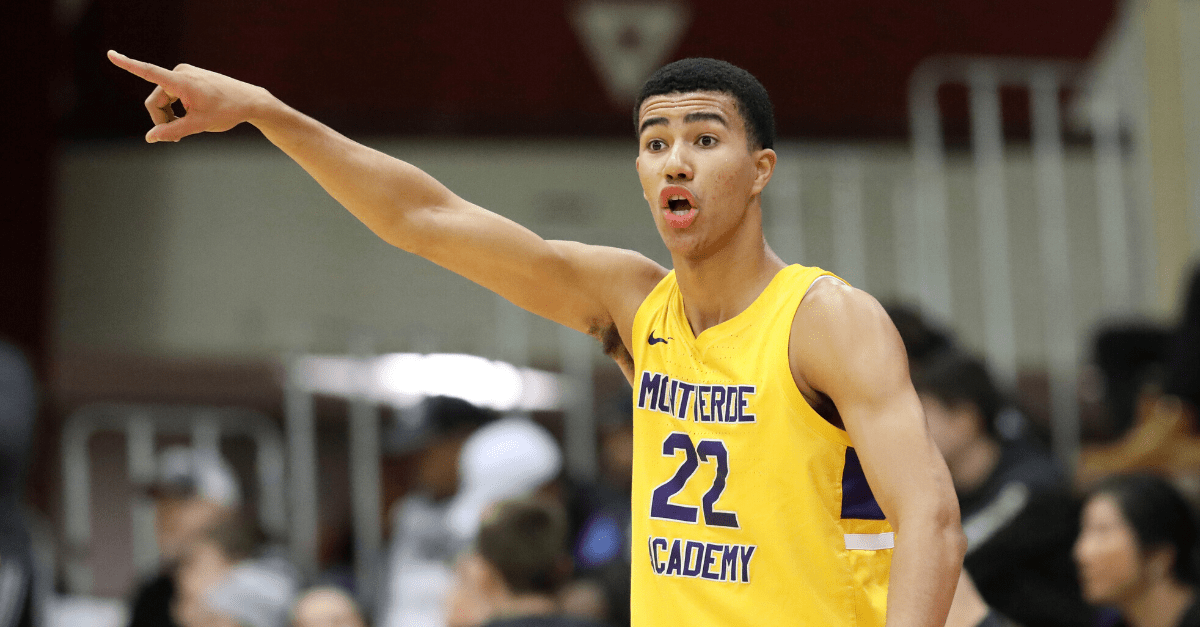 AP Photo/Gregory Payan
Montverde Academy is a talent factory; a haven for college coaches to find prized recruits. Oklahoma State signee Cade Cunningham, Florida State commit Scottie Barnes, and now Caleb Houstan.
The 6-foot-7, 190-pound recruit is next to carry the torch for the Bradenton, Florida powerhouse. Hailing from Mississauga, Canada, Houstan is the latest in highly-touted hoopers from north of the border.
Caleb Houstan Highlights
Houstan primarily operates as a spot-up shooter. He finds open windows and moves well without the ball. His shot is smooth and soft. His high arc makes the ball silk through the net. The only gripe with his shot is the release speed. It lags a tad, making it easy for defenders to recover. Houstan played with drivers that forced the defense to crash the paint, leaving plenty of time for a clean look. That being said, he plays under control.
The five-star doesn't need the ball to be effective. He runs the floor well in transition, which is his favorite spot to attack the rim. He finishes with dunks or looks for the open teammate. Against zone defenses, he maneuvers around the high post or finds creases under the hoop.
Houstan's length and athleticism supply the potential for a good defender. He can be disruptive in passing lanes and against guards.
If he sharpens his ball and defensive skills, I see flashes of Paul George; a versatile scorer and defender capable of elite playmaking.
Caleb Houstan Basketball Recruiting
Houstan is the seventh-rated player in the class of 2022 according to 247Sports. He ranks fifth in the Rivals150 player rankings. The Montverde small forward is considering reclassifying to the Class of 2021. He's rumored to make an official decision by the end of the summer.
College basketball programs from all over the country haven taken interest in the high school star. Houstan holds offers from Maryland, Michigan, North Carolina, Oregon, Seton Hall, Tennessee, Texas, Texas Tech, and Virginia. UNC head coach Roy Williams is especially intrigued by Houstan. IMG Academy point guard Jaden Bradley is the other top 2022 player the Tar Heels are targeting. Duke, Gonzaga, and Michigan State haven't offered yet but are all keeping a watchful eye.
Houstan has a strong foundation to build on. If he keeps progressing at the current pace, he'll climb NBA draft boards.
---
UPDATE (July 17, 2020): Houstan confirmed to ESPN what many expected could happen. He is reclassifying to the Class of 2021, making the upcoming campaign his final season of high school basketball.
This forward-thinking move makes him eligible for the 2022 NBA Draft.
This article was originally published June 24, 2020. It's been updated to track Houstan's recruitment.