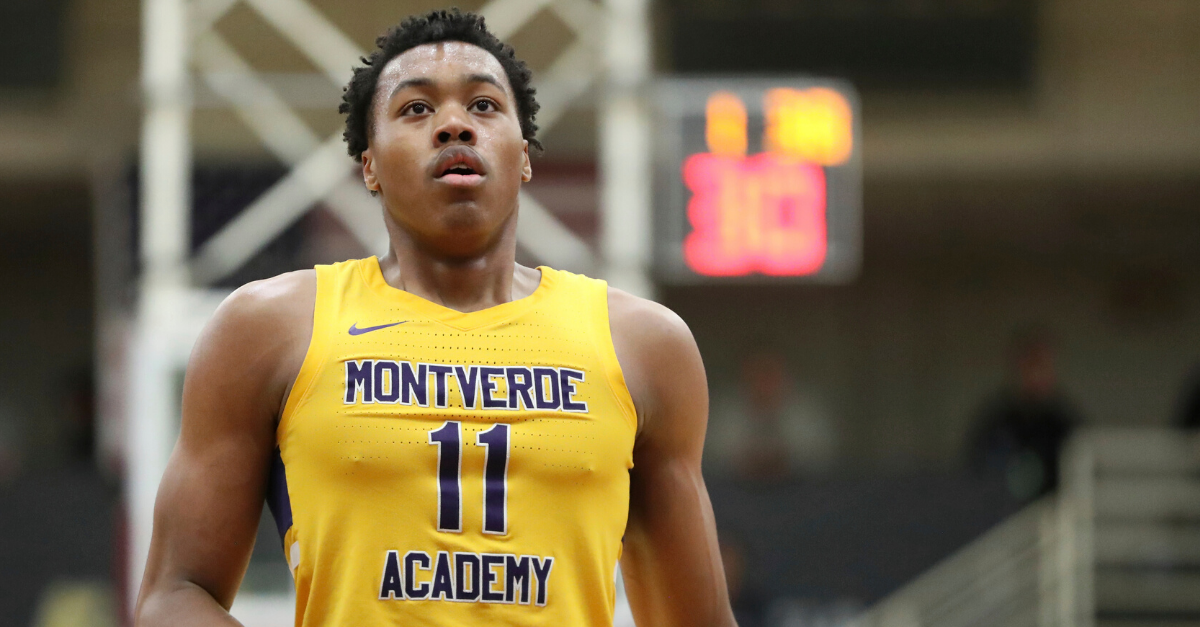 AP Photo/Gregory Payan
Positionless basketball is more relevant than ever in today's landscape. The ideal player can defend across multiple positions and score both inside and out. LeBron James, Kawhi Leonard, Ben Simmons, and Paul George all fit this mold, which makes them some of the most valuable players in the NBA. You can add Florida State Seminoles commit Scottie Barnes to the list.
Barnes — a 6-8 small forward — glides up and down the court. He thrives driving downhill to the rim, finishing through defenders with finesse, but he's at his most dangerous in transition. When he comes down with a rebound, he takes it all the way to the hoop or finds the open teammate with a hawk-like court vision. The aspect of his game that really separates Barnes is his intensity. His motor is always running, and he never takes a possession off.
Scottie Barnes Highlights
Barnes attended Cardinal Newman High School in his hometown of West Palm Beach, Florida as a freshman before transferring to NSU University School in Fort Lauderdale for his sophomore and junior seasons; There, he was teammates with Duke freshman Vernon Carey Jr. The Florida State recruit left NSU University School for heralded basketball factory Montverde Academy in Montverde, Florida to finish his high school career. He played alongside fellow lottery pick Cade Cunningham in high school.
He ranks sixth overall in the 247Sports Composite Rankings and seventh in the Rivals 150.
Scottie's Nightrydas highlights showcase his body control and athleticism when attacking the rim. His jumper needs some improvement, but that should come with time. Once it does, watch out.
For FSU basketball fans wanting to see him in action, Barnes will take part in the 43rd McDonald's All-American Game on April 1, 2020 alongside the likes of No. 1 overall recruit Evan Mobley and Auburn-bound Sharife Cooper
5-Star Small Forward Scottie Barnes
Barnes chose the Florida State Noles over Kentucky, Oregon, Miami, Ohio State, and Kansas. He took official visits to Oregon and Ohio State before choosing Florida State. It's a great sign for head coach Leonard Hamilton because Barnes is expected to make an impact right away as one of the most talented players in college basketball.
Florida State fans should be thrilled about Scottie Barnes even though the Montverde Academy product's time in Tallahassee will likely be short. He's a strong NBA prospect who could climb as high as the top five in the 2021 NBA draft.
Barnes had a fantastic one-and-done regular season with Florida State basketball as expected. The point guard won ACC Freshman of the Year, ACC Sixth Man of the Year, ACC Rookie of the Year, and was named to the All-ACC Tournament team. The scorer averaged 10 pts, 4 reb, 0.5 blk, 1.5 stl, and 4 ast over 24 games. He helped the Seminoles reach the third-round of the NCAA tournament playoffs. After defeating North Carolina-Greensboro and Colorado, the number four seeded Seminoles fell to the Final Four-bound Michigan Wolverines. They defeated Georgia Tech, Louisville, and Indiana but lost to Notre Dame during the regular season. Barnes played multiple positions off the bench, of course, from power forward to point guard. His versatility is part of why he's a lock first-round draft pick.
ESPN has Barnes going at number six in the 2021 NBA Draft Lottery. The Ringer agrees, asdding that Barnes will land with the young Oklahoma City Thunder.
As Barnes ascends levels of competition, expect him to build on his game as another positionless force.