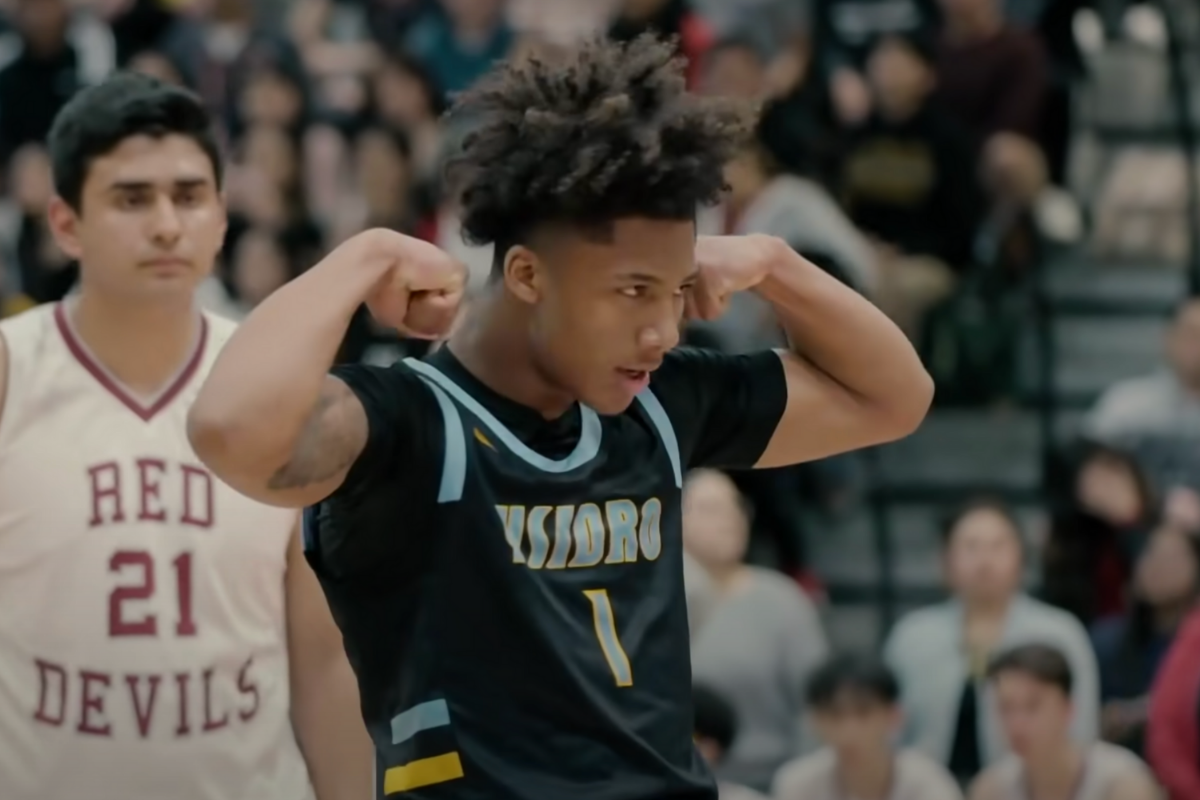 Screenshot from YouTube
Few high school basketball players are better suited for the highlight age than Mikey Williams.
Williams ? a 6-foot-2, 180-pound shooting guard from San Diego, California ?has already accumulated 2.6 million followers on Instagram. The 16-year-old phenom is the latest in line of young human-highlight reels.
As a top prospect in the class of 2023, Williams has a lot of hype to live up to.
Mikey Williams Highlights
RELATED: The Bronny James Hype Train is Building Steam
Mikey Williams is an athletic specimen. He's capable of performing dunk-contest worthy slams in games and booming in traffic. In addition to his dunks, the five-star prospect drives to the rim with strength. He has a knack for drawing fouls.
The combo guard has the potential to grow into an elite defender. Buoyed by exceptional natural instincts, he feasts on steals and transition blocks. He picks when to attack.
Williams should have the ball in his hands as much as possible. He's not quite there yet as far as a consistent point guard goes, but the playmaking abilities are too great to ignore ? similar to a young Russell Westbrook. He can get to anywhere he wants on the floor and create open looks for teammates.
His shot is effective. He's pulling up from logos, utilizing step backs, and shooting off the catch at a high clip. As it improves, it'll only open up his game more.
Mikey Williams Basketball Recruiting
Mikey Williams played his freshman year at San Ysidro High School in San Diego. He announced his transfer to Lake Norman Christian in Charlotte, North Carolina in September 2020.
He played AAU ball for the North Coast Blue Chips with Bronny James ? the same guy who's dad is, you guessed it, LeBron James ? in eighth grade.
Williams is the No. 2 recruit in the class of 2023, according to 247Sports' Composite Rankings. ESPN ranks him third. Swimming in college basketball offers, he trimmed his list down to 10 this past July.
The list includes five Historically Black Colleges and Universities: North Carolina Central, Alabama State, Texas Southern, Hampton, and Tennessee State. Power 5 programs Kansas, San Diego State, USC, Memphis, and Arizona State also made the cut. Williams was flooded with offers from HBCUs following a social media post this past offseason:
Williams emphasized a commitment to a HBCU as a way to keep revenue he generates within the black community. With 2020 five-star Makur Maker now on Howard's roster, a trend could be underway for more players to consider HBCUs. Mikey's an HBCU legacy. His mom played softball and graduated from Hampton.
Prior to narrowing the list, he held offers from Arkansas Pine-Bluff, Howard, Oregon, and UCLA among others.
It's possible we don't even see Williams at the NCAA level. He hasn't ruled out the G-League route and plans to monitor Jonathan Kuminga and Jalen Green's seasons.
Williams has the confidence and sturdy build of an elite NBA prospect. Already mounted with a high-level of fame, the pressure is on.