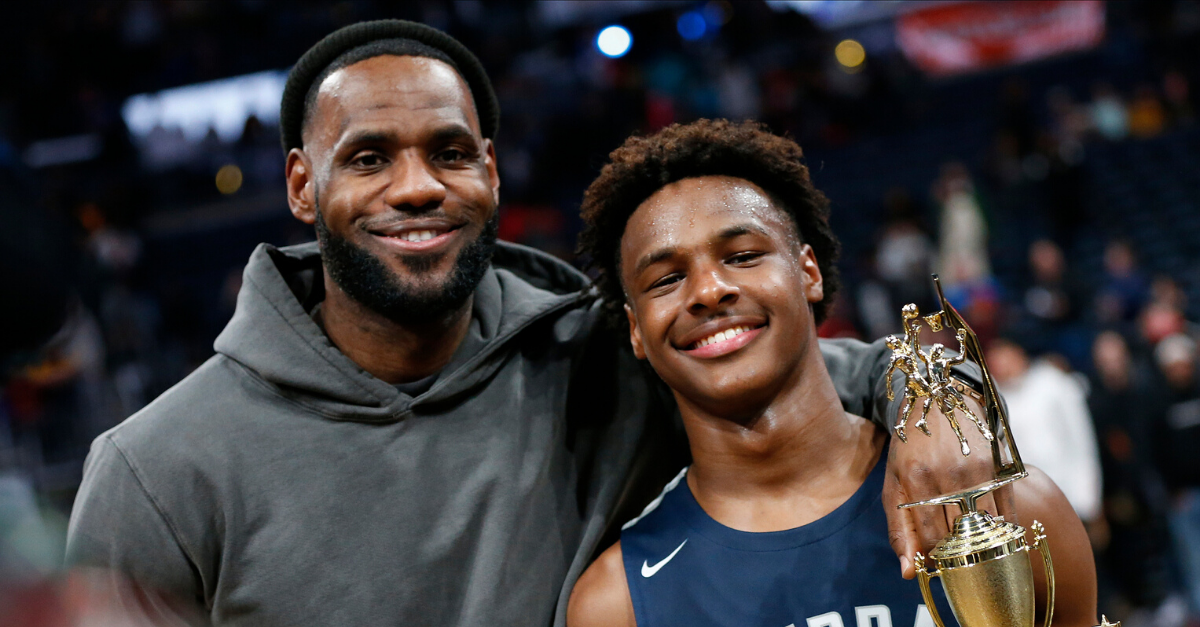 AP Photo/Jay LaPrete
On February 18, 2002, LeBron James was coronated on the cover of Sports Illustrated.
King James. The Chosen One. Air Apparent. Lofty expectations to place on a 17-year-old.
(Spoiler: he's doing alright for himself)
18 years later, James' son LeBron James Jr. — aka Bronny — is facing hype of his own. The blurred hype that will forever draw comparisons to his father while building his own legacy.
Bronny James High School
Bronny is the oldest son of the Los Angeles Lakers superstar and Savannah James. He was born on October 6, 2004, in Cleveland, Ohio, and his godfather is Chris Paul.
The hype train took off when he was just a nine-year-old little kid. Colleges were already scouting and flirting with scholarship offers as he toured the AAU circuit. Thad Matta, the Ohio State coach at the time, joked:
"He'll be on the recruiting radar… I need to offer him a scholarship."
As he grew older, the attention swelled. He transferred to Sierra Canyon School in Chatsworth, California in May 2019 and formed one of the best high school basketball teams in the country. Among the talent is five-star Kentucky commit B.J. Boston, five-star Ziaire Williams, and Zaire Wade, son of NBA star Dwyane Wade. This grouping of high profile players led to 15 nationally-televised games on ESPN networks.
Bronny was an essential piece of the Trailblazer's rotation at the point guard and shooting guard positions. Standing 6-foot-2 and growing, his poise, feel for the game, dunks, and smooth shooting stroke came through in clutch moments. On December 14, Bronny had 15 points, including the go-ahead layup against Akron-based St. Vincent-St. Mary — his father's alma mater. He was named the game's MVP.
Bronny James Highlights
The 15-year-old basketball player's fame is only going to spread. His 4.8 million Instagram followers eagerly await his next post. Drake casually went to one of his games. He holds recruiting interest from Kentucky, Duke, Kansas, North Carolina, and UCLA. Luckily, Bronny has a supportive dad well-versed in handling pressure at a young age in his corner along with his mother, brother Bryce, and sister Zhuri.
Naturally, he'll be compared to his All-Star father with every step fully-documented by the internet. We want to see what's next for our superstars, especially when their kids have the potential of Bronny. Likening father and son is easy, but it'll be intriguing to see how Bronny shapes his own identity. Their path could lead to sharing the NBA floor someday. If that happens, I'll take the Lebron guy on my team.