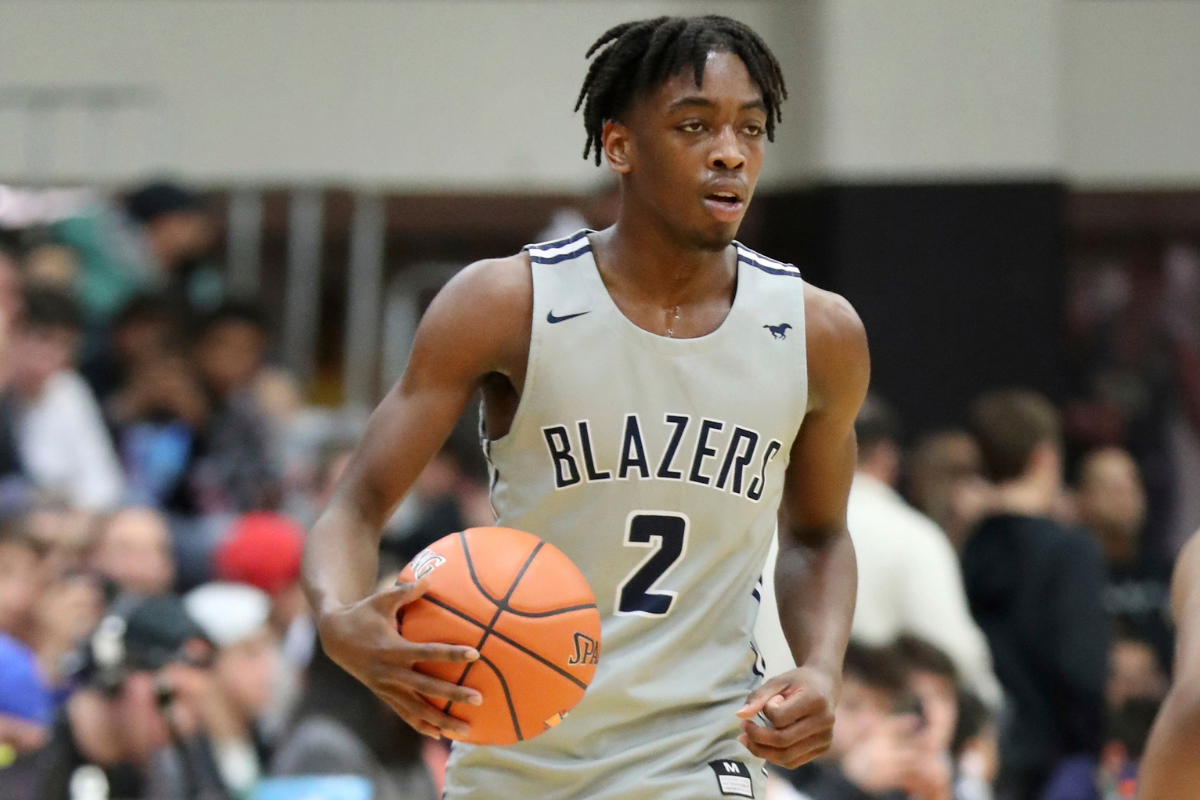 AP Photo/Gregory Payan
For the Wade family, basketball is a family matter.
Miami Heat legend Dwyane Wade enjoyed a successful college career at Marquette before winning three NBA Championships and solidifying himself as one of the greatest to play the game.
No matter how much he achieved on the court, the former NBA player — who suited up for the Heat, Chicago Bulls, and Cleveland Cavaliers — never stopped giving his all.
The former hoops superstar's love for the game was passed to his son, Zaire — a 6-foot-3 point guard who played for the Sierra Canyon Trailblazers in Chatsworth, California — whose basketball journey is at its genesis.
Zaire Wade was born to Dwyane and ex-wife Siohvaughn Funches, on February 4, 2002 in Chicago, Illinois.
Wade played his first year of high school basketball at Mount Carmel High School in Chicago on the freshmen team. He then attended American Heritage High School in Miami for his sophomore and junior seasons.
For his senior year, Wade transferred to Sierra Canyon and played alongside Bronny James — the oldest son of LeBron James — and five-star Kentucky commit BJ Boston.
In April 2020, the three-star prospect transferred to Brewster Academy in Wolfeboro, New Hampshire. He reclassified to the Class of 2021 to further his recruitment before making the jump from the high school ranks.
Zaire Wade Highlights
Zaire has a nice lefty jump shot and a tremendous ability to gather and shoot on balance. The side shimmy he does to his right to create space for his shot is nifty. He favors his strong hand when creating plays.
At the next level, he'll become more dynamic as he works on going right. The Los Angeles-based senior can also play off the ball as a shooting guard.
Wade isn't overly explosive but uses his athleticism in the correct spots. He has outstanding ball-handling skills. He combines them with sharp court vision to make plays for teammates. Zaire doesn't take plays off and plays with intensity on both ends of the floor. His maturity and humility naturally translate into a leadership role.
Zaire Wade Recruiting
RELATED: America's No. 1 HS Basketball Recruit Commits to College Powerhouse
Zaire Wade is a three-star recruit and the 296th ranked player in the 2021 recruiting class, according to 247Sports Composite. ESPN basketball recruiting rates him a 76 on a scale of 100. He currently has scholarship offers from UC Santa Barbara, DePaul, Nebraska, Rhode Island, TCU, South Carolina, and Toledo.
Wade remains unsigned, according to his Instagram. 247Sports indicates he's leaning towards signing with the TCU Horned Frogs.
If I could make a completely unbiased suggestion, I would recommend playing for Fred Hoiberg in Lincoln. D-Wade — the fifth pick in the 2003 NBA Draft and 13-time NBA All-Star — and Gabrielle Union are already Nebraska Cornhusker fans, and red looks really good on Zaire. Just a thought.
Wherever Zaire decides to play college basketball, he wants to shape his own legacy and dissuade comparisons to his father. In addition to basketball, he shares interests in fashion and setting a good example for his siblings and the younger generation.
He's not just a basketball player, he's not just Dwyane Wade's son. He's Zaire.
This article was originally published February 21, 2020 before updating.