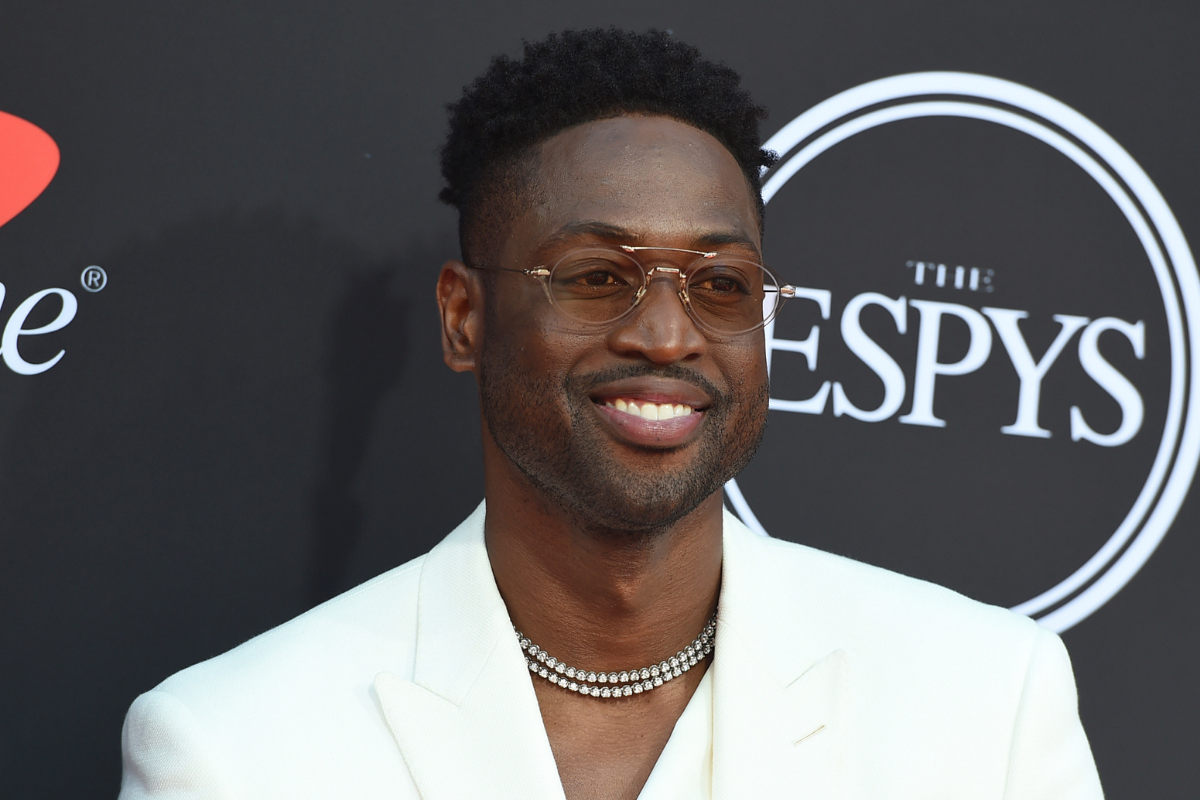 Photo by Jordan Strauss/Invision/AP
Dwyane Wade is one of the greatest players of his generation.
D-Wade's decorated NBA career is only part of his legacy. The Chicago native has endorsement deals across several industries to increase his net worth.
With cash inflow from multiple avenues, how much is "Flash" worth today?
Early Life
Born Dwyane Tyrone Wade Jr. to Jolinda and Dwyane Wade Sr. in Chicago, Illinois on January 17, 1982, Wade thrived in athletics from a young age.
At Harold L. Richards High School, he excelled at football and basketball. After a growth spurt before his junior year, he gained prominence as a basketball player and started catching attention from college programs.
Dwyane Wade's Marquette Career
Wade signed with Marquette University to play under head coach Tom Crean. As a junior, he led the Golden Eagles to the 2003 Final Four.
? Consensus First-Team All-American
? Third-Team All-American (2002)
? Conference USA Player of the Year (2003)
? No. 3 Retired by Marquette
Wade skipped his senior year to go to the pros. He left Milwaukee as one of the program's all-time greats.
Dwyane Wade's NBA Career
D-Wade was selected fifth overall by the Miami Heat in the stacked 2003 NBA Draft that included LeBron James, Carmelo Anthony, and Chris Bosh.
His tremendous ability to slice through defenses and finish at the rim were pivotal in winning NBA championships alongside Shaquille O'Neal in 2006, and James and Bosh in 2012 and 2013.
Here is a list of Wade's accomplishments during his sensational NBA career:
? 3x NBA Champion
? NBA Finals MVP (2006)
? 13x NBA All-Star
? NBA All-Star Game MVP (2010)
? 2x All-NBA First Team
? 3x All-NBA Second Team
? 3x All-NBA Third Team
? 3x NBA All-Defensive Second Team
? NBA Scoring Champion (2009)
? NBA All-Rookie First Team (2004)
? No. 3 Retired by Miami Heat
The professional basketball player represented the United States in two Olympic games. He has a bronze medal from the 2004 Olympics in Athens and a gold medal from 2008 games in Beijing, where he was a key member of the "Redeem Team."
NBA Contracts
Over his first four years in the league, Wade earned an average of $3,085,980 per year, according to Spotrac. He signed an extension in the summer of 2006 for five years and roughly $80 million, equaling an average salary of $16 million.
In 2010, he took a pay cut to team up with James and Bosh. It paid off on the court, as the "Heatles" tore through the playoffs to the NBA Finals all four years together.
His biggest payday with the Heat came in 2015 when he signed a one-year deal worth $20 million. His most lucrative contract was a two-year deal worth $47 million with the Chicago Bulls in 2016.
The pay increase was made possible due to the cap spike that year. He also had a brief stint with the Cleveland Cavaliers in 2017-18.
Throughout the course of his career, the superstar earned an estimated $196,388,473.
Endorsements & Personal Life

RELATED: Dwyane Wade?s Messy Divorce Led Him to Find Hollywood Love
The Miami Heat legend's endorsement deals include Gatorade with his wife, actress Gabrielle Union, Lincoln, Staples, Sean John, T-Mobile, and Topps.
Sneaker-wise, he initially signed with Converse before switching to Michael Jordan's Jumpman brand under the Nike umbrella during the 2009-10 season. Once his Jordan shoe deal expired in 2012, he signed to Chinese brand Li-Ning.
Wade and his ex-wife Siohvaughn Funches have two children together: Zaire and Zaya. Funches and Wade split in 2007. Wade had a son named Xavier with longtime friend Aja Metoyerin in 2013 while he was on a break with Union.
The shooting guard married Union in 2014. Together, they welcomed a daughter named Kaavia James Union Wade in 2018.
Philanthropy
Dwyane Wade has made it a point to give back to the community.
In 2003, he formed the Wade's World Foundation to provide community support, primarily with children's education and health. The all-time great shooting guard focused on visiting children in hospitals and raised money for the Haiti Earthquakes in 2010.
Dwyane Wade Net Worth
According to Celebrity Net Worth, Dwyane Wade has a net worth of $170 million. Wade was 2018's 42nd highest-paid athlete in the world with a total income of $31.8 million, according to Forbes.
Wade is one of the greatest NBA players of the past 20 years. His remarkable basketball career earned him sizable NBA contracts and income opportunities outside of basketball.
He'll add to his bank account through future business opportunities and as an NBA Analyst for TNT.
This post was originally published on February 17, 2020.