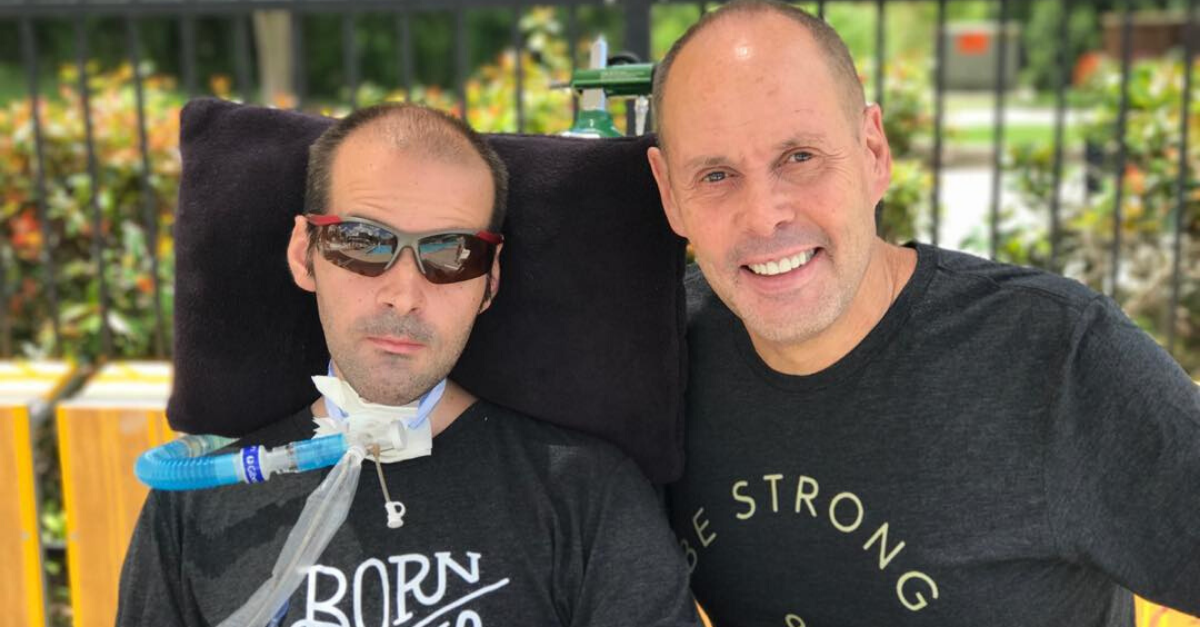 Instagram: ernie.johnson
Sports broadcaster Ernie Johnson isn't alone. In these unprecedented times, he's wondered, like all of us, what's safe? What's wise? What's cautious? There's no road map in battling the coronavirus (COVID-19).
Johnson, who's known for leading TNT's Inside the NBA crew with Kenny Smith, Charles Barkley, and Shaquille O'Neal, doubles as Turner Sports' play-by-play man for the PGA Tour. So it was odd when he wasn't on the call for "The Match: Champions for Charity" between Tiger Woods, Phil Mickelson, Tom Brady, and Peyton Manning.
His son Michael was more important.
TNT's Ernie Johnson Jr. and Son Michael
In Johnson's 2017 memoir, Unscripted: The Unpredictable Moments That Make Life Extraordinary, he details his wife Cheryl traveling to Romania in 1991 after learning about the country's abundance of orphaned children. She came across a three-year-old child named Michael who was abandoned in a park at birth and couldn't walk or speak. Cheryl told Ernie about the boy over the phone.
"Bring him home," he said.
Michael's first years in the United States were spent in and out of doctor's offices. He was taught the basics of life from scratch and eventually made progress. During one trip to the doctor, Michael was diagnosed with Duchenne muscular dystrophy. Ernie and Cheryl were heartbroken, but the news only augmented their commitment. The abandoned little boy in Romania deserved a second chance. The Johnsons wholeheartedly believed that.
Ernie Johnson on Skipping "The Match"
RELATED: Jeff Van Gundy's Attempt to Stop NBA Brawl Was Pure Comedy
Prior to the "The Match", the sportscaster delivered a poignant message articulating the uncertainty of the pandemic and an explanation for why he would be watching the event from home. Michael requires a ventilator to breathe and is highly susceptible to lung infections. The risk wasn't worth it.
Over a light piano melody that flips on the waterworks (those aren't tears it's just sweaty in here), the legendary TNT announcer compared praising medical workers to sports fans celebrating a game-winning basket, walk-off home run, or tournament-winning putt.
"Here's to staying safe," he said. Cheers to that.
Johnson and the rest of TNT's NBA broadcast team returned on July 7 for hour-long shows. The shows are remote until the crew travels to TNT's Atlanta, Georgia, studio once NBA games resume on July 30, 2020.
The studio show host started working for Turner Sports in 1989. He called major league baseball games for the Atlanta Braves with his father, play-by-play announcer Ernie Johnson Sr., from 1993-96. Johnson's experience ranges across the board. He's covered the NFL, tennis, MLB, and contributes to CBS Sports' coverage of the NCAA Tournament. He's a four-time Sports Emmy Award winner for Best Studio Host.
Johnson and Cheryl have five other children in addition to Michael: daughters Maggie, Carmen, Ashley, and Allison, and son Eric.