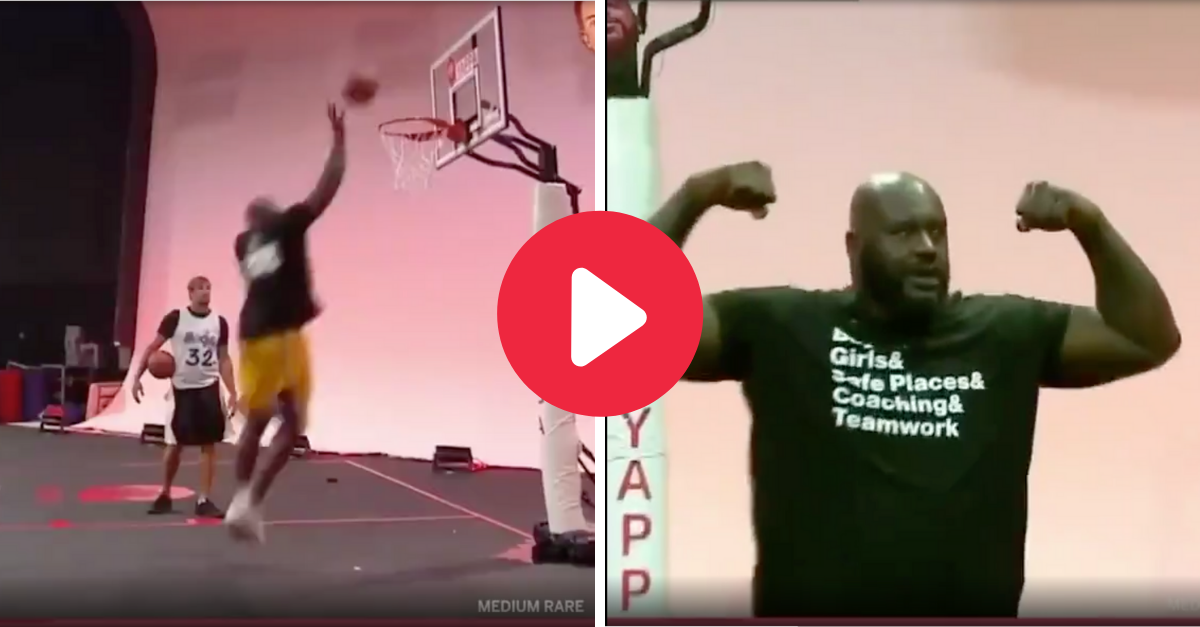 Screenshot from Twitter: SportsCenter
Just a reminder to everyone who forgot: Shaquille O'Neal is still a very large and powerful human being.
It should come as no surprise that the 48-year-old former NBA player who stands 7-foot-1 and weighs more than 300 pounds can still snap off a basketball rim and shatter a backboard. I mean, Shaq Diesel is one of the biggest guys in NBA history. Kevin Hart once impersonated him and hilariously needed stilts to do so.
Everything about The Big Aristotle is larger than life. His shoe size. His bed, which is the size of a New York City apartment. His kids, too, are all practically mini-Shaqs. His 13-year-old daughter is basically dunking like he did for so many years.
Shaq took us through a time portal over the weekend when he snapped off the rim while playing HORSE with Rob Gronkowski.
48-Year-Old Shaq Snaps Rim Playing HORSE
RELATED: Shaq?s Kids: Where Are The 6 O?Neal Children Today?
Maybe Shaq was losing to NFL star and new Tampa Bay Buccaneers tight end Rob Gronkowski when he decided to put a little too much slam into his slam dunk.
Or maybe he just doesn't know his own strength.
"Are you not entertained?" Shaq says while flexing. "I'm back. I'm not a shooter, I'm a dunker, baby!"
Before the game came to an abrupt ending, Shaq and Gronk were taking each other on in a virtual game of HORSE to benefit social justice charities. The center played for the Boys & Girls Clubs of America while the tight end represented the NAACP.
The (not so) friendly game of HORSE was one of many challenges the two partook in over the weekend to raise money. A lip-sync battle, a grilling challenge, a wing-eating contest and a game of sports trivia were all part of the fun.
In true Shaq fashion, though, he took things just a bit too far.
Netflix should create a "Breaking Bad" spin-off with Shaq and call it "Breaking Backboards." The big man has unhinged so many rims and shattered countless glass over his lifetime.
Shaq Has Broken Many, Many Backboards
Before becoming an NBA champion with the Los Angeles Lakers, Shaq Daddy introduced himself in the best way imaginable. During his rookie season with the Orlando Magic in 1993, the All-Star center brought the entire backboard down to the floor against the New Jersey Nets.
Over his entire career with the Magic, Lakers, Miami Heat, Phoenix Suns, Cleveland Cavaliers and Boston Celtics, the Basketball Hall of Fame member made backboard shattering such a habit that he collected the rims and constructed a tree out of them.
I'd like to see LeBron James or Michael Jordan try to do anything like that.