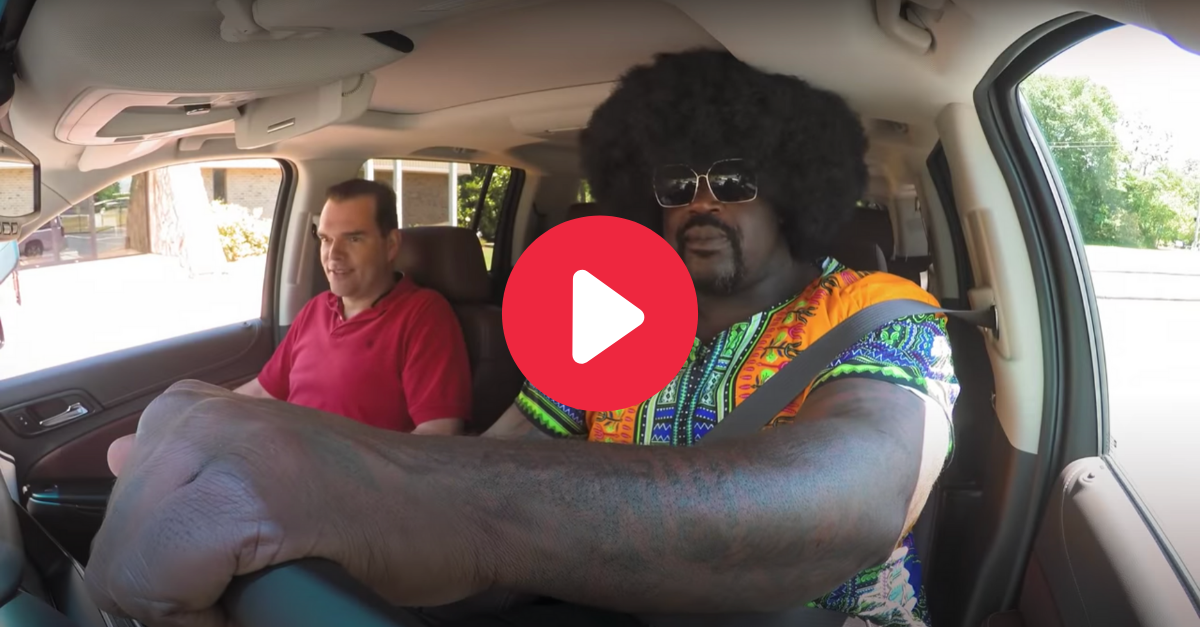 Screenshot from YouTube: Lyft
Shaquille O'Neal is a man of many talents. In addition to being one of the best centers in NBA history, the former Los Angeles Lakers big man is everywhere you look when turning on the TV.
The 7-foot-1 Shaq has his own hilarious reality TV show and is one of the main hosts of Inside the NBA on TNT. He's acted in numerous movies since starring in everyone's favorite, Kazaam. Shaq Diesel's face can also be seen in commercials for companies like Gold Bond, IcyHot and The General insurance. It's true, people really can't get enough of Shaq.
You can add "Lyft driver" to that list of talents.
Shaq Pranks Passengers As Undercover Lyft Driver
Shaq teamed up with the popular ride-sharing app Lyft to go undercover and prank unsuspecting passengers in Atlanta in 2016, and it absolutely did not disappoint.
We have to start with the fact that these people either have no idea Shaq is sitting right next to them or they have no clue what he looks like. But come on, look at the way this woman's hand gets swallowed by his on the initial handshake. How do you not realize that is not normal?
Shaq becomes a bunch of different personas for the video. Charles makes bracelets for a living. Pierre hails from France but doesn't speak a lick of French. Goose is a bearded, off-duty police officer who tells another car, "lucky I ain't got my badge, lady."
Shaq also plays a guy with an afro, a nerdy guy with suspenders and a bow tie, and a goth-punk guy who wants to play ball but can't because he "runs funny."
The 325-pound Shaq has a blast with his passengers. He teaches one how to shoot free throws. Shaq, of course, was notorious for his horrible free-throw shooting during his career.
"You just learned from the greatest free throw coach of all time," he tells her.
The clip gets even better when Shaq raps and sings with his unsuspecting passengers.
RELATED: Shaq & The Jabbawockeez Dance Together to Create All-Star Magic
Other sports stars like Danica Patrick, Richard Sherman, Odell Beckham Jr. and Jerry Rice have gone undercover for Lyft like Shaq did, and they're all pretty great.
All I have to say is if Shaq went undercover in my city, I sure as heck better recognize that behemoth of a person. If his size doesn't give it away, his voice should. Maybe that would give Lyft the edge over Uber. Maybe.