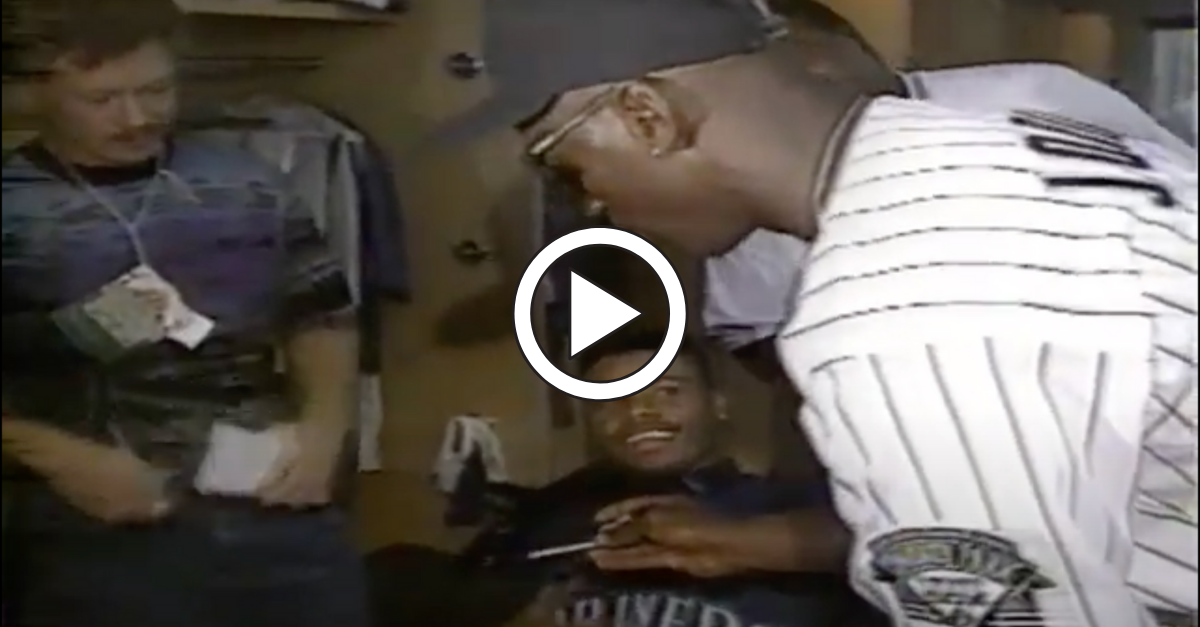 Screenshot from YouTube
Michael Jordan proved time and time again that he is the most celebrated and famous athletes in the history of professional sports. The billionaire, six-time NBA Finals champion and a two-time Olympic gold medalist's presence is great enough to stop anyone in their tracks and simply gawk over.
That's why His Airness' retirement from the Chicago Bulls in 1993 and subsequent Chicago White Sox minor league contract in baseball, of all sports, shocked the sports world. One day No. 23 was playing in the Finals against Charles Barkley's Phoenix Suns, and the next he was taking the field for the Double-A Birmingham Barons.
So in the summer of 1993, two legends — one who became famous for his jumper and another who gained fame for his swing — crossed paths. The meeting absolutely did not disappoint.
Michael Jordan Asks For Ken Griffey Jr.'s Autograph
Michael Jordan was still more celebrity than baseball player when he showed up at the 1993 MLB All-Star Game in Baltimore and participated in the Celebrity Home Run challenge alongside guys like Patrick Ewing and Bill Murray.
Already a household name across the globe, Jordan approached a 23-year-old Ken Griffey Jr. and asked him for his autograph. Griffey, the kid who would hit 45 home runs for the Seattle Mariners that season and 630 over his career, treated M.J. like any other 7-year-old kid.
"I'm gonna go shoot basketballs with him," Griffey joked about the encounter. "Work on my jumper. You know, I may be able to play for the Sonics one day. I'm gonna have to guard him."
RELATED: Michael Jordan?s Baseball Career Was a Treat to Watch
That wasn't all Jordan did while donning his White Sox uniform.
In front of 48,000 people at Oriole Park, the NBA superstar went deep during the batting practice round to the applause of fans. He also received batting tips from a Baseball Hall-of-Fame hitter and the man maybe more clutch than anyone in baseball history: Reggie Jackson AKA "Mr. October."
"Clutch man here. I like clutch people," the basketball player said of Jackson. "Step in there when the pressure's on and knock the ball out of the park."
At the end of the day, though, it was Griffey who went home with Jordan's jersey. M.J. took it off his back and autographed it for him.
Man, just imagine what that collectible is worth today.