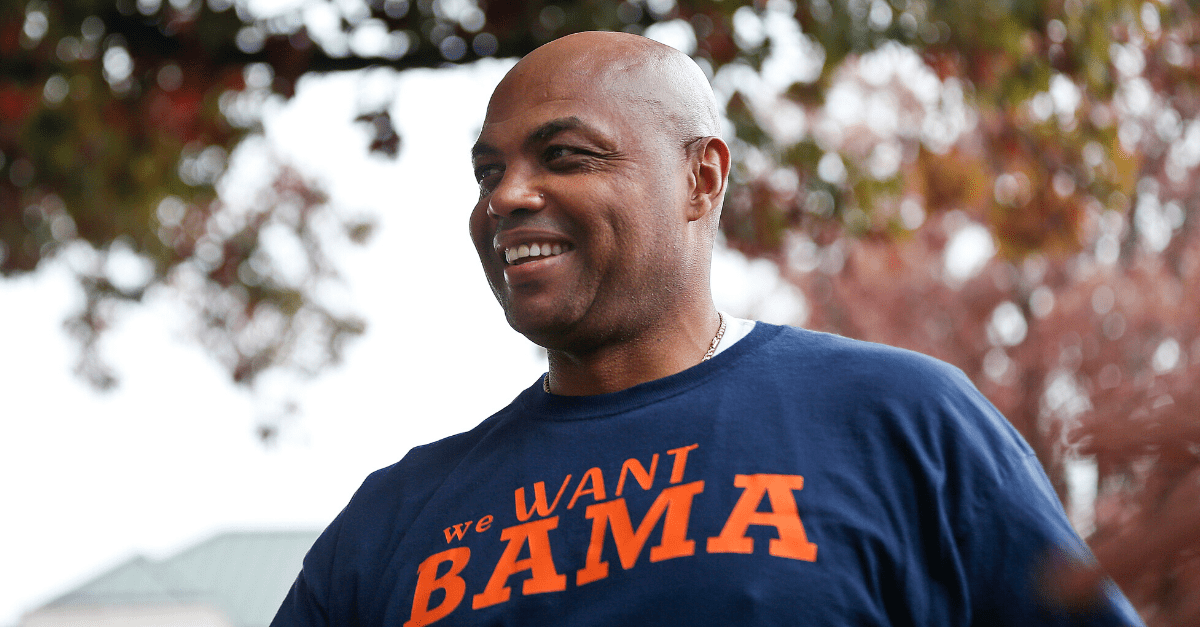 AP Photo/Brynn Anderson
In the days preceding his reign as a member of the Philadelphia 76ers, Phoenix Suns, and Houston Rockets, back before the Dream Team and "I am not a role model" commercial, Charles Barkley prospered on the Auburn University men's basketball team.
Barkley ? a Leeds, Alabama native ? failed to make his high school's varsity team as a junior, standing 5-foot-10 and weighing 220 pounds. Between his junior and senior years, he shot up to 6-foot-4 and won a starting position. He was a walking double-double, excelling as a rebounder, averaging 19.1 points and 17.9 rebounds but gaining little notice from college basketball programs. He led his team to the state semifinals, where he scored 26 points and caught the attention of Auburn head coach Sonny Smith. Chuck later joined the Auburn Tigers.
Charles Barkley Auburn Highlights
Charles was anything if not eccentric. He was undersized at the center position but that didn't stop him from vacuuming in rebounds like his life depended on it, earning the nickname "The Round Mound of Rebound." He loved grabbing the rebound and going coast to coast, often finishing with a two-handed flush.
Barkley was a solid player as an underclassman and flourished as a junior. He averaged 15.1 points and 9.5 rebounds, winning SEC Player of the Year and Second Team All-American honors. Most importantly, Barkley guided the Tigers to their first NCAA Tournament appearance in school history in 1984.
Besides the joy it was to watch this unorthodox basketball player rumble and tumble up and down the court, Barkley had the numbers to back up his improvement. He went from averaging 12.7 points as a freshman to 15.1 as a junior. Over the course of his three-year career, he averaged 14.1 points. His rebounding, the forte of his game, stayed consistent. He averaged 9.6 over his career with a 9.8 peak as a freshman. Charles was the other #34 for two of his three years at Auburn. He deferred to some two-sport athlete named Bo Jackson.
Barkley entered the 1984 NBA Draft and was selected fifth overall by the Sixers.
Charles Barkley's NBA Career
RELATED: Auburn's All-Time Starting 5 is as Dominant as It Gets
Sir Charles was a beast in the league. He stole an MVP from Michael Jordan at the tail end of the Chicago Bulls' first three-peat. He lit up the playoffs on more than one occasion, reaching the NBA Finals in 1993. Above all, he retired as one of the most mesmerizing and greatest players in NBA history. In 2006, he was inducted into the Naismith Memorial Basketball Hall of Fame.
Today, you can find the 11-time NBA All-Star on Inside the NBA on TNT alongside Shaquille O'Neal, Ernie Johnson, and Kenny Smith. Their Atlanta studio show is always a riot.
The Hall of Famer still bleeds blue and orange. While covering March Madness for CBS Sports, he decks out his portion of the desk in Auburn gear. The man showed his War Eagle spirit by shedding a tear when Bruce Pearl's Tigers reached the 2019 Final Four with a win over Southeastern Conference rival Kentucky.
Never change, Chuck.